As one-half of Clint Satterfield's impressive two-man NHRA Pro Mod team, Bob Gardner has built quite a reputation for himself. Fortunately, it's a reputation for being one of the hardest workers out there, for refusing to ever give up, and for always having a smile on his face.
It was Gardner's father who introduced him to racing, and the two could often be found turning wrenches together. Gardner obtained his first car, a '73 Plymouth Duster, at the age of 16 and fondly recalls cruising the streets of Springfield, Missouri, with it.
During his adolescent years, Gardner met Scott Palmer (now an NHRA Top Fuel dragster pilot), and the two quickly became best friends. "I helped him with his nitrous Camaro street car," Gardner remembers. "We put a blower on it; then we got a Funny Car in the early 2000s. I started going racing with him; then we moved into Top Fuel."
Additionally, from 1990-2002, Gardner was also quite busy tearing up the bracket racing scene with his dragster and racking up victories. "I was really good at it, but it was really expensive, even when you win," he explains as to why he chose to quit, though he didn't stop driving entirely. He made an appearance on the television show "Pinks" in 2007 behind the wheel of his friend Mitch Brockman's '79 Camaro with a nitrous-assisted big block Chevy motor. "I helped him get the car going, and he needed somebody to drive it, so I did. We lost the transmission in the last round and lost the car, but it was crazy and a lot of fun!"
Not long after, Randy Matlock invited Gardner to work on a blown Outlaw 10.5 car and as a result, in 2009 Gardner wound up meeting Don Bailey, with whom he spent several months learning everything he could. "That's how my whole career got started," Gardner says. "If it wasn't for Matlock, none of this probably would have ever happened and I wouldn't be where I'm at today." And, where he's at is actually quite a big deal. Gardner's resume features an impressive list of well-known drag racing names, including Spiro Pappas and David Hance.
When Hance sold the motor and transmission from his '57 Chevy Pro Mod in 2012, they were snapped up by NHRA Pro Mod owner/driver Clint Satterfield for his twin-turbocharged "Turbo Pig" '68 Camaro. Gardner helped Satterfield put the newly-acquired setup in his car and the two decided to go testing and see whether or not they worked well together. Gardner laughingly recounts, "Clint wanted to hire me as his crew chief right off the bat, but I didn't know him back then and wasn't sure if we'd get along."
As fate would have it, the two struck up a quick friendship and have been working together ever since. "He's one of the hardest working guys out there, and puts every bit of energy that he has into that car," says Gardner of Satterfield's unparalleled work ethic. "I've never met anyone that can work me under the table—except Clint!"
It's a full-time job for Gardner, whose crew chief responsibilities for Satterfield include a multitude of tasks, ranging from servicing the car to tuning and everything in between. "I won't mess with transmissions, though," he confesses, revealing they send their 3-speed back to Rossler any time it needs work. "I do all the work from the motor forward, as well as the tuning, and make most of the calls about what we're doing with the car. Clint does the rear suspension and the rear end when we're at the track, but if it needs servicing at the shop, then I step in."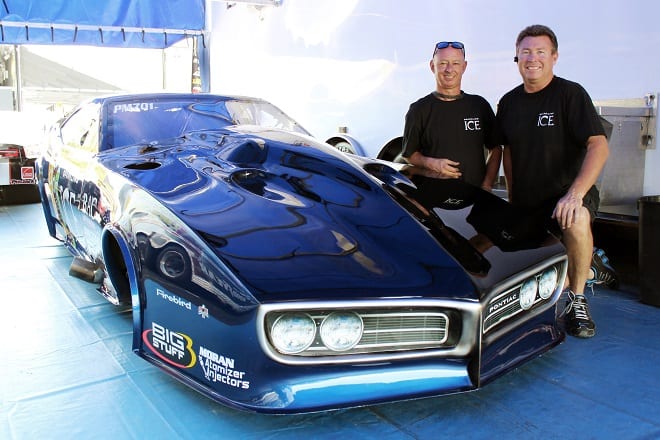 Having a limited number of helping hands and an ever-growing "To Do" list isn't easy, but Gardner's smile never falters and his positive attitude shines through in every situation. "It can be tough since it's only the two of us," he shares, "but we've done it so long now that it's not really much of a challenge anymore." Gardner admits things were a lot tougher when they only had one motor for the car, but now they've got a complete back-up motor and that alleviates a lot of stress. "Clint's slogan when I first started with him was 'this car wants for nothing.' If the car needed something, it got it, sometimes even before it needed it."
One of the most enjoyable tasks for Gardner, though, is simply seeing the car make a good run. "I love looking at the data and making the best educated guess that I possibly can, and seeing the car do well as a result," he says. "To stand behind that car and watch it go down the track and know I was basically telling it what to do, that's what I love. There isn't a feeling like that in the world when it leaves the starting line, changes gears, and hauls ass."
Being responsible for so many different aspects of the car and the team is a challenge on which Gardner thrives. He enjoys the fast-paced environment, and rises to the occasion when he's up against the clock trying to get everything done. "When we get back from making a run, I have to download all the data, look at everything, service the motor, do the valves, nut and bolt the car, then put the tune up in it, and so on," he casually says of the hectic pace that's become his norm. Add in the fact that Gardner also has to help Satterfield suit up and strap in, he's often so busy that he doesn't even get a chance to check out the track prior to watching his car and driver make a hit.
Gardner and Satterfield hope to add another member to their team this season, though—a small, gold guy named Wally. "I'll never forget when we won our first," Gardner happily reminisces of Satterfield picking up his first NHRA Pro Mod win at the 2013 SpringNationals race in Houston. "It was the best day a guy can have, especially for small-time guys like us in a battle of the Goliaths."
Shortly after the win, however, Satterfield totaled the Camaro in mid-2013 during a wreck at Tulsa, Oklahoma. The guys switched to a Sparkling ICE sponsored '68 Pontiac Firebird, but it never quite performed the way they had hoped. Consequently, toward the end of the 2014 season, Satterfield ordered an all-new '68 Firebird "Turbo Pig" from Jerry Bickel Race Cars. "They did an absolutely amazing job on this car," he boasts. "I know our engine combination is up there with the best of them, we just needed a better chassis. We've also got some tricks up our sleeves, and some top-secret stuff we'll be trying this year."
The new car will use the same 526-c.i. Brad Anderson Enterprises twin-turbo Hemi motor that was in their previous Firebird, complete with NHRA-compliant 88-millimeter Precision Pro Mod turbochargers. Also on board will be the team's usual 3-speed Rossler transmission, a Big Stuff 3 powertrain management system, Moran fuel injectors, a Hyperaktive Hyperkontrol boost controller, and a set of Hoosier slicks.
For the upcoming race season, Gardner is focusing hard on finishing in the top ten in points for Pro Mod. "I think with this new car and the power we have, there's no reason we can't. Clint's put in the money and we've both put in the time. We probably won't set the world on fire, but we're hoping for big things," he says.
No matter what happens, though, Gardner knows he's got the support of his loved ones, especially his parents. His mother, Dorothy, has been a big help as an extra set of eyes and ears for Gardner when he's busy prepping the car to make a run. "She'll go on the computer and find where I'm at, then text me to let me know what lanes are running good or bad, where we stand on qualifying, what we need to do better," says an extremely appreciative Gardner. "She's a huge part of my racing, and it's nice to know she's watching."
When he's not racing, Gardner is, well, still racing! He enjoys spending his spare time helping out anyone who needs it,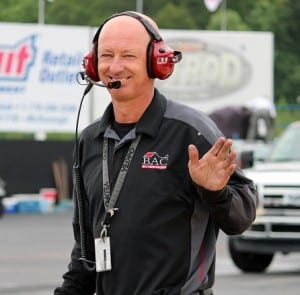 and is always eager to jump in to lend a hand. "I love that I can help people learn," he says, and even goes so far as to offer his assistance to teams he's competing against if they're in a bind. "With us only being a two-man team, there's always someone in the staging lanes that knows when I need help and they're always there. John Waldie helps me push that car up every single time; he's always there for me. That's a big deal to me, and it really means a lot, and I like to repay the favors."
It's hard to nail down exactly where Gardner calls home these days. He still legally resides in Springfield, but spends so much of his time on the road, at the track, or working with Satterfield in Albuquerque, New Mexico. It's the life he's chosen, though, the life he loves, and the life he couldn't possibly imagine not having.
This story originally appeared in DI 97 – The Crew Chief Issue.