Trying to track down Bo Butner and his wife, Randi Lyn (formerly Shipp), at the racetrack can be a bit of a challenge, unless you wait for them in the staging lanes. Bo is everybody's friend – he's here and he's there, often in the Pro Stock pits where his Johnson's Horsepowered Garage Chevrolet Camaro is prepared, but he may also be found in the Sportsman pits or at Hot Rod Randi's Horsepower Headquarters on the midway. "Hot Rod Randi" is, of course, Randi Lyn, who dreams up and sells some of the coolest merchandise on the midway at an NHRA national event. But don't assume she'll be at the t-shirt trailer; she's also an active Lucas Oil Drag Racing Series competitor.
Universally known and liked, Bo and Randi Lyn have been anchors in the Sportsman racing community for ages. Randi Lyn started in the NHRA Jr. Drag Racing League and built a respectable reputation in Stock Eliminator, so far claiming seven national event wins, a spot on the JEGS Allstars team, and a Division 3 championship. Bo started racing after high school and worked his way up from playing around at the local track to winning the 2006 Comp world title, then on to claiming the 2017 Pro Stock championship while continuing to compete as a Sportsman.
[Editor's Note: This story originally appeared in DI #183, the Sportsman Special Issue, in July/August of 2023.]
Today, the couple that married in 2022 continue to race together, and they don't see that ending anytime soon. Drag Illustrated tracked them down to tell their story, in their own words.
Where did drag racing begin for each of you?
BB: My story starts with a trade-in at our family dealership. It was a street car, 1971 Chevy Nova. I'd never been to a dragstrip in my life, but I took that trade-in and decided to go to Ohio Valley Dragway on a Wednesday night. I entered some type of gambler's race, not knowing what to do whatsoever. I could do burnouts, and I loved that, but I go up there for the first run ever and the starter comes running over. He says, "Hey, you can have your radio on – but you have to have your window up." That was the start of my racing career. I somehow slipped through, and I think I won that having no idea what to do, just guessing.
RL: I always was a track rat, running around as a kid with no shoes, playing and getting dirty. I never really thought about it as a kid, but my dad got a Jr. Dragster and it sat in the garage until I was old enough. The first time I tried it, I was probably horrible, but I made a couple passes at Brown County Dragstrip, and like my third race at Indianapolis Raceway Park, I won. That was when I was like, "Oh, I like this." I liked that feeling of winning; it planted the seed and changed everything.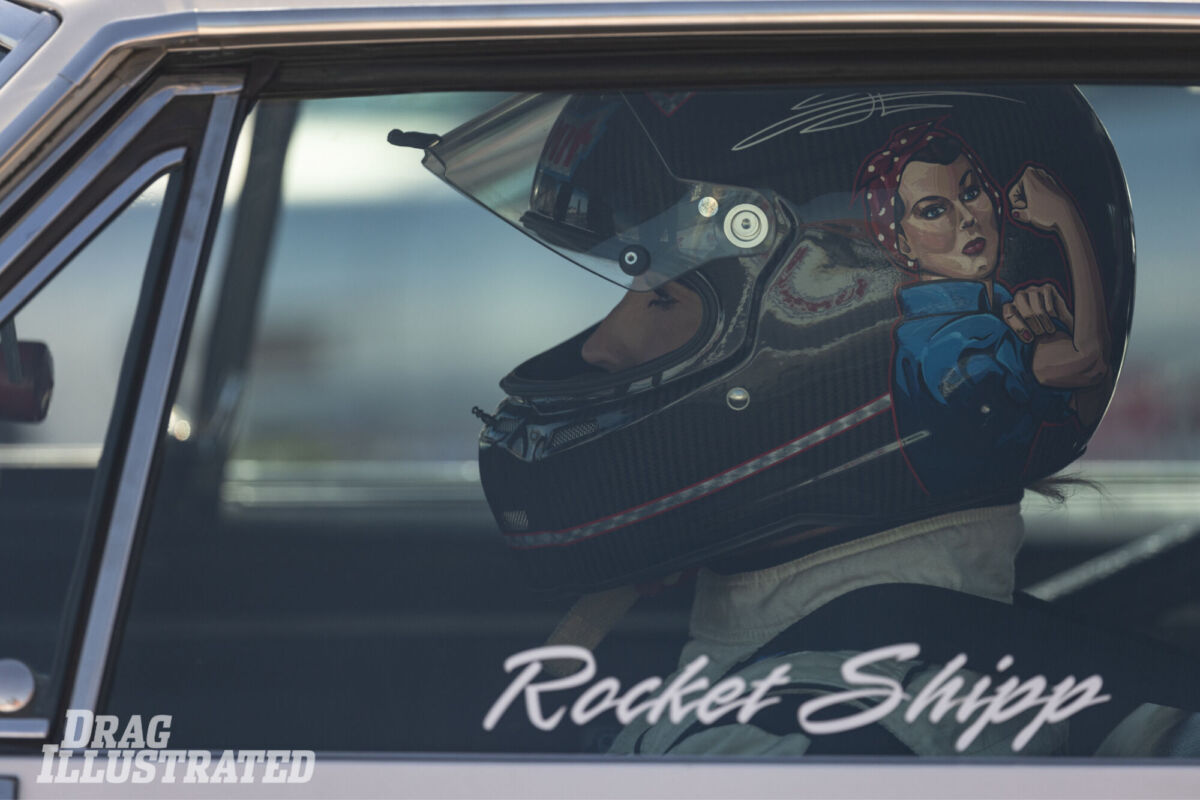 Randi Lyn, your 1967 Pontiac Firebird is well known in Stock. Was that your first car out of Jr.'s?
RL: I had a dragster when I turned 16. I think when you start in a Jr. Dragster, it's a natural thing to get a big dragster. But in reality, I always liked Stock. Even though I don't like early mornings, I like watching Stock in the early morning and starting off the day. When I got with Bo, we started looking for a Stocker to put in his trailer. We went to Indy planning on buying one of the new Challengers when they did the first 50. We had a check in hand and were ready to buy it, but the guy decided not to sell it. That ended up being great because we bought the Firebird from the DeFranks. It had a wild 1980s paint job on it, and at first I was like "ehhhhh." I kind of thought those were wannabe Camaros at the time. It took some convincing, but we got it, and then when Bo let me paint it and make it my own, that's when it really turned around for me.
Bo, you're inching toward a milestone. You have wins in six different categories, and you've been steadily giving yourself a chance to make that seven by racing in categories in which you haven't won yet. Is that an intentional goal?
BB: I think that would be cool to win in seven different classes. You can ask any person who tries this – any win out here is an accomplishment. I've promoted races for big money to win, I have brought on great sponsors that enjoy it, but you cannot compete with what it feels like to win a national event Wally. Even a divisional. I know people that will go race for a $1,500 check and a Wally instead of a $100,000 race. NHRA has the Wally, and that's what we all want.
Randi Lyn, you hold a place in history as one of just a handful of female Sportsman to have won seven trophies. What does that accomplishment mean to you?
RL: I try not to focus on that; I never want to be "the girl," but you are, and sometimes you just have to own it. When I race, I want people to think of me as equal, but it's true that a lot of girls haven't done that. It is different, and it sets you a little bit apart. I don't think you realize what a big deal it is while you're doing it. But it isn't just about the trophies that come at the end, it's about the memories you make along the way, going rounds. Sometimes, you do look back and go, "Oh, wow," and it's a nice feeling to have accomplished something for all the time spent working for it. But other times, I think it's not enough.
What do you remember most from your first win?
RL: I remember Leo Taugher was the announcer, and I'll never forget it, he said, "You can always tell a first-time winner because of the smile on their face." It was just a really cool experience, because Leo was from Division 3. He had announced since I started, and Leo was everybody's friend. I was far away from home; we were in Phoenix, and at the time, Bo wasn't even running Pro Stock. I didn't know everybody out there, just a few people, so it was neat to have a little piece of home with Leo there. The whole thing was very, very exciting. Did winning change anything for you?
RL: I feel like I've gradually gotten more confidence in myself through the years. It's easier to have that confidence all the time, and not just in clutch situations. I know what I'm capable of now, and it's become, "This is what you've got to do, let's do it." It's not as nerve-wracking as it once was. It's hard to win anywhere you go, but when I came back home and won in 2013 at Norwalk, that was my game-changer moment. When you win in Division 3, you've really done something. For one, all of my friends and family were there to celebrate, and Norwalk is a prominent race with the ice cream scoop trophy and everything. That was definitely a big deal for me.
You have a pretty good final-round record – what's been your secret?
RL: I won four before I lost one, and when I look at the ones I didn't win, they were some really difficult races with really good racers – people that have won world championships, like Joe Santangelo and Jeff Taylor. I don't beat myself up too bad over them, but you always want those back. I don't go up there preparing differently for any round, I just react really well under the pressure. When everyone is up there watching, I feel like I don't want to let people down. Especially Bo, but no matter who's watching, I always want to do my best. I feel like those situations bring out the best in me.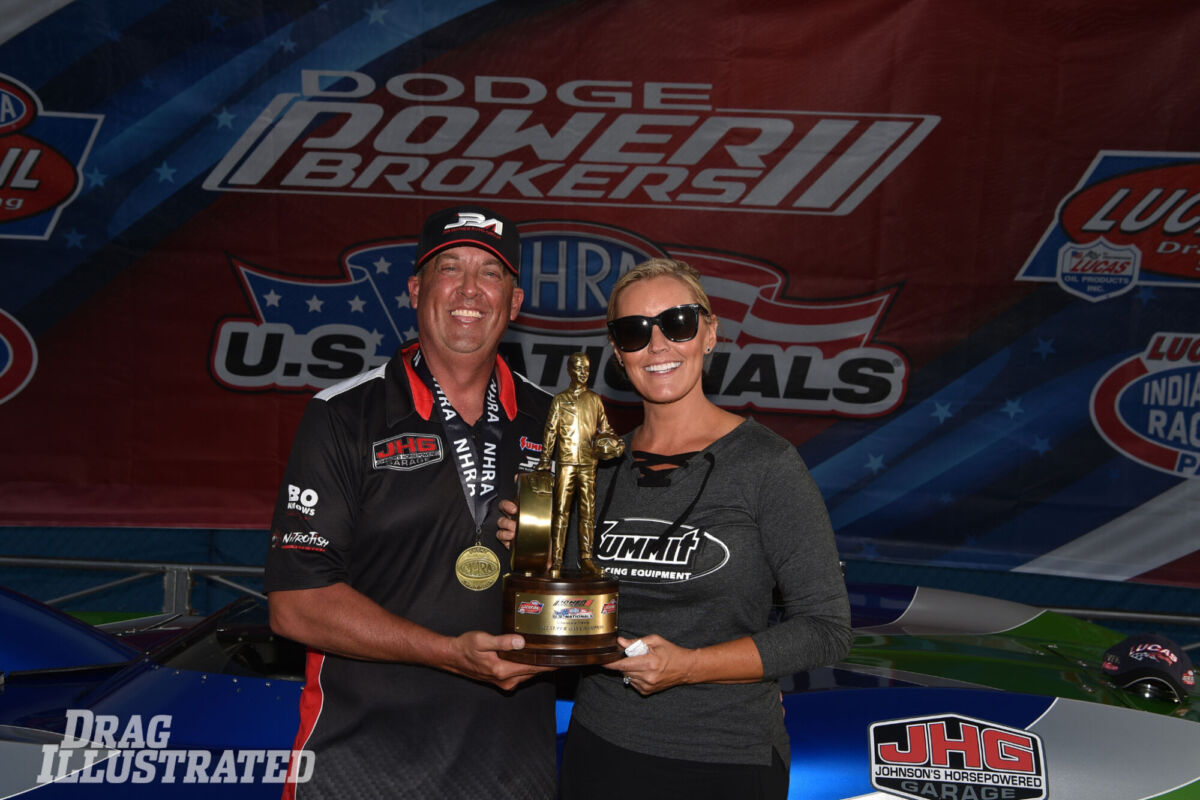 Bo, take us back to before you had won your first national event. How bad did you want to get that first trophy?
BB: I won a lot of divisionals out of Division 3, and back in the day, it was guys like the Coughlins and Jeff Taylor; it was a stacked Super Stock field at every race. When I won my first division championship (1998), I had not won a national event. There were three of us in Division 3 that had 400 points, just divisionally. It was crazy, but it was fun. That first national event win was so hard to get, but I finally got it in Dallas in 1999.
Did that change things for you, finally getting that national event trophy?
BB: It really didn't. But I was racing the same people and the same car divisionally and having success. It was like, "Why can't I win a national?" I'm kind of going through that right now with Pro Stock, but it just takes being in the right place at the right time, and it'll happen. That's true for anybody. If you have good equipment, good help, and just keep going, it'll happen. That first win in Dallas let me know that I could do it. I've been very fortunate, because it isn't easy. I worked my way up from that 1971 Nova to being able to win a Pro Stock world championship, but there are still a lot of classes I want to win in – and that's pretty much any class we show up to race.
How has racing been a positive in your life?
BB: Everything in racing has been way more positive than negative. I've had some negatives, but the positives are the family that you gain, the people you meet.
RL: I think racing is a positive in every way. It's a motivation to be more fit, to eat better, to stay mentally focused. That carries over to everything in life; being able to do that at the track is just a starting point.
Has there ever been a time when you wanted to pursue something else, maybe give up racing?
BB: I've retired twice, but you miss it. You miss the family aspect here at the track, you miss the people, but you really miss getting in the car, making good runs, and being competitive. The day I can't be competitive is the day I need to do something else. I don't feel like I'm there yet – I haven't won the last two years, but I feel like we're capable, and I'm still showing up every weekend.
RL: I think it goes in spurts for every racer, where you have a rough patch. It's been three years since I've won a national event. I won a divisional a couple years ago, but that seems like forever ago. You get to be like, "Gosh, is it ever going to happen again?" I'm sure it will, I hope it will, but it's a matter of the stars aligning. Even in rough patches, you don't really want to quit. It's like, "I have to get better," or, "I have to get my car fixed." You want that opportunity to do better.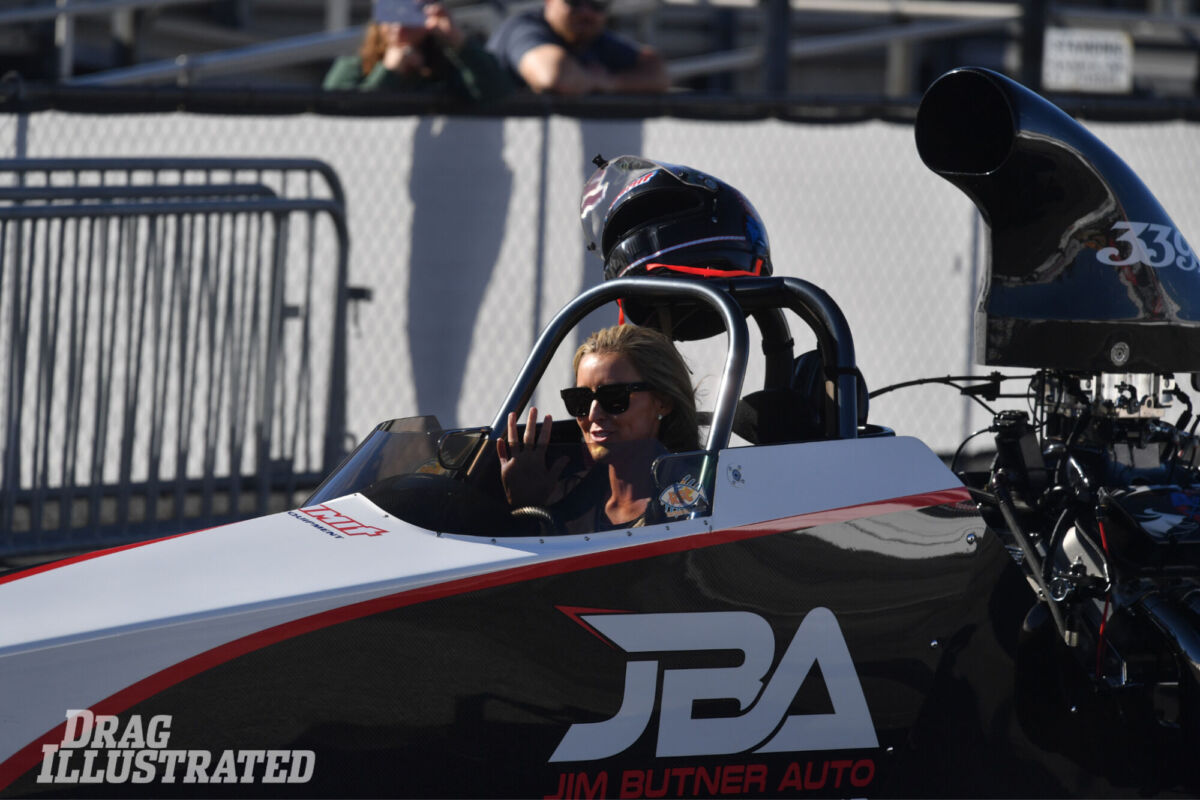 Let's talk about racing together all these years – it's enjoyable, surely, but is it ever a challenge?
BB: It's never trying. Randi Lyn wants everything perfect, and I understand that. She's very good at this, and she helps me a lot. I like to think I help her some, but she probably helps me more than I help her. I think we'll continue to race until we both decide we've had enough, but I don't ever see that happening. We love to be together, and everything we do, we do it together. It's great.
RL: I feel like even though we're always together, we always have other people around, so when it's just me and Bo, it's a nice break. It's like, "Now we get to do something together." I like doing most things with Bo, and if he's not there, it's like, "Oh, I have to call Bo and tell him," and vice versa. I love everything about doing this together, and I couldn't imagine doing it separate. I like that we are always working together for one common goal, whether it's him winning a race, me winning a race, working towards a championship – whatever the common goal is at that moment, it's better to do it with somebody else. You have somebody to get excited with and to talk about the challenges along the way. I love all of that.
This year, you've had the opportunity to race one another in Super Comp. What's that been like?
BB: It was awesome. I live for that stuff, and I live for her to shine and go out there and want to rip my throat out. There are probably a lot of times in life she wants to do that. Her and I had actually raced a lot against each other in Stock and other classes, and I would always somehow squeeze out a win even though she would make very good runs. It wasn't like she would fall apart.
[This year] she's had her game on. We ran each in time runs, and she was trip-zip and whomped it on me and went dead-on. In a time run! Nobody does that in qualifying, but she's always trying to get better. That's her drive, and it pushes me. She needs to act like she's racing me every round, but she's very, very good. She's probably harder on herself than anybody could ever imagine. She wants to be perfect – and she wants her equipment to be perfect, which is where it's tough on me.
RL: When we've run against each other a couple times in Super Comp, to me, that's just us having fun. When I big-money bracket race the dragster, I feel very serious about it – but I'm not expected to be the world's best Super Comp driver. I'm just trying to get better, because I haven't done a lot of it. When I've won, I just try not to screw it up the next round. I definitely think that running the dragster makes me a better Stock Eliminator racer, and while my Stocker is waiting to get rebuilt, that's kept me in the mix of things. I like Bo running a Sportsman car, whether we race against each other or not. To me, it's part of the stuff we get to do together. I definitely enjoy when I'm running my Stocker and he's running whatever else he wants to run.
How do you think you two complement one another?
RL: I think we're balanced. Bo is the nice politician everybody likes; he can smooth out any situation, and I'm the opposite. I'm fired up and on the chip, and I need to be calmed down sometimes and brought back to reality. I have the fighting spirit, but Bo is the opposite. He doesn't like conflict, and I'll look conflict right in the face.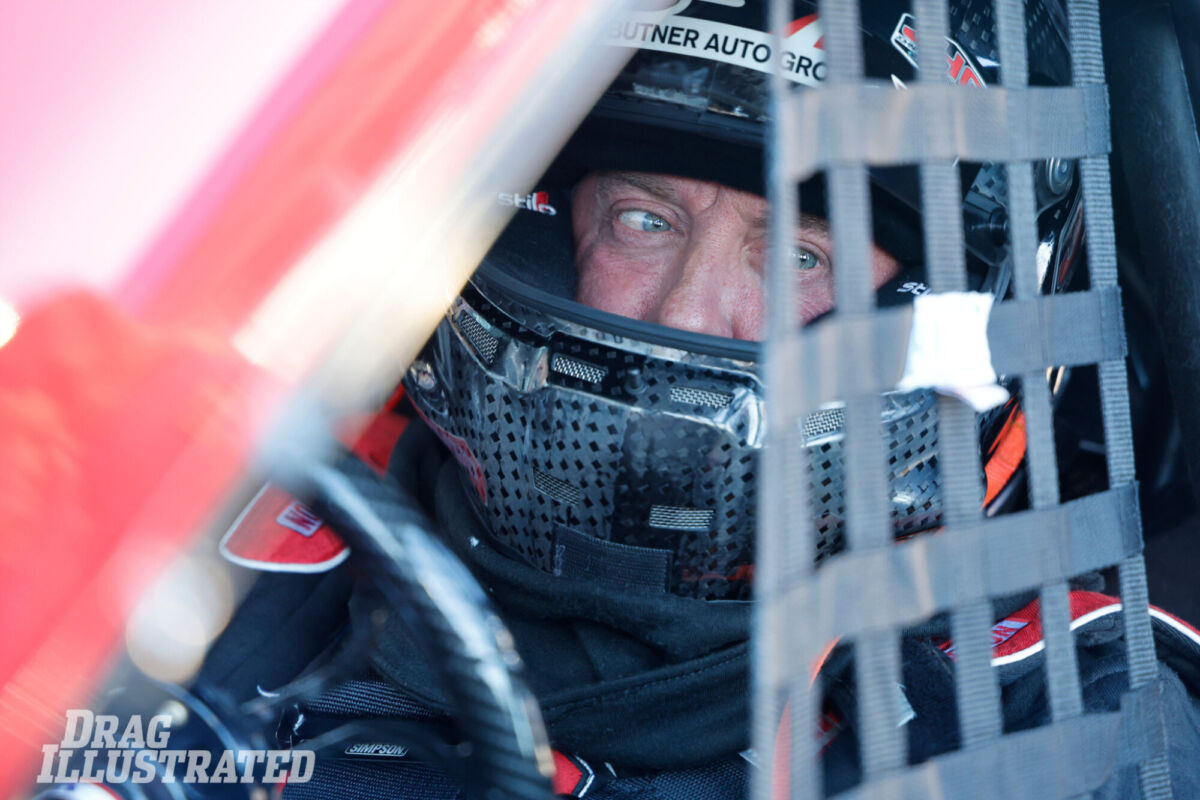 Tell us about stepping up to Pro Stock, how did that happen?
BB: I was running Comp for a long time, but at the time I wasn't quite as fast as I thought we should be. I knew nothing about Jason Line and Greg Anderson, other than watching them on TV, but I was at the U.S. Nationals, and I wasn't happy with the way my car was running, so I walked right up to Greg in the staging lanes and said, "Hey, would you ever consider doing any sportsman engines?" He hooked me up with Jason, and I started with them. We doubled-up in Vegas in Comp and Stock with a KB Racing engine, then went to Pomona and got runner-up right after that.
We had some very good luck with their stuff, so at one point I called Jason and said, "Hey, I might want to run Pro Stock some time; just one race." At the end of that year, he asked me if I would like to run a few Pro Stock races next year. I did the back half of Jimmy Ålund's car and got my license [after] Charlotte. I remember sitting there in the water, and Jason sticking his head in and saying, "Turn the fuel pump on, maybe pump it one and a half times, and fire it up." That was my lesson. So, I do a burnout and make a good thousand-foot run, and it's perfect. Greg came over and said, "Where do I need to sign this thing; you're good."
Looking back, a couple things happened. We didn't know the EFI stuff was coming, and they needed cars for the class. There were other people dropping out and nobody to replace them with. KB Racing and Richard Freeman are a big part of what kept Pro Stock alive.
What were those early years like in Pro Stock?
BB: They have to get you familiar with the car, but that season we did OK, and the next season we were very fast. Then the EFI stuff comes in, and we were like five-hundredths faster than everybody. John Meanie [from BigStuff 3] stayed down there and really made it work. I had a lot of freakin' runner-ups, though, before I won a Pro Stock race. I had been successful in about any car I got in, so it was like, "Man, I can't believe I can't win these races." I'd see other people making runs, and I'd look at my shift points and wonder what I was doing wrong. But come to find out, you can make the best run ever, but everything is about timing. Right place, right time.
Randi Lyn, when Bo was going to step up to Pro Stock, what were your original thoughts?
RL: I was nervous, just with the whole pro aspect of it. It's a different experience to go pro racing, and I guess a big part of me thought when we went pro racing, the sportsman stuff would stop. That scared me. Not that I feel like I have to race all the time, but I do like it, and I like Bo racing with me. I think more of my fear when we started was, "Oh, we're just going to be pro racers now." I didn't want to just roll in on Sunday with perfect hair and be Bo's Pro Stock wife. I wanted to be out there experiencing it. Now, I feel like we've figured out a good balance. The pro side is very serious, but we still keep the Sportsman side going. I'm happy.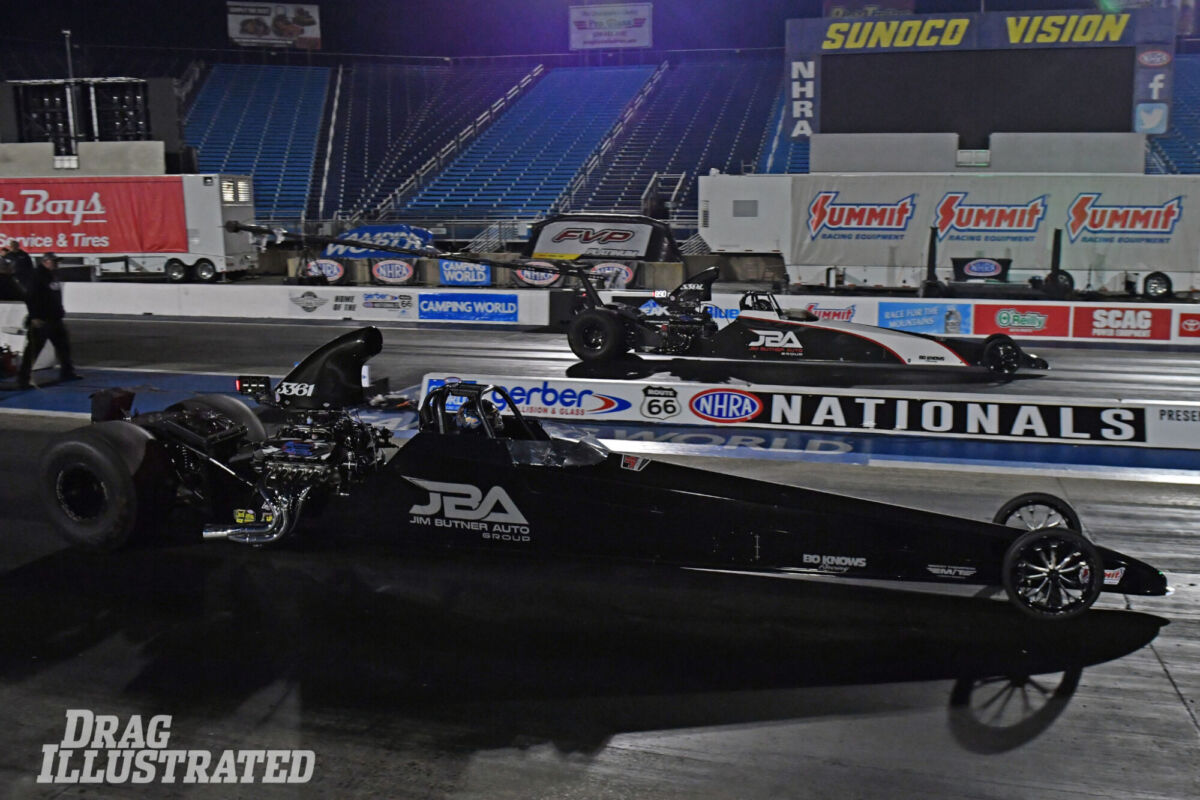 You two have really been instrumental in helping others. We see JBA [Jim Butner Auto Group, the family car dealership] on the side of race cars, and you've really given opportunities to a whole bunch of folks to learn different sides of racing and grow. Is this something that you do intentionally, or has it just sort of come about organically?
BB: Randi is just like me, we believe that this is a great sport, and these are great people. I can't think of anybody I really don't get along with. My family has always been that way, and if something happens to a racer, Randi Lyn's dad [Randy Shipp] is the first one to jump in. the racing world is a lot like that. Look at Jason Johnson from Johnson's Horsepowered Garage; he wants to help, and he's not doing it for any business reason. He just loves this sport, and it's a passion. Our passion it to help others. It could change tomorrow, but we are very blessed every day. We want to help people who want to help themselves. You can give to the wrong people, which we've done sometimes, but usually, people deserve the help.
RL: Bo has that helping spirit. It wouldn't matter what it was, he will help his friends to the end. Both of us care about the sport, and we both feel like we're all in this together, whether you're a hot dog salesman, a t-shirt sales girl, or whatever it is that you do. We're all part of making the fan experience great and helping the sport grow. He's very giving and very helpful, and when there are good people in the sport, you don't want to lose them – you want them around, and in the end, it helps everybody.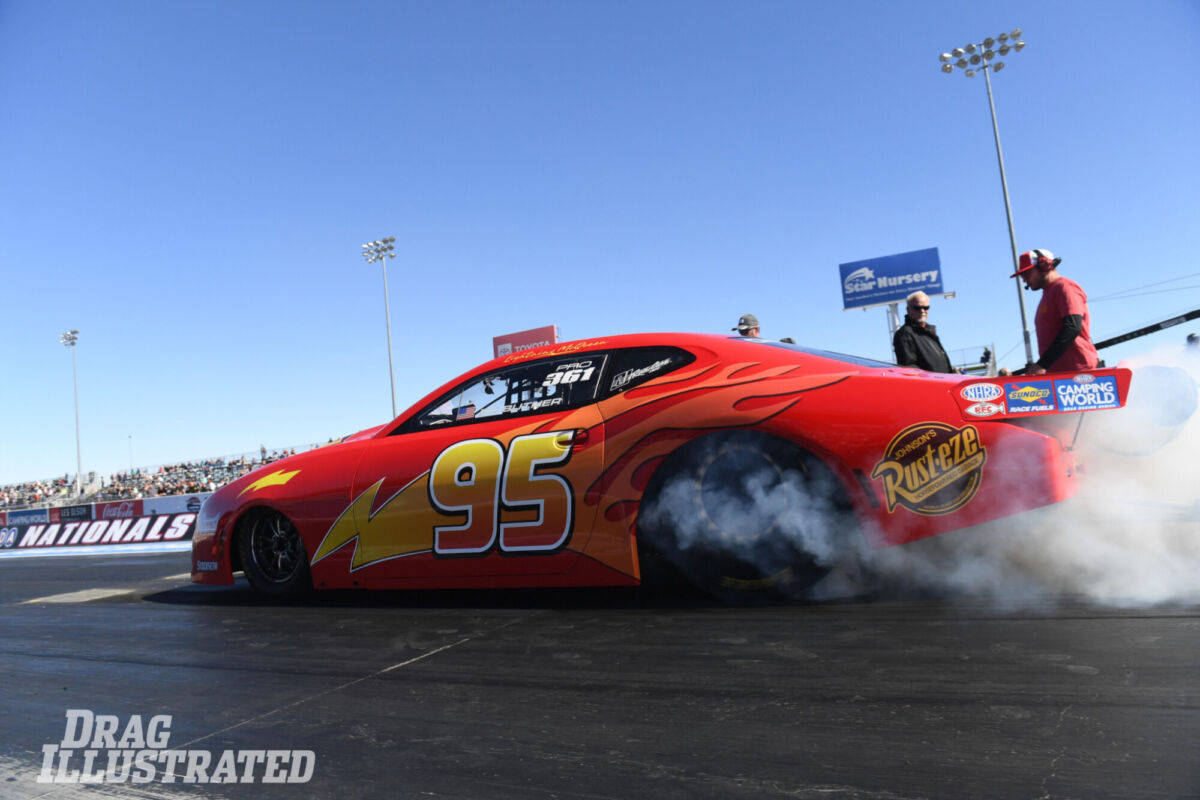 Randi Lyn is the planner; between the Halloween extravaganzas every year with the Pro Stock car, excursions between races with your crew, and even at the races making meals a fun adventure like nacho night in the team pits. How important is it to have that "fun" aspect?
RL: I've always liked having the role of the fun one. I never tried to take Pro Stock super-serious. We don't do it for a living, we do it because we want to do it, and I feel like the fun stuff is what the fans relate to. Especially Halloween – fans can relate to the Lightning McQueen car. They want to see what we do every year, and I think that draws more interest to the class. The other fun stuff, cooking dinner for the guys or nacho Saturday, I just like the sense of community. We all work together for one cause, and if the guys are happy and well fed, then it's good for everyone.
BB: With the Halloween stuff, I always think, "Not again, not again, not again." But it's always a success, and it's the No. 1 thing people ask me about. "What's Halloween going to be this year?" She won't tell me; she likes to keep it a surprise. But she is a planner, and she wants everybody to be involved and enjoy the moment. That was our wedding; it was not a normal deal, and everybody had fun.
Even the Southern Sportsman Showdown, the Stock and Super Stock race we did with Jason Johnson and Johnson's Horsepowered Garage, everybody had a great time. We appreciate them supporting us, but we loved it because we got to shine a spotlight on those racers and make it fun for them. We need to do another one of those races, because every Sportsman racer is here to enjoy life; they aren't here for a paycheck. They give up everything to come out here, and they should be on a pedestal.
Looking back at your life so far, what are you most proud of?
BB: Where I'm at in life today. I have two awesome grandkids now, another one on the way. I have four great kids. I miss my father every day, but I still have my mom, I have Randi's family, and I have this racing family. I'm with these goofballs at Elite Motorsports, but they're great people, they have good hearts, and they work hard, and that's every team out there. I could go to a Top Fuel team tomorrow and get the same thing, because we're all here for the same passion.
RL: I think I'm most proud that I've figured things out and maneuvered the way I have. It's not always easy, and there are a lot of situations along the way that could cause you to change in a negative way. I've continued down the path of being a Sportsman racer, and I'm true to myself even with pressure to run a Pro Stock car. I found my voice, and I'm not afraid to use it.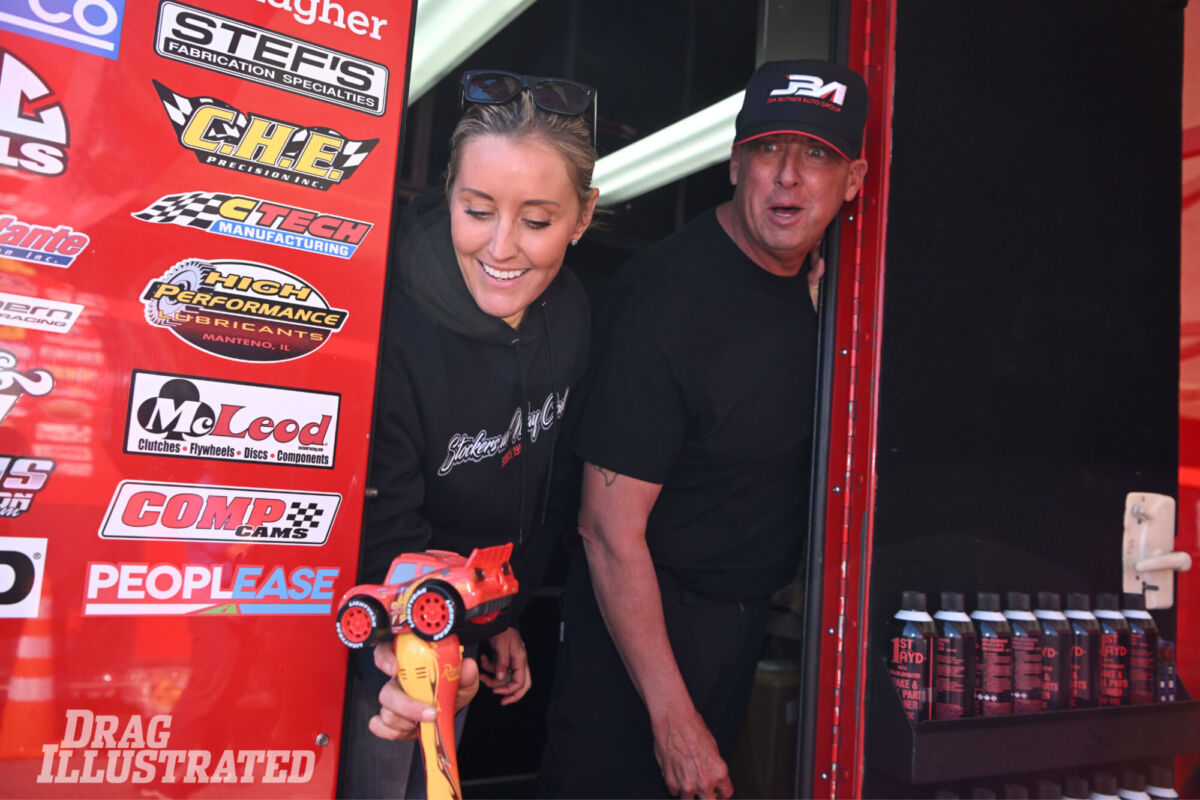 Is there anything you would go back and do differently, if you had the chance?
BB: As for my racing career, I'm pretty happy with it. I've learned a lot, and I've learned what's smart to do and what's not smart to do. There is not a lot I would change, but I wish I could be more involved on the Sportsman side with this organization. It would take so little to show appreciation and change lives, and it's not even money-related. It's about saying, "Hey, great job today. I can't wait to see what we do next." I would love to have a part in that.
RL: For me, early on in the Pro Stock stuff, I didn't enjoy it as much as I should have. We always had a lot going on, and there were a lot of years where it felt like work, work, work. We had dinner not that long ago with Jason Line and his family, and I look back and it's like, "Gosh, I miss them." At the time, you don't think about it ending.
A lot of times, I got caught up in, "It's crunch-time, we have to get this or that done." When Bo won the championship in 2017, I remember saying to my sister, "It will never be better than this." We were the underdogs, and if we win a championship now, it's expected. There will never be a greater feeling than that one.
When it was like that, we all worked together – yes, we had KB engines and KB helped us, but we were still a couple of people from Floyds Knobs, Indiana, and everybody jumped in to put tires on. We were still a little team, and I feel like I really enjoyed a lot of those moments along the way, but there were times when our Pro Stock car wasn't running good, and I let it affect the happiness. I wish I wouldn't have, that I would have just enjoyed it. But now I know you have to take the slump with a smile on your face and not let it get you worked up.
What's left to accomplish for you both?
BB: As of now, building the JHG brand like I promised to do for Jason Johnson, and it's working. To me, it's not about money, it's about seeing a dude whose lip quivers when he talks about our sport. There is passion beyond money out there, there is a lot of it, and that's a big deal. I just want to keep that going, enjoy life, watch my grandkids grow up, keep the business rolling, and do this as long as we can.
RL: I'd like to get a few more wins; I've been stuck on that seven long enough. Of course, I would like to win a championship in Stock, but right now, I don't think I'm a championship-caliber racer. I make good decisions most of the time, but not all the time. Jimmy Hidalgo won the championship last year, but it had been a long time coming. He was a championship-caliber racer for several years. I would like to win a championship, but I would like for those same things to be able to be said about me, and I'm not there yet. I still have to evolve into that person, but I like the challenge.