Just days before the U.S. Nationals – Billy Glidden's first race since an ugly crash in Orlando in February – the longtime standout was asked if there's any ill-effects from a nasty crash that ended the reign of Glidden's beloved Mustang that helped the veteran to everything from ADRL titles to NHRA Pro Mod wins.
"No, just fat," Glidden deadpanned.
It's a brief tongue-in-cheek moment from Glidden, who hasn't exactly had an easy go of it since the crash.
A shoestring budget has gotten even tighter, and that's not even taking into consideration the travails Glidden went through to get a new car. He ended up with a '68 Camaro first driven by Jim Halsey, but even that car underwent such a massive transition that Glidden barely had the time or resources to get it completed in time for the race at Indy.
Considering that, just racing at the U.S. Nationals was a feat in itself. It wasn't even a sure thing until a test session at the track a week before yielded positive enough results. He admitted that it probably wasn't the wisest move, financially speaking, but for those involved, including his father, legendary Pro Stock driver Bob Glidden, Indy was earmarked as a goal.
"The only request my dad made was if we could make it to Indy he would like that," Glidden said. "Mom and Dad have been very supportive. I know Dad wants to be more hands on, but I just want my dad to be as happy as he can. He's paid his dues."
Billy and his wife, Shannon, have paid their dues as well and, all things considered, Indy went as well as it could have. Glidden didn't qualify in a record-setting bump of 5.846 at the U.S. Nationals, running a 6.038 at 225.75 mph, but it was progress.
As far as the next step, Glidden isn't quite sure. He warns he has to be cautious, but somehow Glidden has always managed to find a way. He is still part of the Mickey Thompson testing program, and if anyone can find their footing through delicate times and financial situations, it's Glidden. He has made a spectacular career out of doing things his own way, overcoming adversity every time it comes his way.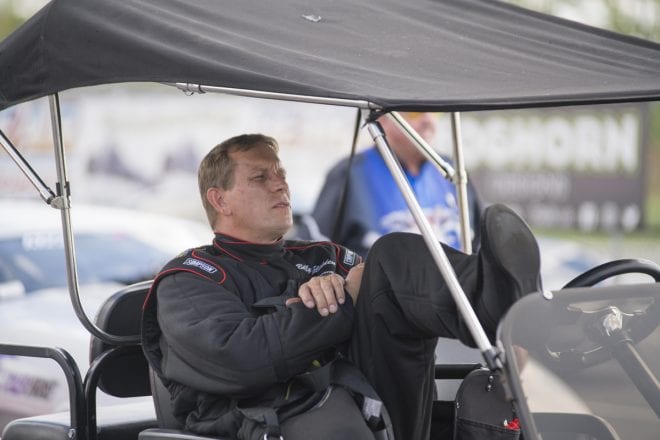 "I don't know any different," Glidden said. "I've always been very determined. This is what we do. I drove a big ole' farm tractor in the spring and summer, helping a local farmer. I enjoyed that, but we just keep going. We keep trying and we'll keep trying."
After NHRA Pro Mod wins each of the last two years, Glidden entered 2017 with plenty of optimism. But things quickly went awry in Orlando when his Mustang – one he had driven for thousands of runs – careened into both retaining walls during a February test session. The Mustang was irreplaceable, and despite being cleared by the doctor in April, the search for a new car was much more difficult than Glidden anticipated. He had purchased a Camaro previously owned by Dan Stevenson, but that deal quickly went awry. Glidden didn't want to comment on specifics of exactly what happened, only that "the rest of that story is horrible. It turned out very bad, very bad."
Back at square one, Glidden wrote himself off for the immediate future. But Glidden got encouragement and help from the likes of Ray Skillman and Todd Hoerner, eventually ending up with Halsey's red Camaro in early June. Admittedly picky when it comes to the details and used to the Pro Stock-styled Mustang he had driven for years, there was a significant amount of work to do.
But what has transpired over the past three months is much more than Glidden ever anticipated.
"We've been working on this car diligently," Glidden said. "This is all we've done, working on this, period. I didn't expect it to require everything it has required. Honestly, it's taken much more than I thought it would."
The past three months generally consisted of early-morning starts and late-night finishes, with a significant amount of Glidden's resources going into the mass repairs. The work has been extensive. Billy and Shannon stripped all the wires out of the car, remounted the engine, finished a complete overhaul of the rear suspension and bracing, cut the seat completely out of the frame and started over, and built new headers. That's only the tip of it, too, as Glidden also redid the transmission and rear end of the car, put in different bellhousings and struts, and much more. "We basically rebuilt the car," Glidden said.
For all the trouble Glidden went through to overhaul the Camaro, the obvious question is, 'Why not just get a different car to begin with?' But that wouldn't be the Glidden way, and his hands-on, meticulous approach has clearly worked well for years. This process has been arduous – and some may question if it's worth it – but Glidden has often been masterful in these types of projects. The scope of work this time is far different, however, and about the only thing that has remained unchanged is the driver. Without question, Glidden remains one of the most talented in the sport, but of all the challenges he's faced and overcome, this may be the biggest.
"It's a totally different car than what I'm used to," Glidden said. "We totally redid it ourselves. This seemed like a really good car for what we were getting it for and we got a lot of stuff with it. We do what we have to do to keep going. I'm getting to the point where I would think I would rather have it be more simple than what it has been, but financially there was no simple fix for it."
Skillman's help has been invaluable to the process, and Glidden was quick to send praise his way as well.
"Ray does a lot for the racing community and local community, and he's been great," Glidden said. "He helped us do this deal."
Glidden also credited Sonny's Racing Engines' Hoerner, as well as Jerry Bickel for their help in the process, along with local resident Nick White, who worked with Glidden several times each week to help get the car ready for the U.S. Nationals.
With Indy now complete, the logical question is where does the talented veteran go from here? Glidden isn't sure. He would like to compete more in 2017 in NHRA Pro Mod and other places, but he isn't sure if it makes financial sense or is even financially possible. Glidden believes there is potential in the Camaro based on testing data, and he has impressively come back from major crashes before to succeed, most notably in 2010 when he won an NMCA event and back-to-back ADRL races after a crash.
He was far removed from having any nerves in Indy after returning from the horrific crash in Orlando, but this type of return against a loaded, 30-car NHRA Pro Mod field is not easy. A daunting challenge like that has often brought out the best in Glidden, but to succeed this time, Glidden knows that he may need a few things to go his way.
"I'm not saying we can't do this, but things have changed," Glidden said. "These people aren't messing around now. These guys are really good and they pay a lot of money to a lot of people. We're not out there just for the thrill of racing. We're out there trying to pay our bills. We've always had to make butter out of duck shit. That's what we've had to do."