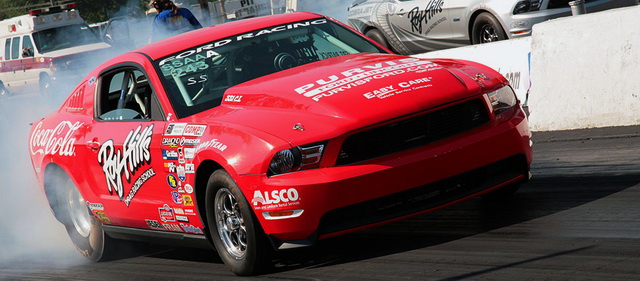 Fresh off a whirlwind three-week tour that featured stops in Pennsylvania, Michigan, and finally Indianapolis for the US Nationals, Roy Hill is excited to be back home in North Carolina for the 5th annual O'Reilly Auto Parts NHRA Nationals at zMAX Dragway.
"We had a great time on the road the past few weeks," Hill said. "We began in Maple Grove, PA, for the Fun Ford Weekend, where we had Robert Patrick and Lizzy Musi in the Phoenix Racing Ford Mustang Cobra Jets. From there we went to Milan, MI, where we held the first school for the new 2013 Cobra Jet buyers. It was simply tremendous.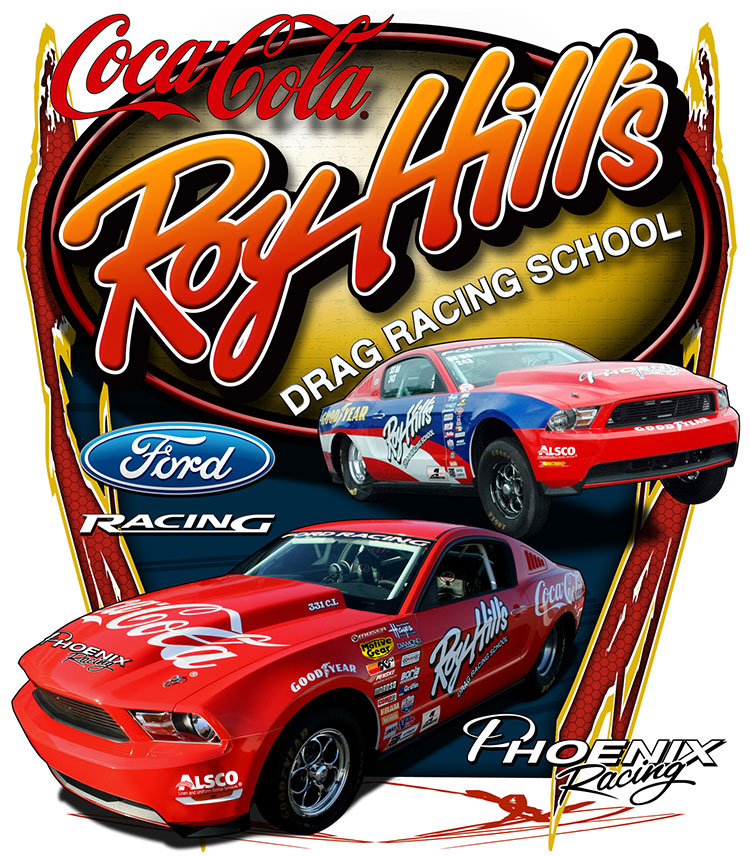 "Everyone at Ford Racing was thrilled with how things went, and six Cobra Jet owners earned their licenses. I couldn't have asked for a better way to start off as the Official Drag Racing School of Ford Racing, and we're holding another school here at zMAX Dragway on October 16-17, that will be open to the Cobra Jet buyers and anyone else that would like to enroll," Hill added.
"We finished up the road trip at the US Nationals in Indy, but the weather put the brakes on us there and after sitting in the rain for two days we made the decision to come home to attend to prior commitments and get ready for zMAX. This is our biggest race of the year and we have a lot of exciting announcements to make," Hill continued.
The first of those announcements is a two-year extension of Hill's partnership with Coca-Cola Bottling Company Consolidated, a major supporter of the Phoenix Racing Ford Mustang Cobra Jets and Roy Hill's Drag Racing School.
"Being associated with Coca-Cola Bottling Co. Consolidated for the past three years is one of the greatest things that has happened to me," said the Sophia, NC, native. "This new extension is very exciting. It means a lot to me; it means I can focus on what I need to do to grow the partnership, both on and off the track. I don't think anyone could ever replace Coca-Cola; they've been such a great company to work with and Robert Chambless, CCBCC's Senior Vice President of Sales and Marketing, has done so many things to promote Coca-Cola and Roy Hill's Drag Racing School."
In addition to the extension with the Charlotte-based Coca-Cola bottler, Hill is also pleased to announce an extension with Alsco, the worldwide leader in the rental of linen, uniforms, and hygiene products.
"I'm very happy to have Alsco back again next year," Hill said. "It's been a really great partnership, one that has been mutually beneficial. One of their major branches is here in Charlotte, and we're looking forward to having many Alsco executives and employees out to the track this weekend."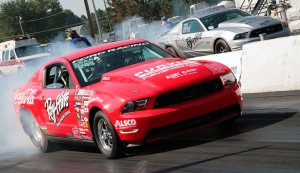 Hill is also announcing a new partnership with another Charlotte-based business, Autobell Car Wash. In association with zMAX Dragway, both an Autobell-branded Roy Hill's Drag Racing School two-seater dragster and Ford Mustang will be on display at the Autobell location on Bruton Smith Boulevard, which is right outside zMAX Dragway.
"We're hosting 75 Autobell employees for a corporate ride-and-drive event next Wednesday here at zMAX," Hill said. "This is something we've been working on for three years, and it has come together just in time for this race."
As if that wasn't enough, the motorsports legend has Roy Hill's Drag Racing School Ford Mustangs on display at the Hooters restaurant on Bruton Smith Boulevard, in the Ford Racing display on the manufacturer's midway, at the entrance of zMAX Dragway, and at various locations throughout the facility. It's safe to say Roy Hill goes full throttle when NHRA's "big show" comes to his home track.
With all the excitement surrounding the announcements and the key players in his marketing partnerships in attendance, Hill knows he needs to do all he can to bring home a Super Stock trophy this weekend.
"We're concentrating all of our efforts on just one of James Finch's Phoenix Racing Cobra Jets this weekend," said a determined Hill. "It's getting toward the end of the season, and I'm running out of chances to win a race for everyone that has helped me get here. I always have the car and the team to do it, I just have to put it all together and have a perfect weekend. There's no better place to do that than here in Charlotte."
Visit the all-new www.royhillsdragracingschool.com for more information about Roy Hill's Drag Racing School and the team's Ford Mustang Cobra Jet Super Stock program.