Bethany Crick hardly had a chance to do anything else in life except drag race and that's completely fine as far as she's concerned.
For career day at her elementary school Bethany would routinely dress up as a Pro Stock driver and her family photo albums consist mainly of snap shots of her at the track during all stages of life beginning at roughly two-weeks old. "I was cursed from birth," she laughs, as the Kentucky native recounts her life growing up at the drag strip.
Her father, Mike, is a longtime drag racer who spends his weekends chasing the big score on various bracket circuits. The drag racing pedigree Bethany received began just as soon as she learned basic mathematics. "I could look at a time slip and calculate a package when I was five years old," she declares with another happy laugh.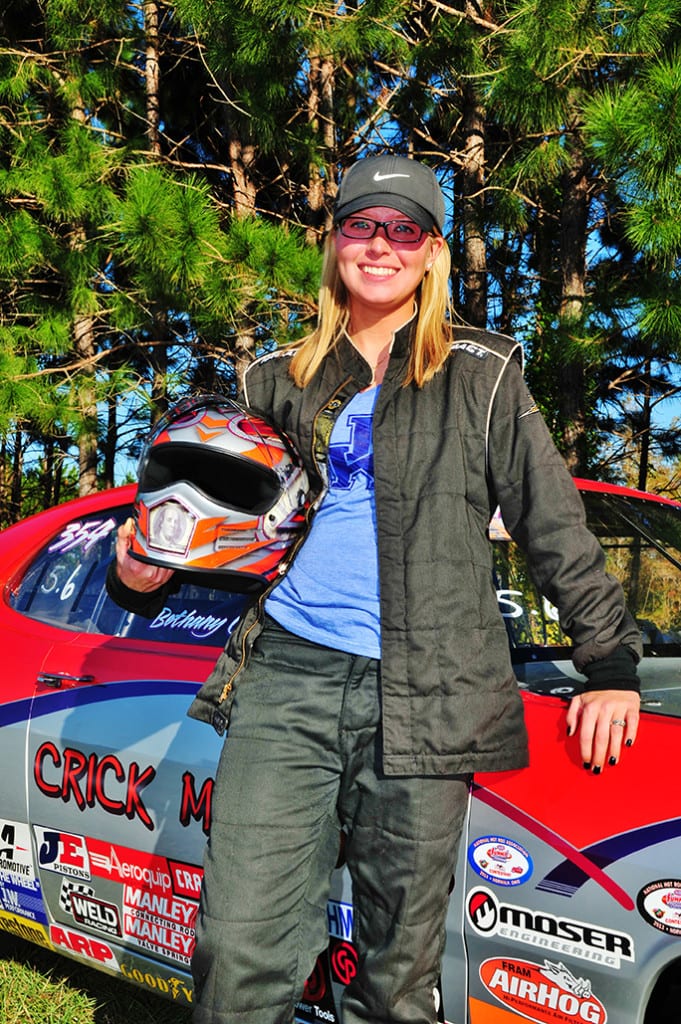 Understandably, Bethany wanted to follow in her father's footsteps, or tire tracks as is more accurate, and so far she has to the very best of her abilities. When it came time for Bethany to begin her driving career, her dad started her out in a tremendously outdated Jr. Dragster that he picked up for a mere $1,100 and since Bethany was a pint-sized seven year old and her race car was noticeably large for the class, the two were a mismatched pair from the very beginning.
"When we first got that car I couldn't move the pedals or see over the steering wheel," she admits, laughing once more. It's sometimes troubling when you're a youngster and you suddenly notice you're different from the other kids, or in Bethany's case, that her car was different. Then came the inevitable questions: "Daddy, why is everyone else's car so much shorter than mine? Why is my roll cage so tall?"
"Because yours is cooler, that's why!" her dad replied. Of course, Mike went straight to Bethany's mom and recommended their daughter wasn't told any different. "Don't tell her that her car is not real nice; she doesn't know any better," he remembers saying. The plan worked and Bethany was convinced her car was the coolest in the class. Unfortunately, it also was the least competitive. Bethany was already showing signs of being a tremendously talented driver, but you sure wouldn't know it by her win total. She barely won a round of racing in that car, let alone an actual race.
Finally, after two years of watching Bethany getting beat like a drum, Mike went out and bought a modern, state-of-the-art Jr. Dragster for her—and Bethany wanted nothing to do with it! "Since Daddy had convinced me that my old, outdated car was so cool, I hated the new one and told him I'd rather keep my cool car instead," she laughs. After much persuasion, though, Bethany gave in and gave the new car a chance and instantly began winning races. All she needed was a consistent car under her and she could do the rest.
Eventually, Bethany prevailed in practically every big event she could possibly win within the Jr. Dragster ranks, most notably the 2013 ADRL Pro Jr. Dragster world championship. While standing in the winner's circle in Baytown, Texas, with her championship trophy, someone offered to buy her race car right then and there. Bethany was ready to move on, so she agreed and her car was sold on the spot.
So, what was her next move? Well, first she broke down and cried! "I didn't think that selling my Jr. Dragster would bother me, but I was wrong." Since she had not yet "aged out" of the class she was completely eligible to continue racing Juniors for another year, but her dad encouraged her to move on and start getting some seat time in a door car. "The goal has always been Pro Stock and daddy told me if that's what I truly wanted I needed to step out of the Junior and get in a door car and start getting some experience."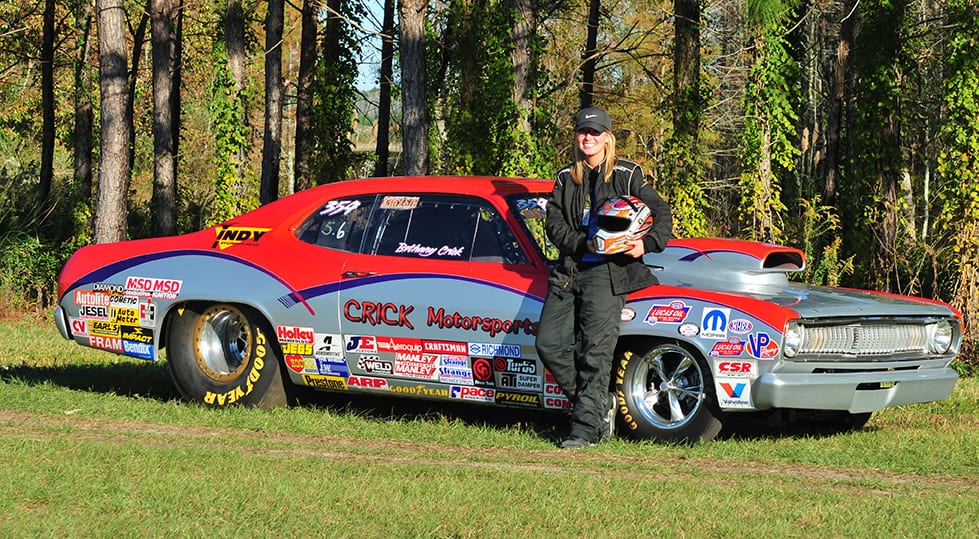 Though she wrestled with the emotions of letting go, she also knew and completely agreed it was time to move forward. So, she stepped out of a Junior Dragster and into the perfect vehicle in which to begin honing her door car skills—a 1970 Plymouth Duster that her dad has owned since he was just 21 years old.
Recently turned 18, Bethany is now lining up against her mentors, racers like Luke Bogacki, Rachel Henderson, Jason Lynch and Todd Ewing. In the short time she's been wheeling the Duster she's already gone to two finals and got down to eight cars in the $20 grander at South Georgia Motorsports Park. "These guys race for a living, so there's a lot of perseverance involved," she says. "Racing at this level will make you a better driver, but at the same time you can have highs and lows, and go through slumps."
While her racing is somewhat consuming, Bethany manages to also attend college at the University of Kentucky, where she's earning a degree in Business and Marketing. "The goal has always been to race Pro Stock and I figure that Business and Marketing plays a key role in that," she says.
For 2015 Bethany plans to continue the course of getting seat time in the Duster, but also hopes to make her PDRA Top Sportsman debut behind the wheel of a mid-four-second Dodge Stratus. "She's kinda' fearless—which concerns me!" her mom admits with a familiar-sounding laugh.
And while she's still kind of small for an 18 year old, Bethany definitely has come a long way since that tiny seven year old was stretching with all her might just to touch the pedals of her oversized Junior Dragster.