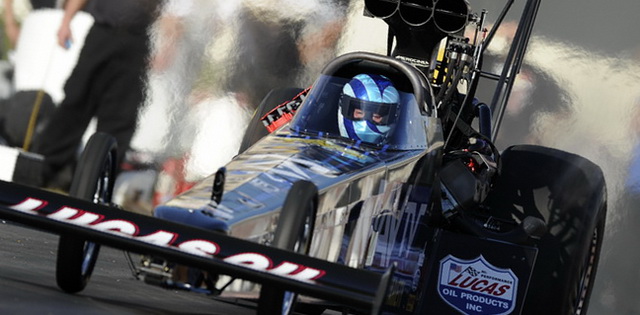 Brandon Bernstein's goal Sunday was to crush some championship dreams and put the ProtectTheHarvest.com/MAVTV Top Fuel dragster into the winner's circle at the Auto Club NHRA Finals at Pomona.
It was mission accomplished on both parts for Bernstein as he eliminated both Spencer Massey and Tony Schumacher from the Top Fuel title chase on the way to collecting his first victory since Richmond in 2009.
"It's awesome; I just can't say enough about this MAVTV/ProtectTheHarvest team," Bernstein said. "They did a great job all weekend, coming out qualifying No. 2. It's been a long time since we've had a win and it feels so awesome. I'm so proud of the guys and the whole team."
Bernstein got to play spoiler for the second time on the day in the finals against Schumacher, who needed to win the race to clinch an eighth championship. The ProtectTheHarvest car was off the line first, which proved to be crucial because Schumacher wound up having the quicker ET. In the end, Bernstein's .017 second advantage at the starting line got him to the finish line first.
"I don't think I've had a win where I had to wait so long to do the TV interview," Bernstein said. "They did all the other guys before they got to me. It's all about the championship at this race and hopefully we'll be in better position for that next year.
"There's a lot of joy for (Top Fuel champion Antron Brown). I'm not as close to Spencer or Schumacher as I am to Antron. It was nice to go out there and play spoiler for those two guys and see a great friend and a fellow Toyota driver win the championship."
Bernstein's holeshot win numbers were 3.762 seconds at 320.81 mph, which was enough against Schumacher's 3.753 at 325.53 mph.
The ProtectTheHarvest.com car's calling card during the Countdown was consistency. Sunday's win marked the fifth time in six races that Bernstein reached at least the semifinals.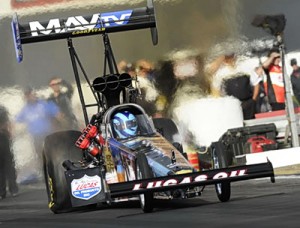 "(Crew chief) Joe Barlam has been so good and so close on the tune-up," Bernstein said. "We wanted to be consistent during the Countdown and we were. The car was amazing all throughout he last part of the year."
Earlier in the day in the second round, Bernstein knocked out Massey, who also needed to win the race to pass Brown and win the championship.
Bernstein was off the line first against Massey, and had plenty of horsepower to get the win. Bernstein ran a 3.805-second lap at 323.43 mph to Massey's 3.842 at 282.66 mph.
To open the day, Bernstein eliminated Terry McMillen with a pass of 3.776 seconds at 323.97 mph to McMillen's 8.674 seconds at 84.15 mph. In the semifinals, Bernstein beat Clay Millican. The ProtectTheHarvest.com car rattled off 3.793 at 322.73 mph as Millican smoked and rattled to an 8.357 at 82.92 mph.
"Winning the last race gives you a lot of confidence through the winter," said Bernstein who finished fifth in the Top Fuel points after losing a tiebreaker for fourth with Shawn Langdon. "We've made some really good ground up during the Countdown. We'll come out next year and try to win ourselves that championship."
(Photos courtesy NHRA/National Dragster; Click to enlarge)