This weekend's NHRA Summit Southern Nationals at Atlanta Dragway, the third NHRA Pro Mod event of the 2014 season, is actually Jim Bell's second event as he was forced to vacate his spot at the Houston NHRA national event after suffering a spectacular rollover crash between Gainesville and Houston racing at the inaugural PDRA event just over a month ago at Rockingham, NC.
During qualifying for the PDRA race, Bell's Jerry Bickel Race Cars (JBRC)-built, twin-turbo, Proline-powered Mustang (left) got out of the racing groove and into the pollen that was between the white line and the wall. Jim noticed he was getting too close to the wall and  tried to ease the car back into the groove in the left lane, but the car made a hard right turn and got up on it's side before hitting the right-hand retaining wall nearly head on at approximately 190 mph just past the eighth-mile finish line.
After hitting the wall hard, Bell's Mustang barrel rolled several times before sliding to a stop on its roof. Meanwhile, Lamar Swindoll in the right lane did an excellent job of avoiding Bell and was able to get his car moved over to the left lane without crashing himself.
Bell never did lose consciousness and undid his belts and was helped out of the car by the PDRA's trackside medical team and was transported to nearby Moore County Hospital, where he was released after a variety of tests. While he suffered no major injuries, Bell definitely felt stiff and sore for five weeks afterward and went through extensive physiotherapy.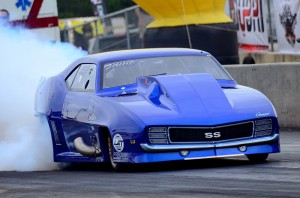 While his JBRC- constructed Mustang chassis did its job in protecting the driver, it was extensively damaged in the crash and Bell was already thinking about a replacement car while lying on his back for six hours in the hospital. Remarkably, he was on the phone the next day with Proline's Eric Dillard, who helped broker a deal for Bell on a brand-new JBRC '69 Camaro (left) that Bickel originally built for current Top Fuel driver Khalid Al Balooshi.
With Balooshi's driving contract for Al-Anabi Racing renewed, however, he was going to sell the car to reigning NHRA Pro Mod champion Rickie Smith, but instead struck a deal with Bell for the turn-key Camaro, which had a turbocharged Proline-built Hemi between the frame rails at the time.
Rob Nascimento, who is the full-time crew chief for Bell's JB's Power Centre Pro Mod team, then spent the next three weeks getting the car outfitted with a twin-turboed Proline AJE 481X engine. The new car also is about 150 pounds lighter than the Mustang was, which allows  Nascimento, a veteran of over 20 years in the sport, including stints with legendary Pro Mod and Funny Car racer Scotty Cannon, as well as Ron Krisher, Roger Burgess and most recently Top Fuel driver Steve Torrence, to move around and place weight in just the right spots to aid weight transfer and traction.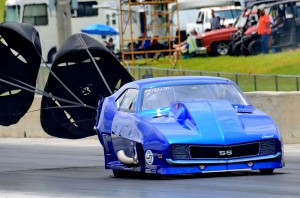 Bell tested the new car and combination last weekend by racing in the second PDRA event of the year at South Georgia Motorsports Park, where he qualified 15th and ran a best of 4.09 at nearly 192 mph over the PDRA's eighth-mile distance. He is ready to return to the quarter mile in NHRA Pro Mod competition this weekend, though. Missing the Houston race was costly points wise, but Bell remains confident his team can still achieve their goal of a top 10 finish in the points this year. He dropped from 13th down to 21st  after the Houston event.
Fresh off his PDRA experience, Bell says he likes what he sees and feels from the new car.
" Even though the Camaro came out of the same chassis shop as the Mustang the driving position is very different and I'm still getting comfortable in the new car," Bell said. "The steering wheel is much closer to me, the sight lines are considerably better and having the ability to move the weight where we want it are just a few of the differences. I have received a ton of positive feedback from racing friends and fans about the new Camaro.
"We know the competition is extremely tough in the NHRA series, it is the toughest Pro Mod series, period. But we have a great car and I have a great team in my corner, including Rob, Jamie Miller and Tyler Coots, who have been working tirelessly to give me a fast, safe race car," he added.
Bell also thanked Proline Racing Engines for supplying the horsepower, Jerry Bickel Race Cars, Rossler transmissions, Big Stuff EFI , Precision Pro Mod Gen II 88 MM turbos. He also credited Steve Petty and Dillard for  their help and assistance in tuning.
Pro Mod qualifying sessions at Atlanta are scheduled for 3:45 and 6 p.m., Friday, and noon, Saturday. Round 1 of eliminations begins at 2:45 p.m., Saturday, and eliminations will resume at 12:45 p.m., Sunday.
(Photos by Ian Tocher; Click to enlarge)