Jack Beckman continued his late season hot streak by making the third quickest Funny Car run in NHRA history Friday at the Lucas Oil NHRA Nationals at Brainerd International Raceway.
Shawn Langdon (Top Fuel), Shane Gray (Pro Stock) and Andrew Hines (Pro Stock Motorcycle) also were qualifying leaders in their categories at the penultimate regular season race in the NHRA Mello Yello Drag Racing Series.
Beckman (pictured above), who also owns the top two quickest runs in his class, had the best car in both of the qualifying sessions but powered his Infinite Hero Foundation Dodge Charger to the day's leading run in the final session, posting a track record performance of 3.946 seconds at 324.75 mph.
The effort continues an impressive streak of three races starting in Sonoma, Calif. and Seattle, where Beckman has posted jaw-dropping track record runs. In Sonoma he clocked a 3.921 second effort and then outdid that performance the next weekend with a 3.912 at Pacific Raceways.
"Unloading with a good run absolutely puts us in a wonderful position," Beckman said. "We were really trying to run a 3.93. There were several areas on the 3.94 where it wasn't as good as we were hoping it would be, and that's a good feeling when you miss it by a little bit and the car still runs that good. It's my best speed by a bunch, and we took over the points lead with that one. After leaving Pomona in 18th, being in first for now is a wonderful position."
He credits crew chief Jimmy Prock for the amazing performance of his car, and for making the rest of the teams dig deep to figure out a new way of running their machines. There were eight three-second runs in today's qualifying, including two side-by-side three-second passes.
"I have never seen so many Funny Cars gain so much in such a short period of time," Beckman said. "What happened was they looked at our time slip. It used to be that a certain amount of driveshaft speed on the computer was all it tolerated because the car wouldn't make it much further. Now when they look and see our numbers, they go, 'We've got to approach this differently.' The only way to get quicker early is to get that wheel speed up early. It shows how smart all our crew chiefs are out here, but it stuns me how quickly they've gathered us back up. We've got to figure out how to take it to another level from here. Everybody has stepped out of their comfort level to chase us."
Courtney Force, who is currently 11th in points and trying to make a late season surge to qualify for the Countdown playoffs, is second with a 3.959 at 320.66 in her Traxxas Chevrolet Camaro. Seattle winner Tommy Johnson Jr. is third in his Make-A-Wish Dodge Charger with a 3.974 at 319.60, and Robert Hight drove his Auto Club Camaro to fourth place with a 3.974 at 319.07. Matt Hagan, who entered this event as the points leader, is sixth with a 3.996 at 320.97 in his Mopar Express Lane Charger.
In Top Fuel, 2013 world champ Langdon moved to the top of the 16-car qualifying order on the day's final run with a 3.749 at 321.35 in his Knuckle Sandwich/Toyota dragster.
Langdon, who is currently seventh in points and has only one win this season in two final round appearances, says his team is peaking at just the right time.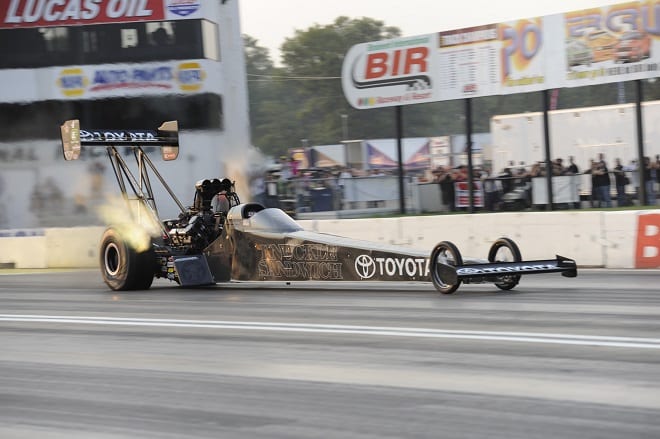 "We really felt like we turned a corner with the car in the middle of the Sonoma race," Langdon said. "We continued to make good runs in Seattle, where we were fortunate enough to get to the finals, and we made two more great runs today. It's good timing. Alan [Johnson, team owner] always seems to turn it up a notch when we're getting close to Countdown [to the Championship] time. It's a good race. Hopefully, we can do a little celebrating tonight in 'the Zoo.'"
Richie Crampton qualified second in his Lucas Oil dragster with a 3.754 at 318.54 and was followed by Steve Torrence, who is trying to improve his top 10 position before the playoffs, and sits third with a 3.758 at 326.63 in his Capco Contractors dragster. Spencer Massey is fourth with a 3.758 at 326.63 in his Red Fuel dragster. Series leader and three-time BIR winner Tony Schumacher is ninth in the U.S. Army dragster with a 3.807 at 318.62.
Gray powered his Gray Motorsports Chevy Camaro to the qualifying lead in Pro Stock with a run of 6.607 at 208.88.
Gray, who is looking to earn his first No. 1 qualifying position of the season if his time can hold through Saturday's two sessions, had the quickest car in both sessions today.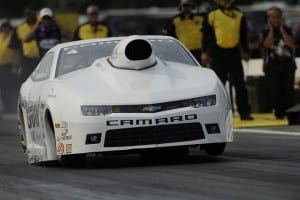 "It's important for me to get as many qualifying points as I can because here lately I haven't been getting many points on Sunday," Gray said. "They're all important. It was nice to get all six of them today. Maybe we can get lucky and get a few tomorrow. It will be up to me to go out and do a good job on Sunday and see if we can capitalize on a good, fast car."
Defending world champ Erica Enders is second in her Elite Motorsports Chevy Camaro with a 6.609 at 208.26 and former world champ Allen Johnson sits third in his Magneti Marelli/Mopar Dodge Dart with a 6.616 at 208.20. Series points leader and Minnesota native Greg Anderson is seventh after two sessions, posting a best of 6.624 at 208.14 in his Summit Racing Equipment Camaro.
Hines, the defending series champ and a two-time winner at BIR, rode his Screamin' Eagle Vance & Hines Harley-Davidson to the Pro Stock Motorcycle qualifying lead with a performance of 6.937 at 190.54.
"Believe me, this is a big breath of fresh air for me," said Hines, who is third in points and still looking for his first No. 1 qualifying position of the season. "It's been a struggle for me pretty much all year. I got away with that one win there in Charlotte, but to run the way that we did just now, it's nice to have a quick bike going into Saturday, and I'm going to take it as it comes."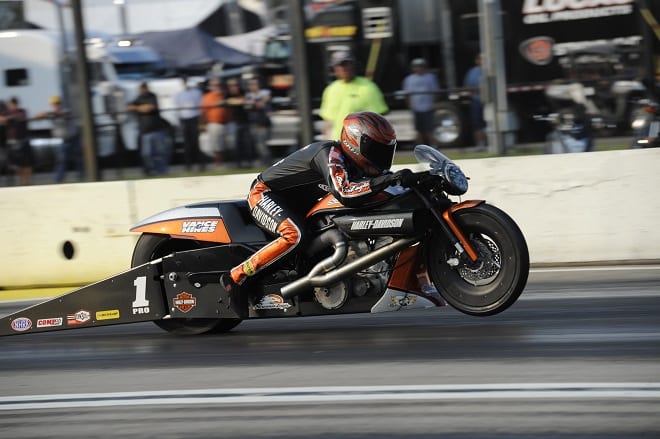 Series leader Eddie Krawiec was second with a 6.949 at 191.97 on his Screamin' Eagle Vance & Hines Harley-Davidson and Hector Arana Jr. rode his Lucas Oil Buell to the third spot with a 6.951 at 193.88. Alligator farmer Jerry Savoie qualified fourth on his Suzuki with a 6.994 at 192.49.