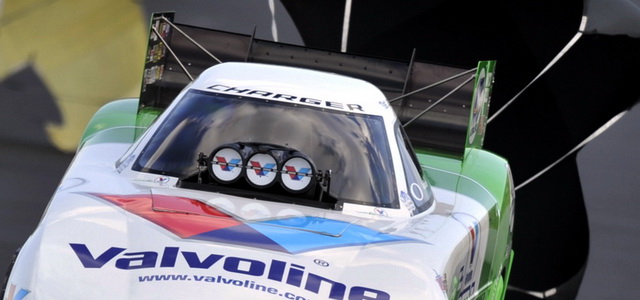 Crew chief Todd Smith didn't like something about the fuel pump on the Valvoline NextGen Funny Car driven by Jack Beckman before Saturday's (Aug. 18) last qualifying session at Brainerd International Raceway (BIR), despite it having pushed enough nitromethane to the massive engine in the Dodge Charger R/T Funny Car for it to complete two runs in 4.07 seconds Friday and early Saturday.
"We took a car that just ran 4.07, 4.07 and Todd said something is wrong with it," Beckman explained somewhat astonished. "There was no smoking gun on the computer, but Todd thought the fuel pump was going away. So we bolted a new fuel pump on."
Smith and the Valvoline crew changed the pump and after a 90-minute rain delay Beckman drove the Dodge to the No. 1 qualifying position with a run of 4.018 seconds that was the quickest he has ever completed a run. It also was good enough to set a track record and get the team its second pole of the year heading to Sunday's championship eliminations in the NHRA Nationals in the Full Throttle Drag Racing Series.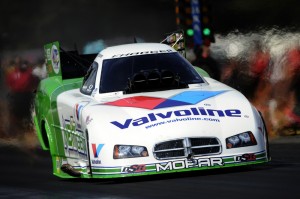 Beckman was impressed even before Saturday when the Valvoline Dodge was third best on Friday.
The team left on Aug. 6 the day after the event at Seattle to return to DSR headquarters in Brownsburg, Ind., so DSR fabrication technicians could replace the front half of the chassis.
"We are so confident with our fabrication shop that we weren't worried about any issues when we brought that car to Brainerd," Beckman said. "It's nice when runs validate that confidence because with these cars sometime you just don't know.
"It was 31 hours from the time they started taking the car apart until it was completely back together, and that included a little time when the guys went home to sleep. That alone is very impressive."
Beckman, Smith and assistant crew chief Terry Snyder have qualified no lower than third in six of the past seven Full Throttle events.
"I cleared the finish line (at BIR) and I hear yelling on our two-way radio," Beckman said of when the crew told him they went to No. 1 with the record effort. "I keyed (the microphone) right back up and said I could've told you guys at 300 feet. It never did anything but accelerate.
"I told Todd five races in that I had high expectations with him but I had no idea it was going to be this good," Beckman said after Smith joined the team after this season's fifth event. "He absolutely exceeded my expectations. We have a tune-up program where if you don't deviate too much, you're going to have a good running race car."
(Photos courtesy NHRA/National Dragster)