Bartone Bros Racing won Top Alcohol Funny Car at the NHRA Division 7 Lucas Oil Drag Racing Series Regional Wally at The Strip at Las Vegas Motor Speedway. The win is the team's second in as many weekends at the Vegas track.
The team had the momentum for the two-day regional event coming off their NHRA Nevada Nationals win just this past Monday. The team, with the championship already decided, has stayed the course and continued to test and tune under competitive pressure to get ready for 2024. Sean Bellemeur put in consistent runs and met up with Top Alcohol Funny Car's 2023 Champion Doug Gordon in the final. Bellemeur launched with a .015 light to drive the Pirate Ship to a 5.49 and 263 MPH pass to take the Wally.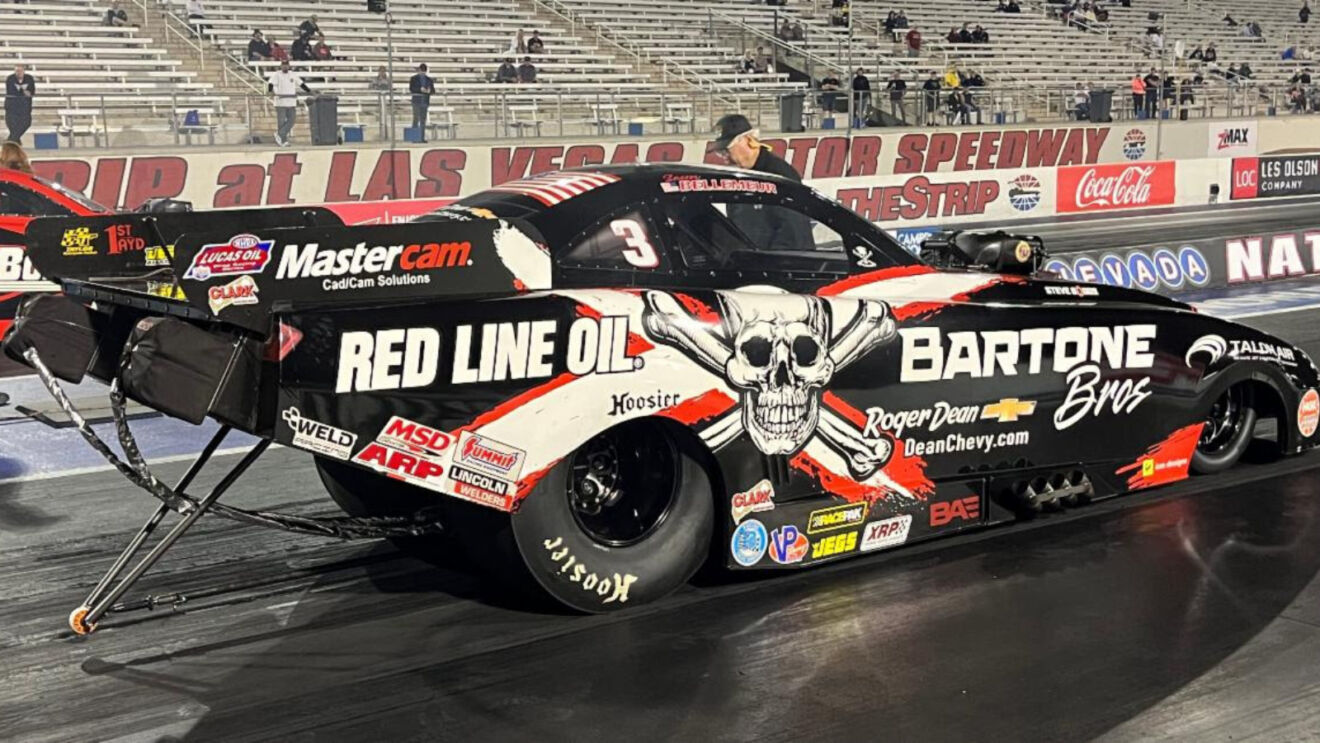 The win brings the Killer B's their third Wally Regional trophy, two in Las Vegas and one in Norwalk. In addition, the Tony Bartone-owned team has four National wins (Las Vegas, Charlotte, Indy, and Maple Grove).
"It was interesting. The track conditions were considerably different from just five days ago," Bellemeur said. "It took Steve (Boggs) and the Killer B's a little time to adjust. Steve told me, 'In the middle of the night I woke up and I knew exactly what it needed.' He showed that today. The Pirate Ship was fast and under control the whole way. The thing was absolutely on a rail. All I had to do was cut a light and keep it between the rails.
"The friendship and rivalry we have with the Gordons is great. When it comes down to it, he's the World Champion many times over. I knew I had to be good. Steve knew he had to be good. We threw everything at it, and we came out on top.
"Thanks to Tony Bartone, who provides the wind in the sail of the Pirate Ship to my guys Troy, Garrett, Justin, Seth, Matt and Nick, and I can't forget Steve Boggs for the horsepower that wins these Wallys."
The team will head four hours south for next weekend's In-N-Out Burger NHRA Finals to run at In-N-Out Burger Pomona Dragstrip in Pomona, California.
The team would like to thank team sponsors Red Line Oil, Roger Dean Chevrolet, Talon Air, NGK Spark Plugs, and Mastercam, along with product sponsors Simpson Performance Products and Taylor Motorsports Products.