Barry Mitchell will have a difficult time topping his incredible double-up weekend from Lights Out 7 a year ago. But early results leading up to Lights Out 8 indicate the Hamptonville, N.C. native is doing his best to do that. With less than a month before the highly-anticipated Lights Out 8 at South Georgia Motorsports Park, Mitchell fired an impressive shot on Tuesday at Bradenton Motorsports Park.
Mitchell went 3.81 right off the trailer in his new '69 Camaro from Tim McAmis Race Cars and followed that up with a 3.79 blast during testing before this weekend's U.S. Street Nationals at Bradenton.
"The car is working really well," said Mitchell, who doubled-up with wins in Pro 275 and Outlaw Drag Radial at Lights Out 7 a year ago. "We went 3.84 the first weekend with it, but we knew we had to make a lot of changes. We started with that and just kept tweaking it. These are all calculated runs and it's getting there. It's exciting and that's the challenge to me, figuring out what the car wants. It's been a good car so far."
Mitchell had two more runs after the 3.79, but admitted he got too aggressive, lifting on the third pass and shaking the tires on the final run. Still, a 3.79 is more than enough to turn plenty of heads, turning in one of the quickest runs in history.
Mitchell insists he's not about breaking records – though he got within striking distance of Stevie Jackson's 3.75 – but will instead use Tuesday's 3.79 as a baseline to make minor tweaks heading to Georgia.
His goal? To get within .02 of Jackson's record-breaking pass and grab another Lights Out victory, of course, this time in the Radial vs. the World class.
"If I can win Radial vs. the World, that would give me four hats out of five classes," Mitchell said, referencing previous wins in Outlaw 275, Outlaw Drag Radial and Pro 275. "I would like that and getting a win in Radial vs. the World would make us happy. I don't expect to break the world record, but I do want to leave (Bradenton) running a 3.77."
That is Mitchell's plan for the rest of the weekend in Bradenton and judging on the Camaro's improvement and consistency, a 3.77 seems within reach heading to SGMP. Mitchell is plenty involved in the process, but he's also quick to give plenty of credit to tuner Billy Stocklin and Todd Tutterow, who has helped immensely on the fuel management side.
"A lot of the credit goes to Billy, and we're all just bouncing stuff back and forth with each other," Mitchell said. "You can't do it without the right team and that's what we've hit on. Billy is incredible, and he and I think alike. It's about taking baby steps and getting down the track."
Even with just 33 runs on it, Mitchell's Camaro has rounded into form quickly. It went between 3.94 and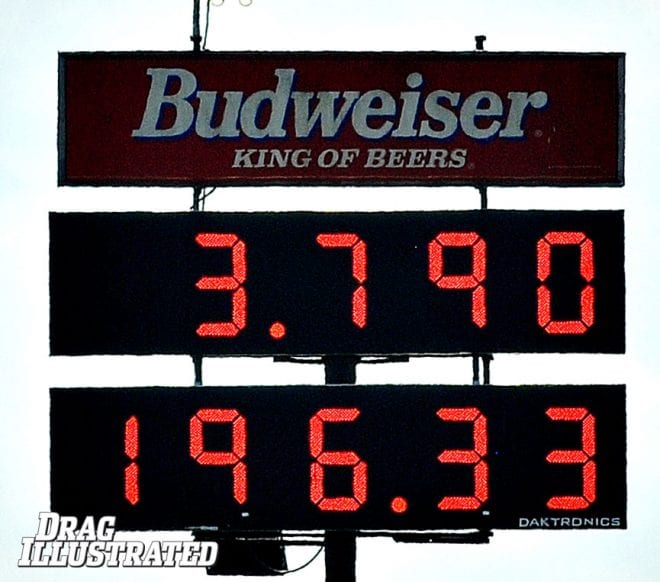 3.79 on its last eight passes before the final two runs on Tuesday, and Mitchell has mapped out that he would like 16 passes by the end of this weekend to be properly prepared for Lights Out 8. But to be running in the 3.70s just five years after making his first pass on radial tires – going a full second slower, no less – has Mitchell excited for what is to come.
"We do feel like we've got a good shot," Mitchell said. "Billy and I both agree that to try to win that race we have to get as many laps as we can, so that you and the car are one. You can't just show up to a race like that with your car sitting for 2-3 months. You have to know it's going to go down the track every time. But we've got a good group of guys and it's coming together."