Bill Bader Jr. and his family have been in the drag racing business for more than four decades. In that time, they've brilliantly mastered the art of promotion, entertainment and customer service, turning the Summit Motorsports Park experience in Norwalk, Ohio, into one of the most unique and memorable in all of drag racing.
To get to that point hasn't come without a number of challenges, a list that includes many of the same issues any drag race promoter would face. But the challenge Bader Jr. is facing now is unlike anything he's ever experienced in his career. The third phase of the track's lighting expansion – a nearly half-million-dollar upgrade – was completed last spring, adding a comprehensive addition to the east side of the track.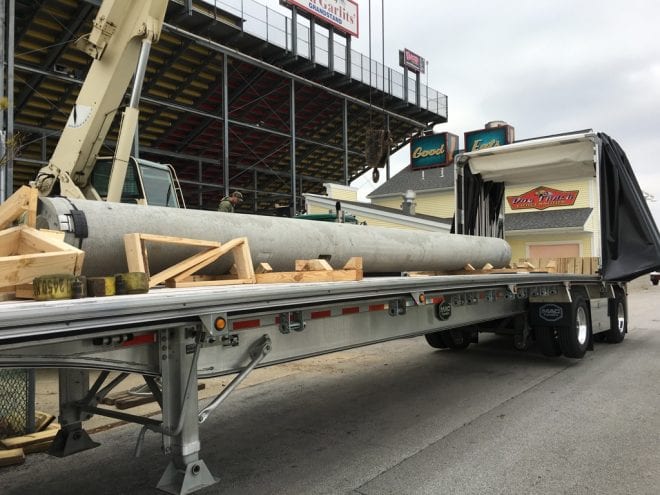 The Federal Aviation Administration (FAA) was made aware of the addition, but, along with the Ohio Department of Transportation (ODOT) Aviation Division, ultimately ruled for the removal of three lights that are in violation of Huron County Airport, the small airport that has sat next to the track for decades. One of the light poles under question isn't a recently added structure, which has added a frustrating measure to an already puzzling situation. That pole was installed 20 years ago during the first phase of the lighting expansion, a sign that only means one thing to Bader Jr.
"I feel like it's an attack on my business and my family, and it's not going to happen," Bader Jr. said. "We're going to fight this out to the bitter end."
For Bader, the entire situation is loaded with red flags and questionable concerns and he is not going to give in. After being made aware of the new lights, Bader said the FAA would not sign a letter to agree to closures for traffic for major events at the facility – including the Summit Racing Equipment NHRA Nationals in June – unless they were given coordinates for the three light poles in question.
"Here's big government, for a lack of a better term, blackmailing us, saying, 'We're not going to let you use the runway to exit the Summit NHRA Nationals or the Night Under Fire unless you give us the coordinates for those poles,'" Bader Jr. said. "So, reluctantly, I shared the coordinates and lo and behold, those poles are in violation of airport airspace."
The ruling stated there must be a certain amount of space around a runway during an aircraft's approach and on either side of the runway. It ruled for a removal of lights, something Bader Jr. wholeheartedly believes isn't a realistic or viable option. He has looked for solutions from every angle imaginable, but found there is no comparable replacement in what he considers "an ultra-critical part of the racetrack."
"If I have a 300-plus-mph car with some sort of catastrophic failure that goes off the end of the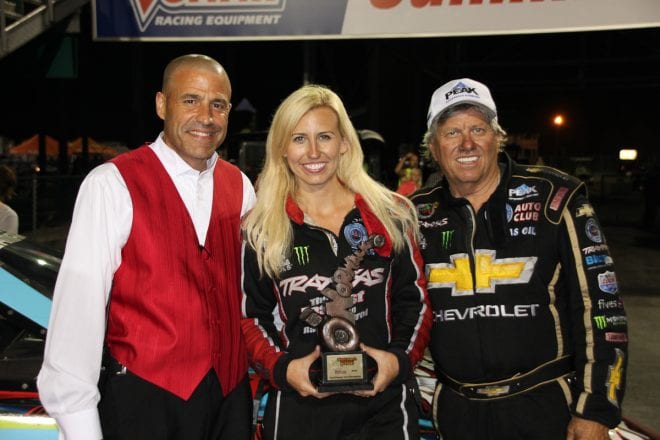 racetrack we need to be working in proper light instead of darkness," Bader Jr. said. "So to me, and to the sanctioning body and to the insurance company, this is a critical section of racetrack and I don't have a lighting alternative, I don't have a solution."
The ideal solution, of course, is to leave the 60-foot light poles as they are and how they have been for two decades. It's a point Bader Jr. has tried to hammer home in a variety of ways, including one that is the most obvious considering the small airport's status as a visual approach airport. That means no aircraft can drop below 600 feet unless the runway is in plain sight. With the poles measuring 60 feet high and the closest one nearly 300 feet away from the edge of the runway, the ruling only further confounds Bader Jr.
"In order for a pilot to be put in harm's way by one of our light poles, they would have to drop 540 feet below the floor and simultaneously miss the runway by the length of a football field," Bader Jr. said.
"So, this has become a little more than personal, especially for a family that has been in business nearly 45 years. This is all we do. I don't have a side job. This is how we feed our respective families. My path is very clear – I'm going to defend to the death my business and those light poles. Gloves are off and we're kind of in a street fight at this point."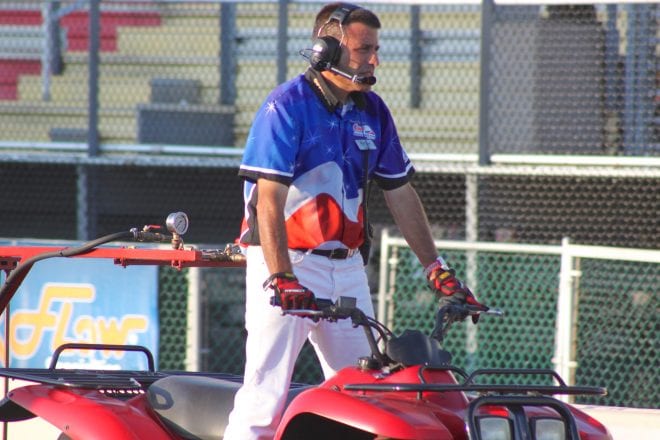 The street fight doesn't actually include Huron County Airport, as their airport board has stated support for the Bader family and the track. Community support has also been unwavering, which has been reassuring for Bader Jr. as the track continues to have an incredible economic impact in the area. The facility employs 30 full-time staff and more than 400 seasonal staff, boasting an economic impact of $100 million. That distinctive experience at the track has made Summit Motorsports Park a standout in the sport, a responsibility Bader Jr. takes seriously and most certainly doesn't want to see disappear.
"We have over a half-million visitors that come to this race track each year and we put a lot of effort and energy in making sure those visitors have a great time," Bader Jr. said. "I have a management team I consider family. Our team collectively believes in what we're doing. We have the good fortune of working in a great sport that has incredible potential, incredible upside."
Bader Jr. has even offered to install safety lights and reflective tape on the three lights in question, but has been met with little in the way of cooperation from the FAA and ODOT. To spur those efforts, and to ensure the ruling isn't implemented, Bader Jr. wants to continue to have his voice and his supporter's voices be heard.
That means continuing to fight and going all the way up the ladder to do so.
"We need to get to our Governor (John Kasich) from the great state of Ohio and we need some help," Bader Jr. said. "That's in a nutshell what we need."
Supporters can take action by contacting officials:
| | | |
| --- | --- | --- |
| John Kasich | 614.466.3555 | http://www.governor.ohio.gov/Contact/ContacttheGovernor.aspx |
| Ohio Governor | | Riffe Center, 30th Floor |
| | | 77 South High Street |
| | | Columbus, OH 43215-6117 |
| | | |
| Dick Stein | 614.466.9628 | http://www.ohiohouse.gov/dick-stein/contact |
| Ohio House of Representatives | | 77 South High Street, 11th Floor |
| | | Columbus, OH 43215-6117 |
| | 419.668.1864 | 2854 State Route 61 South |
| | | Norwalk, OH 44857 |
| | | |
| Gayle Manning | 614.644.7613 | http://ohiosenate.gov/manning/contact |
| The Ohio Senate | | Senate Building |
| | | 1 Capital Square, 1st Floor |
| | | Columbus, OH 43215 |
| | | |
| Jim Jordan | 419.663.1426 | https://jordan.house.gov |
| U.S. Representative | | 13B East Main Street |
| | | Norwalk, Ohio 44857 |
| | | |
| Sherrod Brown | 614.469.2083 | https://www.brown.senate.gov/contact/email |
| U.S. Senate | | 200 West Erie Avenue, #312 |
| | | Lorain, OH 44052 |
| | | |
| Rob Portman | 513.684.3265 | https://www.portman.senate.gov/public/index.cfm/contact-form |
| U.S. Senate | 419.259.3895 | 420 Madison Avenue #1210 |
| | | Toledo, OH 43604 |
| | | |
| Jerry Wray | 614.466.7170 | [email protected] |
| ODOT Director | | Executive Assistant to the Director Jerry Wray |
| | | 1980 West Broad Street |
| | | Columbus, OH 43223 |
| | | |
| James E. Bryant | 614.387.2341 | [email protected] |
| ODOT Aviation | | 2829 W. Dublin-Granville Road |
| Aviation Administrator | | Columbus, OH 43235 |
| | | |
| David Dennis | 614.793.8972 | [email protected] |
| ODOT Aviation | | 2829 W. Dublin-Granville Road |
| Aviation Planner | | Columbus, OH 43235 |
| | | |
| John Stains | 614.387.2358 | [email protected] |
| ODOT Aviation | | 2829 W. Dublin-Granville Road |
| Airport Engineer | | Columbus, OH 43235 |
| | | |
| Alex Erskine | 734.229.2927 | [email protected] |
| FAA Detroit | | 11677 South Wayne Road, Suite 107 |
| Program Manager | | Romulus, MI 48174 |
| | | |
| Carrie E. Glaeden | 614.752.6972 | [email protected] |
| ODOT | | 1980 West Broad St, MS 1500 |
| Assistant Legal Counsel | | Columbus, OH 43223 |
| | | |
| Timothy Monaco | 614.205.5276 | [email protected] |
| Regional Liaison | | 180 East Broad St. 16th Floor |
| Jon Husted | | Columbus, OH 43215 |
| Ohio Secretary of State | | |