After careful consideration, Summit Motorsports Park president Bill Bader, Jr. decided to change the date for the annual Summit Racing Equipment NHRA Nationals at Summit Motorsports Park so that it would no longer coincide or conflict with the July 4th holiday.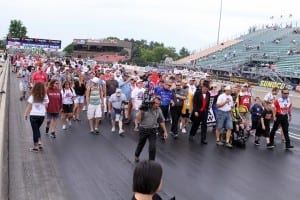 When it was announced that the tenth annual event will be held June 23-26, 2016, most fans were ecstatic, citing on the park's social media that at long last, they would be free of holiday commitments and able to attend. Only a few fans were less enthusiastic, despite the benefits of the date change and the fact that the event will continue to feature furiously fast-accelerating 10,000-horsepower Top Fuel dragsters, 320 mph-plus Funny Cars and fireworks.
What that says to Bader, Jr., is that the Summit Racing Equipment NHRA Nationals — an event which welcomed more than 50,000 fans in 2015 — is poised to see an increase in fan-count by the thousands in 2016.
In the interview below, Bader, Jr., whose Summit Motorsports Park sits on more than two hundred acres in Huron County in Norwalk, Ohio and was shown in a study several years ago to have a $100 million impact to local economy, covers the reasons for the event's date change.
The Summit Racing Equipment NHRA Nationals will be in its tenth year in 2016. Was it always held around the July 4th weekend?
No. We just completed our ninth year of the Summit Racing Equipment NHRA Nationals, and for five of those years, the event was held on the last weekend in June. Because of scheduling, we landed on the July 4th weekend in 2012, and it was that year that NHRA came to me and explained that New England Dragway was coming on-board and they wanted the July 4th weekend, but I had already expressed interest in the July 4th weekend because I thought it would be a good opportunity for people in the racing world to associate July 4th with the Summit Racing Equipment NHRA Nationals at Summit Motorsports Park. At that point, the rubber met the road and I laid claim to the July 4th weekend.
Did you see a spike in the amount of fans who came through the gates for the already-popular event when you began offering it around July 4th?
We had modest growth for the past three years, and there are people who embrace the holiday weekend and made going to the Summit Racing Equipment NHRA Nationals a tradition, but the event was not growing at a rate commensurate with some of the other events on our schedule. It didn't achieve the level of success we had hoped it would. I believed in my heart that we could make the event work around July 4th, but then I saw that I was mistaken.
What were the catalysts that finally compelled you to change the date?
In having the event around July 4th, we were competing with a holiday that we shouldn't have been competing with, because it's difficult to out-perform family tradition. Having the event around that holiday was also creating a hardship for our core customers as well as our corporate partners, midway vendors and even some media members, because of their other commitments. We're partners with the NHRA, and we have to make good decisions and we have to do what we believe will yield the highest number of attendees. So we huddled, and we had a one hundred percent vote in favor of going back to the last weekend in June. The date change was mutually agreed-upon by Summit Motorsports Park ownership and NHRA management.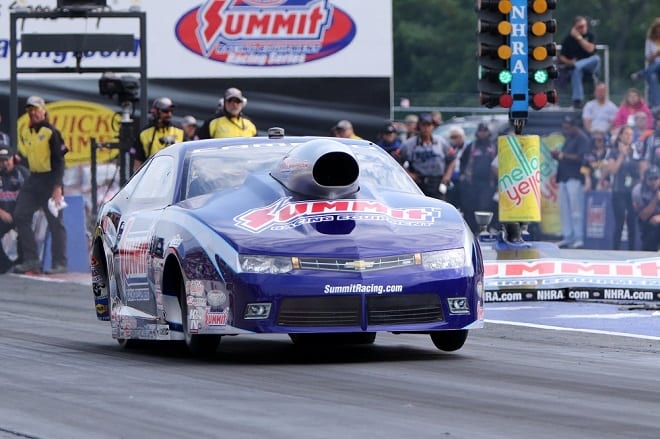 A few fans expressed disappointment in the date change. Can we put the spotlight on some of the advantages?
Having the event on a non-holiday weekend will make it easier for fans to get around traffic-wise, and it will make it easier for them to be accommodated at area hotels and restaurants. They won't be competing with the July 4th weekend, which means hotel rooms in our area, which are traditionally sold-out that weekend, will be more readily available, and the pricing will be more user-friendly. I'm confident this will also help with corporate involvement and support from Detroit-area auto manufacturers, and I fully expect the midway area to grow, as those vendors who weren't able to be at the event on the holiday weekend will now be able to be here. One of them is the Oakley vendor, and Oakley products are a huge midway attraction.
You have said you're confident that the date change will prompt a spike in attendance for the already well-attended event.
Yes. I think we'll see a huge bump in attendance, with thousands more people coming in. On Friday of the 2015 event, attendance was down significantly, but it was up on Saturday and Sunday. Overall, however, that was only a modest growth compared to years when the event wasn't held around July 4th. The reality is that people voted by their actions.
Will the event still feature all of the fanfare it had been known to feature when it was held around July 4th?
Even though the event will not be held around July 4th, we'll still embrace the patriotic theme and have all of the red, white and blue bunting and appointments, as well as American flags, throughout the park. From the inaugural year of the event, we've had night qualifying on Friday, and we'll continue to have night qualifying on Friday. That's a huge draw. We'll also have the fireworks on Friday, and like always, it will be a fantastic patriotic fireworks show choreographed to music. It will be great.
Bill Bader, Jr. is offering to talk with anyone who still has concerns about the date change for the Summit Racing Equipment NHRA Nationals. Call 419-668-5555 or email [email protected]
(Interview by Mary Lendzion)