Matt Hagan and Brittany Force took advantage of cool weather conditions and a fast race track to produce national record performances Friday at the NHRA Kansas Nationals at Heartland Park Topeka.
Hagan set Funny Car national records for time and speed with his leading performance of 3.862 seconds at 335.57 mph in his Mopar Express Lane/Rocky Boots Dodge Charger. Force closed out the record-setting qualifying session where many teams in both Top Fuel and Funny Car posted career-best performances, with a national record time of 3.676 seconds in her Monster Energy dragster.
"The fans got their money's worth tonight," said two-time world champ Hagan, who enters this event in the NHRA Mello Yello Drag Racing Series riding a wave of momentum after winning last weekend in Atlanta.
"That was just a phenomenal session," Hagan continued. "Run after run, each car that ran kept lowering the bar. Our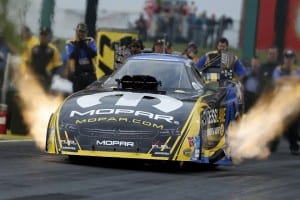 car is starting to really run strong. To come here and qualify No. 1 with the national record after winning last week in Atlanta, there's a lot to be positive about."
Hagan's incredible performance led a cluster of career-best efforts by the rest of the pack. Jack Beckman qualified second with a 3.866 at 332.10 in the Infinite Hero Dodge and Tim Wilkerson was third overall with a 3.869 at 333.74 in his Levi Ray & Shoup Ford Mustang. Points leader Courtney Force was fourth in her Traxxas Chevy Camaro with a 3.871 at 331.12.
"We've got us a hot rod this weekend," Hagan said. "I was just trying to hang onto it. It was digging and I was just trying to keep it in the groove. Dickie Venables (crew chief) has a good handle on this tune-up. When you get conditions like this on a track that's this fast, these cars will really fly."
Nine-time Topeka winner John Force sits 14th in the order after his Peak Chevy Camaro lost traction, got out of the groove and scrubbed the wall near mid-track. The team will replace his brand new Camaro body which was unveiled during a press conference earlier in the week before Saturday's final two qualifying runs (1:30 and 4 p.m.).
Brittany Force, who is having a breakout season in Top Fuel with two wins in three finals this season, was the only driver in her category to break into the 3.6-second zone during qualifying. She held off points leader Doug Kalitta, who has won the last two events, for the top spot in the qualifying order. Kalitta posted a 3.701 at a track record speed of 330.88 mph in his Mac Tools dragster.
"That was an incredible run for the entire Monster Energy team," Brittany Force said. "I knew with the way the Funny Cars were running (tuning consultant) Alan Johnson and (crew chief) Brian Husen were going to throw down. To be able to put a 3.67 on the board is just incredible. I was blown away when I found out what it ran at the top end. It really pumps us up going into tomorrow. This track is always fast. I love coming here and I've always had good luck here. To end up in the winner's circle on Sunday would be awesome."
Steve Torrence qualified third in his Capco Contractors dragster with a 3.709 at 329.91 and defending event winner Richie Crampton was fourth in his Lucas Oil dragster with a 3.710 at 318.99.
In Pro Stock, series points leader Jason Line, who has advanced to all seven final rounds this season in his Summit Racing Equipment Chevy Camaro, led qualifying in the factory hot rods with a 6.578 at 210.37.
"We laughed on the way up here because I've never been to the media center at Topeka because I've never done anything good here, ever," Line said. "It was two really great runs today by our Chevy Camaro. I'm going to sleep really good tonight."
Bo Butner was second in his Jim Butner Auto Camaro with a 6.591 at 209.59 and Greg Anderson was third in his Summit Racing Camaro with a 6.600 at 209.30. Defending event winner and two-time champ Erica Enders is ninth with a 6.643 at 207.30 in her Elite Motorsports Dodge Dart.