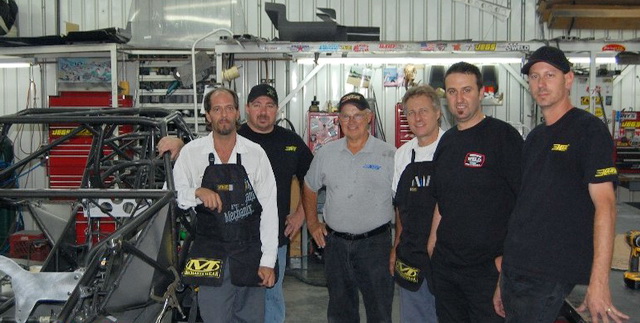 The Spinozzi Racing team would like to announce that for the 2012-13 Australian National Drag Racing Association (ANDRA) Pro Series Pro Stock season, they will be campaigning a brand-new 2013 Chevrolet Camaro built by Jerry Haas Race Cars of Fenton, Missouri.
"The car will utilize some of the latest technology in design, suspension and aerodynamics, and most importantly will have been designed for the Australian spec 400-ci engine programs," team principal and driver Emilio Spinozzi (above, 2nd from right) said.
At the completion of last season Spinozzi Racing had started making a name for themselves in the Australian Pro Stock ranks, with the help of Rino Conte of RC Performance Engines, based in Adelaide, South Australia. RC Performance Engines are performing continuous R&D on the engine, including designing new cylinder heads, which were run for the first time at the Winternationals with very good results. They are continuing testing with valve-train designs and look to see stronger powerplants throughout the season that will propel the Camaro to consistent six-second passes.
During the last half of the 2011-12 ANDRA Pro Stock season, Spinozzi Racing aligned themselves with Cale Aronson of Aronson Motorsports. Aronson competes in the ADRL's mountain-motor Extreme Pro Stock class and is well known for his clutch, gearing and chassis tuning knowledge.
"Spinozzi Racing has found even more gains since teaming with Cale," Spinozzi said. "He brings a wealth of knowledge in the clutch tuning department. Since the formation of the new partnership, we're now running a RAM Clutch, a clutch that is not widely used in the Australian Pro Stock category. The next step of the process was to introduce a new car into the program and we believe that this is the best way to do it."
Spinozzi explains that the new car will showcase state-of-the-art Pro Stock technology.
"Whilst working on improving the suspension, the team turned to Eric Davis at Penske Racing Shocks Midwest, who has worked with Aronson and a large amount of the ADRL and NHRA professional teams. Eric is working with us to build a reliable system that will help us use the unique characteristics of the new chassis and design, with the overall idea of a 400-cubic-inch program rather than just 500-cubic-inch NHRA car".
The Spinozzi Racing car is well on the way to completion with Emilio recently returning home from Jerry Haas' chassis building shop where he completed fit up procedures for his new ride. The new Spinozzi Racing 2013 Chevrolet Camaro is being built by Jerry Haas' lead chassis builder, Randy Douthitt, and should be in Australia by mid-December.
(Photos courtesy Spinozzi Racing; Click to enlarge)