Alone and in pairs they arrived at the parking lot outside the Emerson Biggin's sports bar, just a mile or so north of Will Rogers World Airport in Oklahoma City. With nervous, furtive glances over their shoulders looking for—what?—anything—Big Chief, Murder Nova, Flip, Daddy Dave, Chuck, Farmtruck and Varley pass from the fading sunlight of a typical hot and dusty lower-Midwest day into the restaurant's familiar, neon-lit confines, their eyes struggling for a moment to adjust to the change. Not yet the familiar cast of Street Outlaws on the Discovery Channel, on this day they're just a bunch of illegal street racers with colorful nicknames and no idea of what they're stepping into or even if they'll be going home later that night.
They're here to meet with "Josh," an unknown who a few days earlier reached out to Big Chief, the de facto leader of the
group. It was Chief who in 2005 came up with the concept of "The List," a fluid ranking of the top-10 street racers in the "405," Ma Bell's three-digit designator for phone numbers in the Oklahoma City area. Essentially, The List allows participants to challenge one another through a discreet, well-rehearsed ritual for a climb up the ladder of 405 street supremacy. In fact, just making it onto The List is a feat in itself and holding the gatekeeping 10th-place position is a responsibility not to be taken lightly.
Chief also had a long-standing online challenge issued on the popular YellowBullet.com message board that caters to drag racing's more politically incorrect crowd, inviting anyone willing to post up $10,000 to come on down to Oklahoma with their street car and have a go at The List's finest. That's how Josh eventually found Justin "Big Chief" Shearer.
Chief says that not long after the Yellow Bullet community steered Josh toward him he fielded an email from "some guy claiming to be looking for a high-dollar street race." Intrigued, he provided his phone number and was surprised to receive a call requesting not a race but information about the 405's street racing ways for a potential TV documentary.
"I'm like, all right, cool. Well, let me know when you get here or whatever," Shearer says, admitting he initially didn't take the request very seriously. "Then this guy on the phone says, 'Well, we have to kind of do this a little different because there's a lot of money involved before we can invest into an idea like this. I really need the names of you and all your buddies and where they work and what kind of cars they drive and what their phone numbers are.' And I'm like, 'Yeah, okay cop, no thanks. Forget it.'"
At Josh's insistence, however, Chief did a little research into the production company, Pilgrim Studios, and ultimately decided to float the offer by his street racing buddies. "I just told the guys, look, I don't know what to make of it and I don't want to make the decision on my own here because I'm scared that I'm feeding you guys to the cops."
Chuck Seitsinger, known simply as "Chuck" on the show, confirms the exchange, describing how Chief brought everyone together to say one of two things would happen.
"One, these guys are the real deal and we're really going to film a TV show. Or two, this is the biggest sting operation anybody's ever put together and we're all going to go to jail," Seitsinger recalls of Chief's sales pitch. "And we all pretty much said, 'Listen, we're all going to be together, so we're either going to film a TV show together or we're going to be sitting in the pokey together. Let's just roll with it.'"
So a few days later they entered en masse to the sports bar and Shearer admits everyone in his group remained on edge, uncertain of their immediate future and most definitely wary of Josh, who was waiting for them with what turned out to be his cameraman.
"We're still freaking out. We're still thinking they're getting information here for some big elaborate sting operation to get the 405 guys. We actually thought that we were something huge that the FBI might be interested in. In hindsight, it's like, geez, we were so stupid," Shearer says.
Regardless, once inside the bar the street racers were doing most of the talking. They asked Josh where he grew up, where he went to school, they wanted to see ID, and then Tyler "Flip" Priddy, one of Chief's oldest and dearest friends who tragically passed away not long after the early shows were taped, had the idea to ask for a photo of Josh's girlfriend.
"Turns out he's dating a Lakers girl. And hey, he don't look like guys around here. Between the V-neck shirt and the five-o'clock shadow, we can tell he's definitely not from Oklahoma and he definitely doesn't look nothing like a law enforcement officer. So we said okay, meet us over at Chuck's shop about eight o'clock tonight and we're going to go racing," Chief recalls. "We really thought that if we gave them any time they could get something together to bust us.
"While I'm talking about it here, I'm just laughing because it's like we were just so far off," he admits. "But all of us had something to lose and we'd been doing this for years and been pretty secretive about it, trying to keep everything on the low-low, like we're some big secret organization or something, when in reality we leave black marks everywhere we go."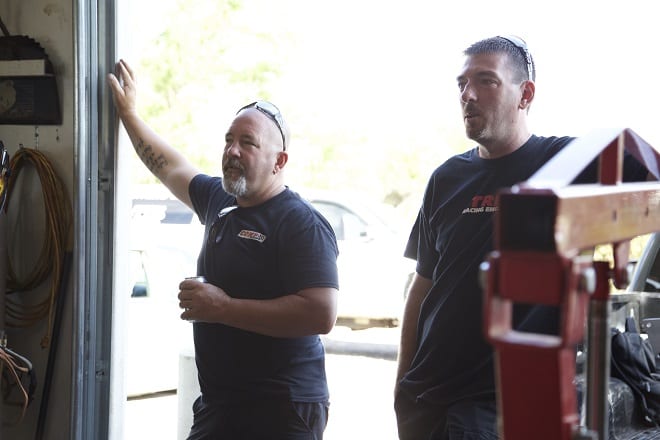 Street Outlaws made its television debut June 17, 2013, and within two weeks ranked second among all cable entries in the much-coveted, men-aged-25-to-54 demographic, behind only Fast n' Loud, another Pilgrim offering on the Discovery Channel. Averaging about 1.5 million viewers per episode that first season guaranteed the show its renewal. The second season opener attracted almost 2 million sets of eyeballs and nearly as many tuned in on average for each subsequent week.
The upward ratings trend continued in season three as nearly 2.5-million viewers watched the first episode and each one thereafter hovered around the two-million mark before the final show drew an impressive 2.8-million viewers. And after the fourth season finale attracted more than three-million fans nationwide, season five opened this past May with a special two-hour episode that helped Discovery post its best month ever, ratings wise, with Street Outlaws' viewership trailing only Fast n' Loud and Deadliest Catch in first place.
Still, all this ratings success—and in turn, advertising dollars—hasn't translated to fat bank accounts, million-dollar homes or exotic supercars parked in the driveways of the show's stars.
"The money from the show, wherever it's going, it's not going to us," Shearer states. "People always think we're making all this money and we get all these free parts and it's like, man, I can show you the receipts where I'm paying for the parts on my car and we're doing the work on them ourselves and we don't have any time to actually work for a living. So we're pretty much broke. When we started this show, I had a decent amount in the bank from my little heating and air business; that's all gone now."
When asked, Seitsinger freely reveals he is paid "a little less than $2,000 an episode," and stresses that's total, no per diem, no expenses.
"I can tell you, $2,000 an episode to race your car, by the time you pay for the diesel, the race fuel, the race parts, and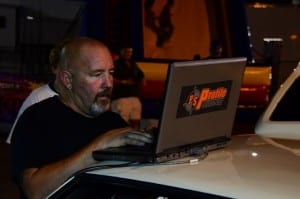 all the time you have to put in to race, I spend more money doing this TV show and doing what I love to do than what I make," says Seitsinger, who owns Alternative Motorsports, a chassis dyno-tuning performance shop for import racers in Oklahoma City. "And I can say that no matter what anybody makes on the show, probably nobody is really making money. We're spending it all on making our cars go faster."
Additionally, Chuck explains he actually has one of the better deals among Street Outlaws regulars, pointing out, "Everybody has a different contract on the show, depending on what their place is. Some guys get 500 bucks to race for one episode; some guys don't get paid at all. They come and race us; they don't make any money. They just get to be on TV. And that's enough for them."
Chief backs this up, though he avoids specifying what he's paid to anchor the Street Outlaws cast. He does explain, however, there were six original cast members who signed equivalent contracts in 2013—himself, Priddy, Shawn "Murder Nova" Ellington, Seitsinger, Wayne Varley and Sean "Farmtruck" Whitley—with each also receiving an "episodic fee."
"We're all on the same deal, we're all on the same contract," Shearer repeats. "The rest of the guys on the show, they have their own deals, whether they're somebody who races with us once every month or more, or somebody who races every couple of weeks or whatever."
Even more than accepting a marginal pay package, though, Chief confesses he regrets signing a long-term agreement.
"Honestly, I don't even remember how long it is," he claims. "I think it was like six years or something insane like that. And what's really crazy is that when they handed us the contracts, I didn't even read it. I just signed it and handed it back to them. And Farmtruck's like, 'What the hell are you doing?' And I said I don't care what it says on that piece of paper, I'm just going to do this TV show. So he asks me, 'Well, what if it says you're signing your life away?' And I'm like, 'Who cares? They can't eat me; they can't really do anything to me. What are they going to take? I ain't got nothing but a race car.'"
He also points out the show requires a huge time commitment, especially for the core group.
"We film all the time, constantly, non-stop," Shearer says. "We're told things like, 'No, you don't understand. We need you to race three cities in eight days with your car and we want you to bet a lot of money.' I'm like okay, no problem, but just for the amount of fuel that I'm going to go through I'm not even going to get covered on any of that. And they're saying, 'Hey man, this is a big opportunity; you've got to make your money on your own.'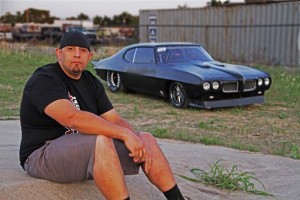 "But how am I supposed to do that when I don't even have enough time for a phone call because I'm constantly Big Chief from Street Outlaws? So it's tough, man. I mean, financially it was a very poor decision. But I don't like to talk about it a whole lot because the less time thinking about it, the easier it is for me to just be who I am. Just like you go to the drag strip and you stand in the staging lanes, if I walked up and asked some guy, any guy, how much money do you have in this car, do you think they want to go over every nickel and dime they got in their car? No, they don't want to think about it; they just want to get behind the wheel and rip it.
"So that's what I'm doing. I just want to make sure that when I'm old and gray I can say I went for it. I tried. Was it hard and shitty at times and there was no money and your family hates you and your kids don't recognize you and you stink and you've got holes in your socks and your truck is worn out and you just blew the motor up in the car and you get home and your grass is three-foot tall? Well yeah, at some points, that's where you're at. And I won't lie, at those times it's tough. But man, at the same time how many people like us have had something like this come along? And can you imagine how we would feel when we're 60 or 70 years old and we looked back and knew we never even tried?"
That's much the same thinking as Chris "BoostedGT" Hamilton, a suit-and-tie wearing aerospace engineer back home in Fort Worth, Texas, who makes frequent appearances as one of those secondary cast members receiving a few hundred dollars per show.
"I just now am able to get a little bit of reimbursement for travel and stuff, but I don't really care. I'll race anywhere, it doesn't matter to me," Hamilton insists. "But I've told everybody the moment this becomes not fun is the moment that I quit, because I'm not going to do something that I don't enjoy and that I'm not having fun with. Sometimes it's long nights, but it's long nights watching some badass racing. So I'll take that over being in the office any day."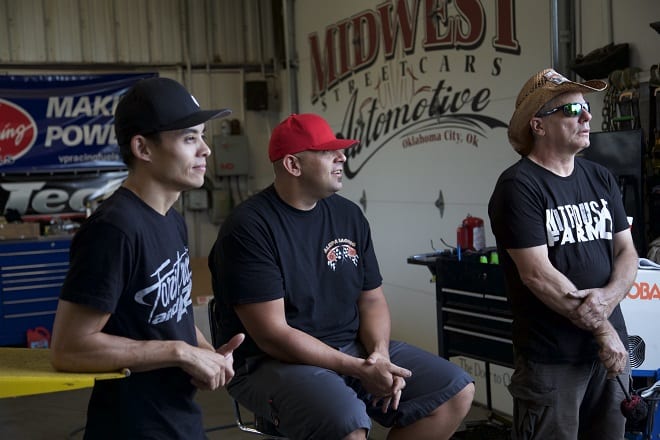 They may not be getting rich off the show—not unless you count selling up to $10,000 worth of t-shirts and other non-Street Outlaws-branded merchandise per weekend—but Chief, Chuck and the rest of the cast are certainly getting famous. To a man they say they can't believe how much the show has captured the viewing public's attention and what it means to them personally in their day-to-day affairs.
"If you would have told me, the first season, that it was going to be this big, I'd have called you a liar to your face," Hamilton says. "I didn't think that many people in the United States would be that interested in a couple of country guys going out there racing down some roads. I just didn't think that would appeal to as many people as it has, but yeah, it's amazing. We're truly blessed," he adds while taking a break from near-endless signing on a rainy PDRA race day in Memphis.
"And I'm not going to complain about the t-shirts. I mean, that's kind of how I keep the car going, is with some t-shirt sales, but fans want those, they want something they can actually hold onto. But I don't feel any different. As long as the fans and the people coming out to the race are enjoying it, then I'm happy, too."
Seitsinger likes to tell the story of being at the huge Performance Racing Industry (PRI) trade show last December at Indianapolis, where the Street Outlaws gang found themselves rubbing shoulders with motorsports elite and sharing public appearance time with several legends of drag racing. He says that didn't stop him from going on a little autograph hunt of his own, though.
"John Force was signing autographs so I got in line. I'm not sure that John Force knew who I was, but the people in his line knew who I was and could not believe I was waiting in line to get John Force's autograph. But I'm a racer; I'm a fan of drag racing; I wanted his autograph; so I stood in his line," Chuck says, laughing at the memory. "I signed probably 40 autographs standing there in his line and all of a sudden John Force stopped signing and says, 'Tell that man to come up here.' So I went up there to see him and he signs my stuff and he goes, 'You're causing havoc in my line.' I shook his hand, I said thanks, I appreciate it, and I walked off. It was pretty comical. He said I was causing havoc in his line."
For Ellington—Murder Nova—"everything's pretty different now," he says. Previously a power line builder, he now co-owns Midwest Street Cars with Shearer.
"We pretty much gave up everything to try to make this whole Street Outlaws deal work. We're celebrity status without the benefits," Ellington says. "I really don't mind everything that comes with being famous—if we had all the perks. It really sucks sometimes. People come by the shop and they don't get a chance to see us. We're in the back working. And if we didn't have to worry about making ends meet, then I wouldn't mind sitting outside all day long and talking to fans. Sit in the air-conditioned office and just wait for people to come by here, take pictures with them, sign autographs, whatever they want. I would love to be able to do that, but unfortunately we still have to make a living."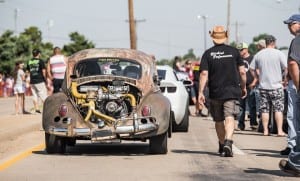 For the most part, the Street Outlaws guys are hard-working, blue-collar types used to paying their own way, saving a buck where and when they can, and living out their lives as big fish in a small pond when it comes to their race cars. They may have been local street racing heroes, but they still had to complete all the common day-to-day tasks and chores the vast majority of people take for granted: pumping gas, getting haircuts, shopping for groceries, grabbing a quick beer on the way home after a long day at work. That's all changed.
"In my hometown, I'll go in and have a couple of beers and some wings and there's always someone in there now that's like, 'Hey man, let me buy you a beer,' and I'm like, no, I don't, I'm okay, I don't need you to buy me a beer. In fact, let me buy you a beer is what I usually tell them," BoostedGT says of his new-found fame. "It is different. I don't think I'm quite used to it yet, but I just try to not really think much about it, honestly."
To suddenly be thrust upon a national stage, where their thoughts and actions—their very character—is open to public scrutiny has been a jarring, unfamiliar experience for most cast members. And as the group's ringleader, for none more so than Big Chief.
"Yeah, it's pretty crazy at times. You get recognized everywhere you go. But the worst thing ever is to be poor and famous," he says. "If you think about it, rich and famous is what you want to be; or poor and moderately well known, that'd be okay, too, I guess. But here we are. I'm still climbing around in attics two years ago and doing heating and air conditioning at houses and people are having their neighbors come over to take pictures with me and I'm covered in sweat and insulation, and I have to smile in order to get paid.
"You can't have a bad day when you're Big Chief," Shearer continues. "Let's say you go into Wal-Mart and you're trying to save a buck off some groceries and you've got 500 people in there that want to take pictures with you and they want to call you out. You have smile and you have to be there. You can't have a bad day.
"I learned real early that every time you get a guy that's mouthing and hating on you and talking trash, if you look past him, somewhere past him is a fan who loves you or a kid who wants to meet you and they can't even get to you because of this big, loud, obnoxious guy. So you have to remember that if you snap on this dude, that fan's going to see you do that and then they're going to think differently about you because they never thought you would do that. If you look hard enough, you're going to find somebody who wants your time, rather than someone who just wants to yell at you."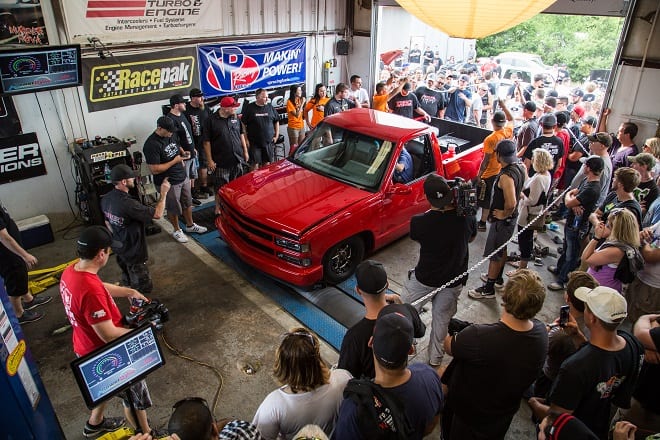 Shearer and the other Street Outlaws regulars recognize, however, that some people do raise reasonable objections to what they portray on television. Critics say the show glorifies and encourages dangerous, illegal activities. They claim that merely through association it hurts recognized, sanctioned drag racing. They insist the show is fake, perhaps the most biting accusation of all.
To be sure, Street Outlaws or not, street racing is not going to go away—ever. It's an old saw, but as long as there are two cars on a single stretch of road, the potential exists for a street race—and every now and then those drivers are going to oblige one another. They may be influenced to do so by what they've seen on TV, or in a movie, or even read in a magazine; maybe they just left a legitimate drag racing facility and are feeling inspired by the on-track heroics just witnessed; but more likely than not it's simply a matter of desire overcoming common sense and letting loose whatever horsepower is on tap, whether in mom's minivan or a nitrous-boosted street machine. Street racing happens.
For Ellington it happened for the first time nearly 15 years ago in a race brokered for him by Shearer. He was driving a '69 Camaro at the time that he'd built from scratch, complete with perfect paint, chrome rims and a brightly polished blower protruding through the hood.
"The first time I got in the car and I raced it I got pulled over. They gave me $500 worth of tickets and I got in all kinds of trouble," he reveals. "But ever since then I didn't care about the paint on the car anymore; I didn't care about polishing things up and making them pretty; it was all about function after that. I'd say that's part of my problem now, but I also feel like that's one of the things that makes me who I am. Even back then I knew what I wanted and I wasn't going to let anything like the cops catching me get in my way."
Still, it really is difficult to justify an admittedly illegal activity, no matter how comfortable or confident someone is with their participation. It's like an avowed pot smoker trying to convince an equally adamant opponent to buying legal weed that there's really no problem—it's just not going to happen. Chief recognizes the conflict, even at home.
"What's crazy is I have a five-year-old son and a two-year-old son and they love to watch the show and they love cars. I'm so happy about it, and those kids they don't know the difference; in the big scheme of things they don't know that what we're doing is highly illegal and dangerous and all that. To them, it's just drag racing. The adults are the only ones that see the difference," Shearer says.
"To the kids who are coming up that we can influence and steer them towards drag racing, they just know it's two cars
racing. They have a driver they can root for that they like and that's why they're into it; no different than monster trucks or NASCAR or anything else. It's getting them into drag racing and then as they progress in life, I believe very few of them will actually street race. And I do hope the rest of them will go to the drag strip. As long as they're drag racing, then we did good by everyone. As long as they're buying cars and spending money with these companies that are making parts specifically for drag racing and they're spending money at their local eighth-mile outlaw drag strip, everybody wins."
Chuck echoes that thought, knowing that some people claim what Street Outlaws presents is bad for drag racing as a whole. According to him, though, they're not just misguided, they're plain wrong. He claims the show has spurred more interest and more new builds—both street and strip—than the sport has seen in quite some time.
"I know what drag racing was doing three, four years ago, and I know how many people were filling the stands. Drag racing was taking a hit. There were not big purses; there were not a lot of race cars showing up for races. And what we have done, whether it be illegal or not, we still have race cars and we still try to make them fast and we're still competitive. So yes, we're doing it on a different level. We're taking our racing to the street, which is highly illegal, but it has drawn the interest," Seitsinger insists.
"My dad, he watches the show and he got his old car out that's been sitting for 20 years. And now he's getting it ready so he can drive it to Sonic on a Friday night. The show has sparked so many people into building cars, into getting back into racing. I have talked to vendors that said, hey, we're as busy as we've ever been. And they told me they honestly believe it's because of the show."
Likewise, Ellington claims that anyone who thinks Street Outlaws isn't helpful to the sport hasn't really been paying attention. As proof, he points to the crowds they consistently draw with appearances at small tracks across the country.
"It doesn't matter where we go, if you say that the Street Outlaws are going to be there, the stands are packed. People aren't really focusing on the whole illegal aspect of us being on the street anymore; they're focused on the cars and the racing," he states. "Even at our local track, the attendance, the car count, everything is higher, and I've heard it's like that all over the country.
"And people are building cars because of what they see us doing. I get emails every day about people who say their dad went out and bought an old car and now they're restoring it together and when they get done they're going to take it and race it at the track. Old racers tell me, 'This is the best thing I've ever seen because it reminds me of what we used to do.' So it brings old racers back to their youth and it makes relationships and family time better, with father-son, father-daughter, whoever it is. It's getting people to spend some time with their kids or brothers or family or friends out in the garage working on cars. Seriously, what's better than that?"
Seitsinger feels the mass attraction of Street Outlaws lies in its grassroots appeal as opposed to the nitro-burning fury showcased by NHRA national event broadcasts.
"Guess what? I can't outrun John Force and I never will. But somebody can watch Chuck Seitsinger on TV and say, 'I can go build a car like that. I can go faster than Chuck and outrun him.' So they go out in their garage and maybe they start working on the car they already have. They start ordering parts from Summit, from Jeg's, from Competition Engineering, from Precision Turbo, and they make their cars faster because they're pretty sure they can go faster than Chuck. We can relate to 99 percent of America, where the Top Fuel guys, even though I love those guys, how many can really relate to them? Everybody can build our caliber of car and go race it on some level—and it doesn't have to be on the street."
Part of the backlash Street Outlaws constantly faces actually stems from a perception by the public at large of what street racing—at least the kind depicted on the show—actually entails. Mention street racing to most people and images of American Graffiti immediately come to mind, where carloads of teenagers egg each other on to race from stoplight to stoplight during busy Friday-night traffic. It's not like that at all, according to Hamilton.
"First of all, it's a TV show, right? Obviously, we don't want every young adult, or older adult for that matter, to go out there in the middle of a busy highway and go street racing," he says. "Even off the air, if we're going to race somebody, it's always in a secluded area. We make sure no one's around. And everybody always gives the analogy, well, what about the minivan full of kids that's going to drive out in front of you? Well, if there's a minivan full of kids in the back of this cul-de-sac in an industrial park at 3 a.m., well, I guess you're right. But they're going to have to get through the car that's blocking the end of the road and the other car that was at the other end of the road. People don't realize how organized we are."
Ironically, part of that organization means Street Outlaws rarely films street-side scenes within Oklahoma City limits. Shortly after the conclusion of the first on-air season, some higher ups in the Oklahoma City Police Department felt the show mocked their efforts and vowed to shut it down. Arrest warrants were secured for each of the main cast characters based on using Discovery's footage as evidence to press charges. Big Chief was the first brought in on racketeering, illegal gambling, street racing and speeding charges, triggering Discovery Channel lawyers to point out it was a violation to use the network's footage, and once the footage was edited it became inadmissible in court.
That led to an agreement with the police department that all charges would be dropped and from season two on, Street Outlaws would no longer film any illegal activities within the city limits of Oklahoma City.
"Does it still happen? I plead the fifth," Seitsinger slyly says. "But the cameras don't show that we're in Oklahoma City. We try to do it in small towns. And now the police realize, listen, it's a TV show. We're trying to make good TV. We're not trying to embarrass anyone. But it's a fine line; we don't want to be caught by that one officer out there that if he runs across us doing a test hit, we're not going to be loading our car up and going home. And it's going to happen. They're not permitted but we still do illegal test hits on the road. We still take a chance every time we test our cars that we could get caught."
For the racing itself, to what should be no one's surprise, yes, Street Outlaws does go through proper channels to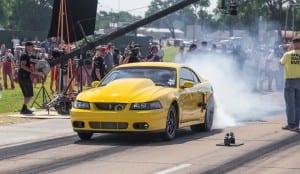 secure any required permits from the cities and towns where filming does take place on closed-to-the-public highways and streets. After all, it's not reasonable to believe anyone could hold an all-night street racing session that lasts through the wee hours of the morning without the local constabulary showing up, pissed. Additionally, show producers ensure adequate security and safety personnel are in place, including a professionally-staffed ambulance for each shoot.
The preparation, however, does not extend to predetermining the outcome of races, Chief stresses. That's part of what makes each late-night shoot last so long.
"In order for it to not look like a YouTube clip with four taillights running away from you, we have to get GoPros mounted everywhere. And because we won't let them make it fake, they can't camera up the cars and audio up everything until we flip the coin. Because they don't know what lane we're going to be in. And then we don't want to pick a lane until it's our turn to race because the guy in front of you could put something down to burn out his tires that you don't want. So we make it pretty hard on them. It's what takes forever.
"But the toughest part for the people from California that are in the TV business, they are scared to death of lawsuits. So pretty much we have to take everything on the chin and act like it's no big deal. Honestly, if someone gets in an accident, you just get their car off the road and you say okay, who's next? That's the only way you can get past that where it's not an issue because if you make a big deal about it, then they're going to make a big deal about it. And we know that with what we're doing, there's a very good chance of something like that happening," Shearer says.
That threat of crashing, that danger, that risk of actually getting injured—or worse—that's what separates reality shows like Street Outlaws and Deadliest Catch from the housewives and catfish noodlers and hot rod builders of the current TV landscape. Absolutely there are contrived side stories to the racing, often involving Farmtruck and sidekick, AZN, building and driving their latest wacky creation, but in the end Street Outlaws remains a racing show, focused much more on the characters than the cars they drive.
But the question still looms: where does Chief hope Street Outlaws takes him and his pals in the long run? Do they all get big, new contracts and move to California and he becomes Hollywood Big Chief hanging out with the glitterati? Does he and Murder Nova maintain the status quo at Midwest Street Cars and remain famous but woefully underpaid reality TV stars? Or does the show just end, the race shop goes away, he returns to the HVAC business and everyone returns to anonymity in darkness on the edge of town?
"Well, there's fantasy and then there's reality," he answers. "And the fantasy is that somehow, in some way in the future, I can get just enough money off of this deal so I can race for a living. That's the fantasy. And the reality is that we could either hurt someone, or more likely, people are just going to quit watching and then we're done and we go back to being who we were. Nothing ventured, nothing gained."
(Photographs by Kevin Cox/1320Video.com and Ian Tocher)
This story originally appeared in Drag Illustrated Issue No. 102, the State of Drag Issue, in August of 2015.