Antron Brown powered to the provisional pole under the Bandimere Speedway lights on Friday night when he took the Matco Tools Top Fuel dragster on a 3.783-second at 327.90 MPH ride. Brown clocked the run during the second qualifying session at the NHRA Mile-High Nationals near Denver and was awarded three bonus points for his efforts. The three-time Top Fuel world champion was one of only two drivers to record a sub-3.8-second pass in the challenging mile-high elevation during day one of qualifying.

"Everything is different up here on the mountain," said Brown, a three-time winner at Bandimere Speedway. "When you leave the starting line, you know that you don't have the power that you do at all of the other tracks on tour. The car will take off smooth but then you know if you've got power because the car will either start marching or just labor flat, and if it labors flat, you know, it's not going to be a good run. The first qualifying run today, we had the car tuned up the same and it had a little fast shake and didn't make it down, but we knew the conditions the next session would be better so (crew chiefs) Mark (Oswald) and Brian (Corradi) left it alone and just gave it a little more here and there. Once (the car) got through halftrack and it was hitting on all eight, I felt it arch up, and I knew we were on a run. I looked up and saw that 3.78 on the scoreboard, and I knew that was the run we were looking for.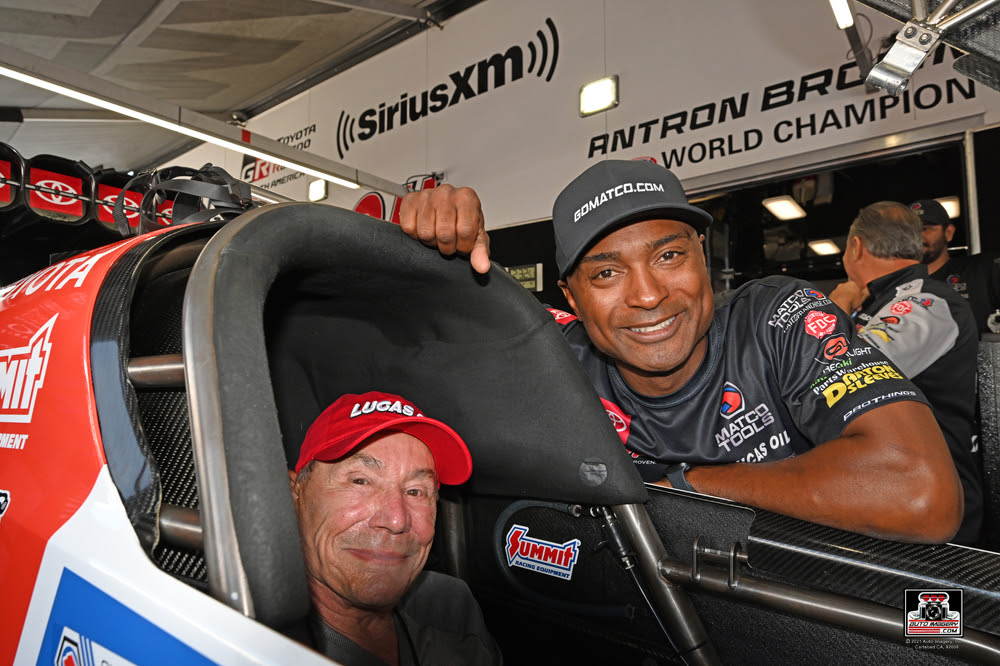 "We had a really good test session at Indy a week-and-a-half ago," Brown continued. "We're anxious to get back to sea-level tracks but this track is the true test because coming up here to Bandimere on the mountain is going to show you if you've got power or if you don't, and that run just showed that we've got power. So, we're looking forward to tomorrow and getting some more runs down the track, and getting ready for race day. Our main focus for tomorrow is to stay in the top three, but hopefully, we can hang onto that No. 1 spot."

If Brown can stave off the competition to maintain his position at the top of the timing sheets on Saturday, he will successfully capture his fourth No. 1 qualifier at Bandimere Speedway, his second pole of the year, and 51st overall. Earlier in the day, Brown had the distinct honor of having NHRA Legend and International Motorsports Hall of Fame inductee Kenny Bernstein sit in his 11,000-horsepower Matco Tools/Lucas Oil Top Fuel dragster and warm it up for the event's first qualifying session.

"That was some pressure right there, having 'the king' come back out and sit in our car," Brown said. "When he warmed that car up, people don't realize, he went through all of the motions without even thinking about it. Put it in reverse, forward, smooth not grinding the gears, trimming the fuel pump like he was there just yesterday. Having Kenny Bernstein, the king of speed, warm up our car and then to make a run like that tonight with him being here was truly special. That was a representative run and something we can give back to Kenny with all he's done for our sport. He's definitely our hero at AB Motorsports."

Qualifying for the final running of the NHRA Mile-High Nationals continues on Saturday at 3:30 p.m. MT.