Pro Modified veteran Andy Jensen earned his first Northeast Outlaw Pro Mod Association (NEOPMA) event win since 2007 Saturday night at the June edition of Cecil County Dragway's Strange Engineering Outlaw Street Car Shootout. He won in the NEOPMA Nitrous/Turbo class, while Mike Decker Jr. and Derek Ward will settle the "Supercharged" final round when the series returns to Cecil County in July.
The NEOPMA also completed eliminations from its rained-out Maple Grove Raceway event during qualifying at Cecil County. Chris Russo won in the Supercharged class in his screw-blown DMPE '69 Chevelle. Fredy Scriba won in the Nitrous/Turbo class.
Along with winning the Maple Grove race, Scriba also qualified No. 1 for the Cecil race with a 3.708-second pass at 204.32 MPH in his nitrous-fed "Sorcerer" '69 Camaro. In the Supercharged class, Decker Jr. drove his screw-blown Decker's Salvage Camaro to a 3.634 at 205.76 to qualify No. 1. Both drivers earned a $500 low qualifier bonus from Canvas Plus.
Scriba's success continued in Cecil County eliminations, though he was stopped in the final round by Andy Jensen in his single-turbo, small-block-powered '68 Camaro. Jensen was first off the line, and though both drivers had nearly identical 60-foot times, Jensen powered ahead to finish with a 3.673 at 204.23 for the win. Scriba slowed to a 4.223 at 129.07.
"I was choked up. It was a pretty big deal," Jensen said of his win. "We've had a pretty good car in the past but struggled for the past few years. I've always run an oddball combination and I do that because it's what's interesting to me, and the fans, to be honest. I could buy a Noonan and screw-charger or a Musi 959 but I just have no interest in that. To me, the fun is taking a bunch of homemade junk and trying to run with the store-bought stuff. It's difficult. You really can't ask anybody for help because nobody knows anything about it. It's a lot harder way to go, but it's more satisfying when you win. It may not be a smart way to do it, but it's the way I've chosen."
In the first round, Jensen lifted to a 4.998 at 99.44 when Matt Deitsch went red by .012 seconds, throwing away a 3.759 at 198.88 in his nitrous-assisted '69 Camaro. Scriba made his best run of the weekend, a 3.666 at 204.88, to beat Richard Shainline's 3.896 at 186.61
In 2021, Jensen retired the McAmis-built car he debuted in 2008 in favor of a newer '68 Camaro that previously sported a roots-blown combination. He swapped in his favored single-turbo, small-block combination and added a Ty-Drive and a torque converter instead of his typical clutch. He also switched to Haltech electronics.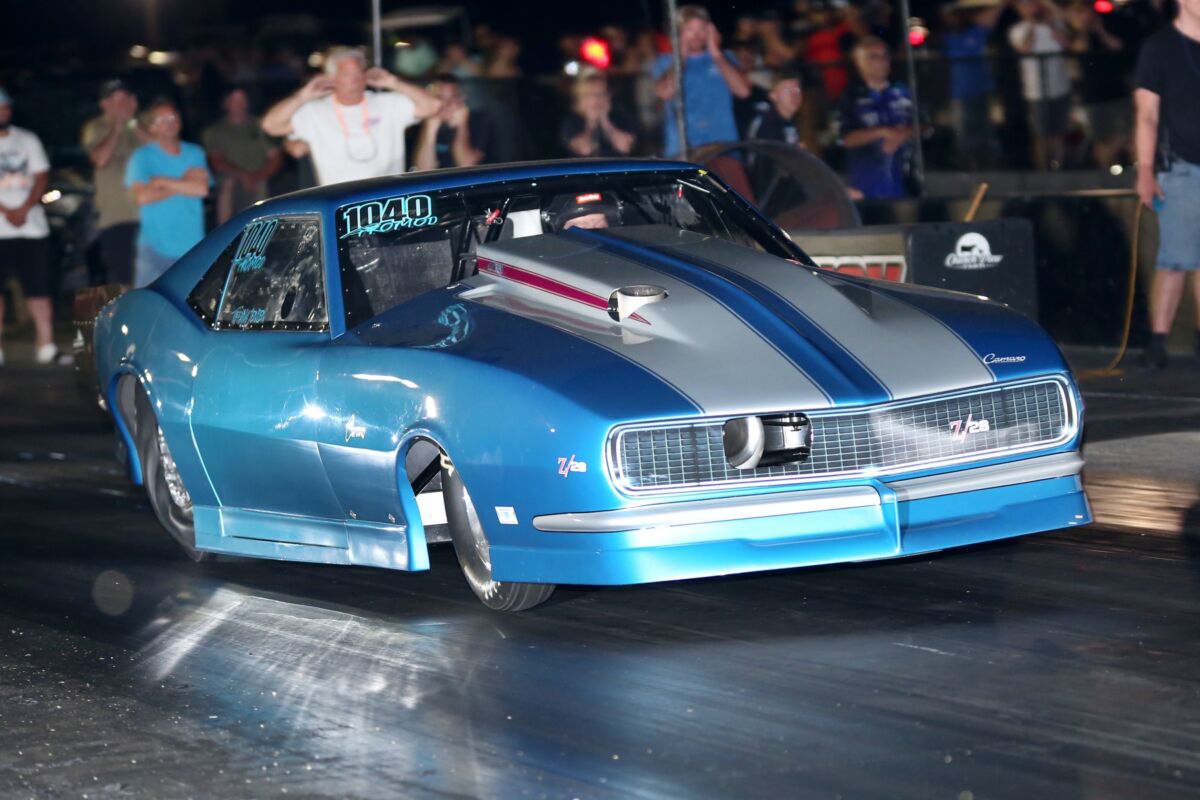 Jensen, a four-time NEOPMA champion, credited Patrick Barnhill for helping with the Haltech system, as well as fellow racer Kevin McCurdy for his suspension advice. He also thanked Uncle John Burris for technical advice. But most of all, Jensen thanked his loyal crew for their efforts. His team includes his fiancée, Tiffany Tankalavage, Mark Montesano, Frank Tankalavage, and Jim Wohlford.
"My crew deserved that win," Jensen said. "Generally, when you struggle for a long period of time, you'll find out who your real dedicated friends are. These guys come home from the track disappointed almost every outing for three years and they're still there. I've got a pretty fantastic crew, so it made me feel good to get them a winner's circle picture."
In the Supercharged group, which features screw blowers, roots blowers, and ProChargers, two-time and defending NEOPMA champion Mike Decker Jr. was set to face longtime NEOPMA driver Derek Ward in the final round before the curfew set in. On the way to the final, Decker recorded a 3.659 on a first-round bye run, a 3.642 to beat Tyler Hard's 3.63 on a holeshot, and a 3.643 to knock out Brazil's Roderjan Busato. Ward's trip to the money round included a first-round win over Maple Grove winner Chris Russo, then a perfect reaction time in the second round to help him beat Steve King in the hard-charging "Savage" Corvette. He had a bye run in the semis.
The Supercharged final round will be contested during qualifying at the July edition of the Strange Engineering Outlaw Street Car Shootout, July 28-29, at Cecil County Dragway.
First, NEOPMA racers will have a month off before heading north for the Empire Northeast Outlaw Pro Mod Challenge, June 30-July 1, at Empire Dragway in Leicester, New York.