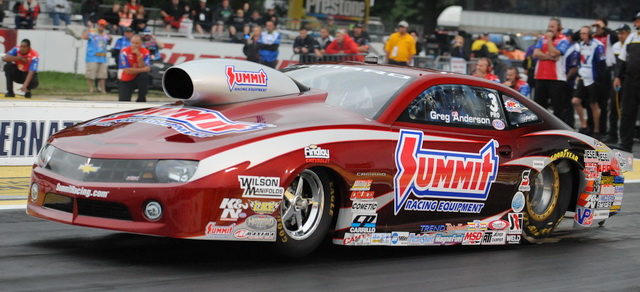 When NHRA Pro Stock star Greg Anderson pulls to the starting line on Friday at Lucas Oil Raceway at Indianapolis, he will do so feeling like his season is finally ready to turn around after a number of early-season struggles.
Anderson will also pull to the starting line with a tremendous sense of pride as he prepares to race his Summit Racing Equipment Chevy Camaro at the Chevrolet Performance U.S. Nationals. The fact that Chevrolet Performance was named the title sponsor of the world's most prestigious drag race certainly wasn't lost on Anderson, a four-time Pro Stock world champion and a six-time winner at Indy.
"It's absolutely cool and I'm glad to be one of the banner carriers for Chevrolet," Anderson said. "It's been a while since they've been on a billboard that big so it's good to have them back. This year they stepped up their involvement and it's great for us in Pro Stock, and it's great to have them on the big billboard at Indy. I'm going to feel very proud when I look up and see that big Chevrolet sign and look down at my race car and see the same old bowtie right there. That's going to be a cool feeling."
The defending winners from the iconic event in 2012 include Tony Schumacher (Top Fuel), Mike Neff (Funny Car), Dave Connolly (Pro Stock) and Andrew Hines (Pro Stock Motorcycle).  The Chevrolet Performance U.S. Nationals, the final race of the regular season in the NHRA Mello Yello Drag Racing Series, will be contested Aug. 28-Sept. 2 at the multi-purpose motorsports facility located west of downtown Indianapolis. Once again, the race will be showcased nationwide on ESPN2 and ESPN2HD during more than 10 hours of coverage.
Anderson last won the Chevrolet Performance U.S. Nationals in 2011, but a victory would move him past Warren Johnson and into second place on the all-time Indy Pro Stock wins list behind only Bob Glidden's nine victories.
Having the opportunity to win was one of the last things on Anderson's mind earlier this year as he seemingly fell more and more behind the top performers in the class. It certainly wasn't because of a lack of effort, but six first-round losses in the first 14 races had Anderson and his Summit Racing Equipment team scratching their heads.
"It's been one heck of a challenge," Anderson said. "My frustration level has been on red line all year. I go to every race to win and I haven't been capable of winning a race all year.  I haven't rolled in on Sunday morning with the feeling that I had a chance to win a race until the last race we had at Brainerd.  That's been the first time all year. It's been a struggle.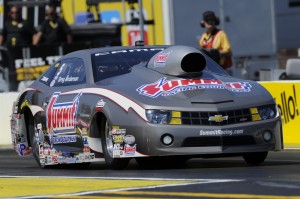 "The reality is I got left in the dust this year somehow, some way, performance-wise. We've been working very hard and the good thing about it is even though the frustration level for all of us has been at max level, there's been no in-fighting, no finger-pointing. We win as a team, and we lose as a team, and we've stuck together very well through all the adversity. Brainerd was definitely a season changer for us in performance."
Racing at his home track two weeks ago in his native Minnesota, Anderson had the quickest car in the second round and in the semifinals, losing to V Gaines in the semifinals on a holeshot. He also qualified No. 2 in advancing to his third straight semifinal appearance. Now on the cusp of breaking through, Anderson, who is currently seventh in the points standings and has clinched a spot in the Countdown to the Championship, wants to keep moving forward in Indy.
But he also knows it won't be easy in a class that has taken considerable strides in 2013. Everyone is chasing Pro Stock points leader Mike Edwards, who has five victories in his I Am Second Chevy Camaro, while defending world champ Allen Johnson, three-time Indy winner Jeg Coughlin, Vincent Nobile, teammate Jason Line and fellow Chevy Camaro driver Shane Gray are also among the pre-race favorites at the Chevrolet Performance U.S. Nationals.
"It seems like more and more competitors every year figure out the game," Anderson said. "We've got a ton of competition in this class right now and it gets tougher every year. You're glad the competition is there, and you want them to succeed, but you just want to find a way to do a better job than they are doing."
Anderson is also in the rare territory of not having won a race this year, putting his streak of 12 straight seasons with at least one victory, the most among active NHRA competitors, in jeopardy. Going on nearly 15 months without a win, jumping into the winner's circle at the Chevrolet Performance U.S. Nationals would be the perfect place to start his turnaround.
"When we go to Indy we want to prove that Brainerd wasn't a fluke for us and we can find a way to get win number (seven) for me," Anderson said. "It's a good feeling right now, but we also know we're not where we need to be yet. The class itself has raised the bar this year and I have to catch up."
(Photos courtesy NHRA/National Dragster; Ian Tocher; Click to enlarge)