John Force raced to his 239th final round today at the 27th annual NHRA Kansas Nationals but the nine-time Kansas Nationals champ could not secure his record setting 10th win. In a tremendous final round that capped off an unprecedented record-setting weekend Force's 4.002 second run came up a few thousandths short against Jack Beckman's 3.984 second pass.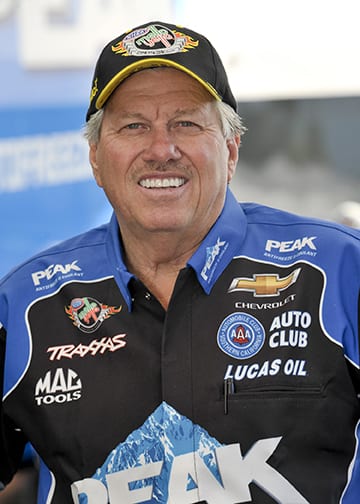 Over the course of the weekend there were fifteen sub-four second runs in the Funny Car class with eight different drivers running in the three second range. Force's Peak Antifreeze Chevrolet Camaro ran in the threes twice including a monster run in the semi-finals to outrun Matt Hagan. Force's Chevy covered the race track in a blistering 3.997 seconds to pull away from Hagan's 4.251 second run.
"I couldn't get the win but I got close. We had a quick race car today and we almost got the win. I love racing at Heartland Park Topeka. I told my guys that they gave me a great race car that probably ran in the threes every run but I rolled it in on the starting line," said Force, 142-time Funny Car winner. "(Peak Antifreeze crew chief) Jon Schaffer and this young team are really doing a great job. We'll take Peak with us to the next race and I am going to get them that trophy soon."
Force almost singlehandedly defeated the entire Don Schumacher quartet of Funny Cars. In the first round he beat Tommy Johnson Jr. and in the second round he defeated veteran Ron Capps before taking out Hagan in the semi-finals. Beckman was the lone DSR Funny Car between Force and a clean sweep.
"We had a good weekend. We are learning and trying a lot of new stuff. It is starting to work for all the cars. (Crew chief Mike) Neff is still my lead in that Auto Club Chevy. Courtney (Force) set the national speed record. The Monster Energy Top Fuel dragster raced to the semi-finals and (Brittany Force) has a lot of confidence after taking out (Tony) Schumacher. She is building confidence," said Force.
The Monster Energy Top Fuel Dragster and driver Brittany Force had a strong day on the track and made big strides towards moving back into the Mello Yello Top Ten point standings. This was the second year in a row that Brittany Force raced to the semi-finals at the NHRA Kansas Nationals. Today she used her improving driving skills on the starting line to beat both veteran Steve Torrence and eight-time Top Fuel champion Tony Schumacher with reaction time advantages contributing to round wins.
In the first round Force left the starting line with a .056 reaction time to Torrence's .063 and that advantage combined with her elapsed time of 3.780 seconds to Torrence's 3.773 seconds run gave her the round win.
In the second round Force really stepped up with a .024 reaction time versus Schumacher's .093. That advantage allowed her 3.772 second elapsed time to reach the finish line in front of Schumacher's quicker 3.748.
Seeking to reach her fifth career final round Force ran against eventual race winner Richie Crampton and his Lucas Oil dragster.  Force took a starting line advantage again but Crampton was quicker with a 3.720 second run to Force's 3.806 second pass.
"I love Topeka. I hope they don't shut this track down. We have done well here the last two years. I am proud of the entire Monster Energy Top Fuel team. We needed those rounds and we needed those points," said Force, who is only 19 points (less than one round of racing) out of 9th place now. "This whole team is building confidence now from the crew chiefs to me. When you go out first round a lot you go up to the starting line you start over thinking things. You aren't confident going up there and you can't race like that. This Monster Energy team is ready for Englishtown."
Courtney Force didn't have the weekend she had last year at Heartland Park Topeka for the NHRA Kansas Nationals, but managed to make several fast runs, one of which would qualify as the new national speed record for Funny Car.
"It's a very competitive field this weekend," said Force. "It's pretty amazing, if you look at the numbers and the ETs for the cars that got qualified. If you weren't running in the 3.0's, you pretty much weren't in the top half. We were running right there with a low 4.0."
Force qualified No. 10 and lined up beside Jack Beckman in the opening round of eliminations. Both drivers had almost identical reaction times off the line, but Force's 4.035 ET was no match for Beckman's 3.984 ET.
"We went up there first round and gave it all we had. We got through the rain delay and went up there. We both had pretty solid lights and left together in the 60s, but it was a tough car to beat. He went 3.98 and we couldn't get around him down there. It's a tough loss for our Traxxas team this weekend," said Force.
This was the ninth time the pair has met on race day, but the first time they have raced in Topeka. Force still has a winning 5-4 record against Beckman.
"We're always looking at the upside on weekends like this because we do a have a good race car, we just have to get to where these guy are running in the 3.0's and just push it harder at the next race," she added.
The Auto Club Chevrolet Camaro SS team's day was cut short with a first round loss to Matt Hagan. Robert Hight was the No. 9 qualifier with a stout 4.012 second pass on Saturday which was only a tick behind Hagan's No. 8 qualifying time of 4.000. On an even track and after a slight weather delay Hight and the Auto Club team blasted off the starting line with an aggressive run. Unfortunately for the two-time Kansas Nationals winner his Goodyears went up in smoke at about 200 feet and Hight had to settle for just his third first round loss of the season.
"The track was phenomenal all weekend. You can look at the elapsed times in Funny Car and this was the quickest event in the history of the NHRA since we moved to 1000 feet. No one is hanging their heads over here. Most places a 4.01 would have you as a top three qualifier and then you never know how your day will go. We aren't going to make excuses but we are going to get better. We have a week off and then we have three races in a row. I will be ready for that stretch," said Hight, a 34-time NHRA Funny Car national event winner.