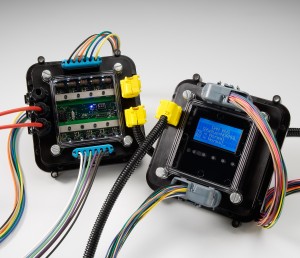 Alston Racing introduces a new, pre-configured wiring kit that makes powering up a chassis-based race car a snap. The Alston Electronics Power Drag Racing Kit is a simple, modular wiring system designed for all classes of drag racing. It provides the builder with all of the components necessary to power the electrical systems in the drag car. The new Electronics Power Drag Racing Kit is available for order now and has an MSRP of $1,299.
Using OEM multiplexing technology, the new Alston Electronics Power Drag Racing Kit provides a rugged, proven electrical system that eliminates wires on the chassis, greatly reducing  the time required to wire the car. The kit also includes functions that have been unavailable in traditional wiring harnesses and offers power diagnostics to help identify and fix electrical problems quickly.
Built for Hardcore Race Duty
The system is designed for harsh-duty and off-highway applications. The Electronics Power Drag Racing kit uses the exact same components as systems used in first-responder vehicles, utility trucks and military vehicles. The entire system has been tested to survive vibration, mechanical shock, temperature extremes and harsh chemical exposure.
Utilizing an exclusive multiplexed switch panel, the Alston Electronics Drag Racing Kit simplifies the entire switch wiring process to two simple conductors, dramatically reducing the size and weight of the electrical harness in the vehicle. Additionally, the multiplexed architecture means that you put the Powercell where you need it in the car, further reducing the size and weight of the power harness.
The Alston Electronics Drag Racing Kit becomes a great foundation for your electrical system. Depending on your car and your application, additional Powercells can be added to control other electrical functions, including nitrous oxide systems. Best of all, additional modules are completely plug-and-play and can be added to the car when you need them.
For more information on this and other Alston Racing products