Jonas Aleshire saved his best for last as he secured the Pro Modified win for the Frankenstein Engine Dynamics Mid-West Pro Mod Series (MWPMS) May 12, during the Throw Down in T-Town at Osage Casino Tulsa Raceway Park. Also visiting the MWPMS winners' circle were Oklahoma's own DeWayne Mills in Radial vs. the World and X275 victor Kenny Hubbard.
Over the course of two days, the all-eighth-mile Throw Down in T-Town attracted nearly 20,000 fans to the historic Tulsa drag strip, where they enjoyed several other drag racing and exhibition classes, too, MWPMS owner, promoter and competitor Keith Haney pointed out.
"The Throw Down in T-Town is one of the highlights of the year for us and this year's event definitely lived up to expectations. And I want to commend the staff at Tulsa Raceway Park for putting in long hours with smiling faces and positive attitudes all throughout a pretty warm weekend," said Haney, who co-owns the Tulsa facility with fellow MWPMS racer Todd Martin.
"The staff was great and so friendly with the fans, but also with the drivers. They had a fan and an ice chest at the end of the track and after every run they handed a cold water to each driver as they got out of their car. And there were spotters along the track, jumping the wall after each pass and checking for fluids or debris, just like at an NHRA national event. It was a first-class operation and I sincerely thank each and every one for their efforts."
After 22 cars made qualifying attempts, it was Justin Jones and his supercharged '69 Camaro leading the way for the 16-car Pro Mod field with a 3.72-seconds pass at 204.98 mph, which also set low elapsed time for the event. Close behind at 3.76 and 201.22 was the '67 Mustang of Aaron Wells, with Aleshire just one-thousandth of a second back at 3.766 and 202.27 mph to round out a top three of all-supercharged entries with his 2006 Corvette.
Notably absent from the qualifying list, however, was Haney, who offered up "Notorious," his nitrous-boosted '16 Camaro, to veteran racer Jim Sackuvich after Sackuvich suffered an accident during Thursday's pre-race test session. Fortunately Sackuvich was uninjured, but his own nitrous-boosted '69 Camaro wound up on its roof shortly past the Tulsa finish line.
"Jim is a great friend and a great driver—he just ran into a little bad luck—and I still had 'Enigma,' my second car for Radial vs. the World, so I just let him and his team run with 'Notorious' and keep his points chase alive," explained Haney, the defending MWPMS Pro Mod champion. Regardless, Sackuvich, who was fourth in points heading into the Throw Down, missed the cut in qualifying and was relegated to the MWPMS Slammer class for non-qualifiers and buyback Pro Mod entries, which eventually saw Eddie Rogers prevail after Martin redlighted against him in the final.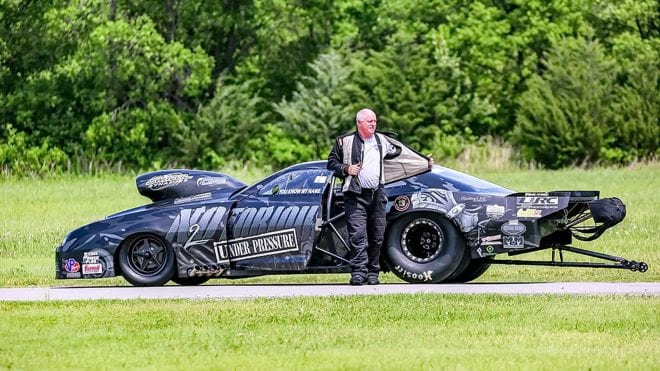 For the main event, Aleshire got past Taylor Lastor, Chad Javers and Wells to reach the Pro Mod final, where he met up with Ron Muenks, who advanced over Joshua Vettel, Robert Costa and Jeff Sitton in the preliminaries. Driving Dave Pierce's nitrous-huffing '68 Camaro, Muenks left a little too early against Aleshire, however, negating a 3.75-seconds pass at 199.67 mph, his best of the weekend, while Aleshire set low E.T. of eliminations with a 3.73-seconds effort at 202.61 to take the winner's hardware home to Manito, IL.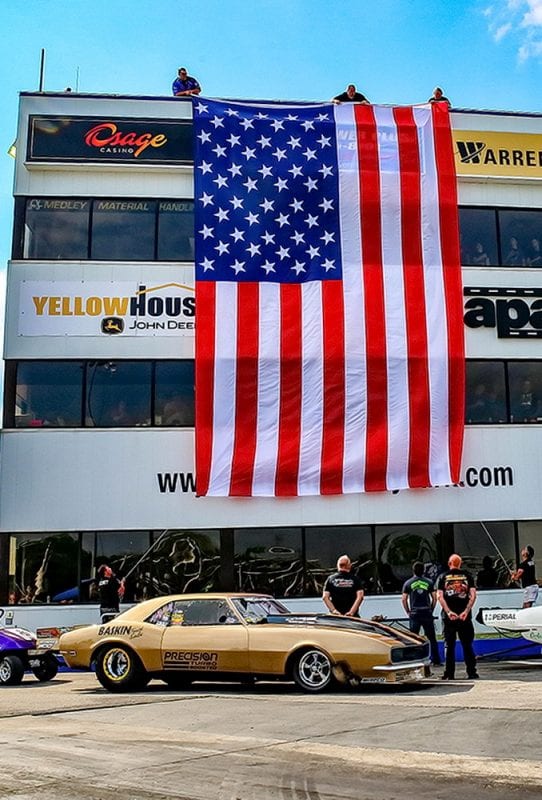 In Radial vs. the World, Mills ran the table with his twin-turbocharged "Golden Gorilla" '68 Camaro. The Sand Springs, OK, native set low E.T. for the class in qualifying with a 3.78 at 210.78, then stormed to the final where he led stripe-to-stripe with a 3.81 at 212.59 over fourth-place starter Daniel Pharris, who posted his best run of the event at 3.88 and 209.62 mph in car owner Andrew Alepa's 2014 Corvette.
For the X275 drag radial class, Kalee Mills secured the top spot after four rounds of qualifying with a 4.54 run at 166.07 mph in her '68 Camaro, followed by Hubbard, who in the final session jumped from sixth to second overall with a 4.62 pass at 155.81 with his second-generation Nova. These two then met in the final round of racing, where Hubbard won with a 4.51 at 158.76 thanks to a sizable .057 holeshot over Mills, the daughter of RvW winner DeWayne Mills, who made a 4.50 pass at 167.14 mph.
"Personally, I would have liked to have done a little better," Haney admitted, "but overall I think this year's Throw Down at T-Town was a great event. We saw some impressive performances, I thought Chad Reynolds did a great job announcing after having to step in at the last minute to cover for Al Tucci, our regular announcer who had a family emergency at home, and my business partner, Todd Martin, did a great job getting the fans fired up between rounds. All in all, it was another successful Mid-West Pro Mod Series event and I'm already looking forward to the next one later this month in St. Louis."
The Frankenstein Engine Dynamics Mid-West Pro Mod Series returns to the track May 24-26, at Gateway Motorsports Park in Madison, IL, just across the Mississippi River from St. Louis.