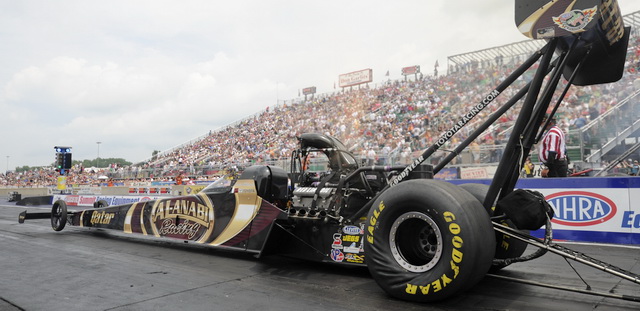 Sheikh Khalid Bin Hamad Al Thani, Al-Anabi Racing and Alan Johnson have agreed to a five-year contract extension, the team announced today. The Al-Anabi Racing team will continue to develop international awareness of the State of Qatar and highlight the nation's international sports outreach through National Hot Rod Association competition.
Like the last five years, Alan Johnson will continue to manage the Top Fuel portion of Al-Anabi Racing, a two-time NHRA Mello Yello Top Fuel World Championship team, at least through the 2018 NHRA Mello Yello Drag Racing Series season. The team will continue to field two Top Fuel dragsters piloted by current drivers Khalid alBalooshi (above) and Shawn Langdon.
"I am very pleased that we have the opportunity to build on our successful five years and want to thank Alan Johnson and all of the team members of Al-Anabi Racing who brought two championships and a winning esprit de corps to Al-Anabi Racing," Al-Anabi Racing team owner Sheikh Khalid Al Thani said.
"I know without the hard work of all the team members, we could not have had the record this team has amassed in our first five years. Our extension allows us to continue to invest in technology to push the envelope for even faster times."
"We are extremely happy to extend our relationship with Sheikh Khalid, Al-Anabi Racing and the State of Qatar," Al-Anabi Racing team manager Alan Johnson said.
"We are very proud of our team's accomplishments in its first five years. Through our working and personal relationships with Sheikh Khalid, we have enjoyed learning a great deal about the Qatari culture as well as Sheikh Khalid's vision and commitment to the sport of drag racing and this great race team. Our relationship with Sheikh Khalid has been very rewarding in many ways.
"We look forward to the challenge of improving our performance both on and off the race track in the next five years. Since this race team began operation in 2009, our goal has been to win races and championships for Qatar and Sheikh Khalid – that will not change.
"In the next five years, everyone on our team will continue striving to be the best Top Fuel team in drag racing worldwide while providing additional international awareness of the State of Qatar, its industries, Motorsports and education initiatives."
The team was extremely successful in its first five years, finishing just two points out of the Top Fuel championship with driver Larry Dixon in 2009, its inaugural season. The following year, the team won the NHRA Mello Yello Top Fuel World Championship with Dixon, and in 2011, team Al-Anabi successfully defended its world championship with driver Del Worsham.
The current drivers began driving for the team in 2012, and this year, Langdon and the silver Al-Anabi team enter this week's U.S. Nationals leading the field by 121 points while alBalooshi and the gold Al-Anabi team enter the U.S. Nationals in fifth place in the point standings. To date, the team has won 36 races including two races the team won in Funny Car before Worsham made the switch to Top Fuel for the 2011 season.
"We are very excited to be able to extend our relationship with Sheikh Khalid and Qatar," Langdon said. "This year is my second with the team, and we've had two great years. We are all looking forward to the future and being able to continue winning races, and hopefully championships, to continue the winning tradition of the Al-Anabi Racing Team. We appreciate the additional commitment Sheikh Khalid and the State of Qatar have made in our race team, and we'll continue to do our best for them."
"This news is a very good thing for Al-Anabi, for Sheikh Khalid, all of the team, and the Qatari government," alBalooshi said. "We all want to help the sport keep growing, and I want everyone to know about Al-Anabi Racing.
"This team won two championships and missed one by two points in the first year. This year, the team is No 1 in points and No. 5 in points. The team did a very good job in the first five years, and I hope the next five years will be even better than the first five. I know everyone on our team thanks Sheikh Khalid for this opportunity."
(Photos courtesy NHRA/National Dragster; Ian Tocher; Click to enlarge)