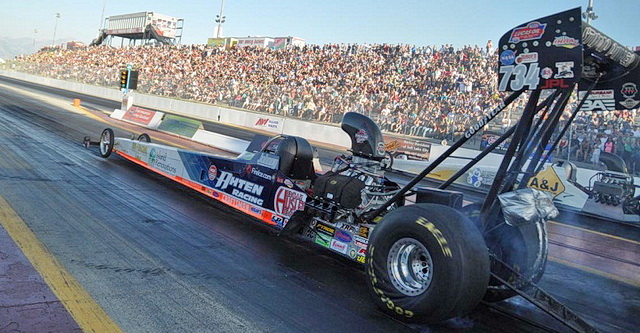 Off the radar just a year ago, alcohol racing's newest champion, Johnny Ahten, is one of the favorites to win Top Alcohol Dragster at the Winternationals after putting his name in the record books forever with an emotional victory at the 2013 World Finals, his first NHRA win anywhere.
"I got to savor that longer than anybody who won last year, and we're right back at the same track," says Ahten, a 42-year-old fireman from Santa Clarita, Calif. "I would have been thrilled to win even if there was an asterisk next to it, if all four guys red-lighted against me, but the way it happened really made it special."
All Ahten did was trailer some of the biggest names ever: many-time national event winners Shawn Cowie and Joey Severance in the early rounds, Mark Taliaferro in the semifinals, and the man himself, outgoing world champ Jim Whiteley, in the final.
"Cowie's a pretty tough draw for a first-round race, and everybody knows Severance is one of the best drivers out there," Ahten says. "Norm Grimes was already tuning Taliaferro's car by then, and they're probably the favorites to win the championship this year. And Whiteley … what can you say? We were in the lanes before the final, and there's Whiteley standing at my tailgate, there's Manzo, and there I was, part of the conversation. I was in awe. I told Jim I was about to have the best seat in the house when he ran another 5-teen, but by the time I got belted in the car, I was thinking, 'This is it. I'm gonna do it.' "
He did, with an outstanding .016 reaction time and another steady run, while Whiteley, on what he knew would be his last run in a Top Alcohol Dragster, lost traction trying to match his landmark 5.17 at the 2012 Finals.
"You couldn't have written it any better – our first national event win, first NHRA win, and right there at Pomona," Ahten says. "My family, my friends, and a bunch of off-duty firemen were there to see it. As great as it would have been to win at Seattle or Topeka or anywhere, it happened at Pomona. I took that Wally with me to the fire station and everywhere I went for a while. It was like my own Stanley Cup – 'Hey, look everybody.' "
Ahten's not just another firefighter – he's a captain for one of the biggest fire departments in the world, the Los Angeles County Fire Dept., a 22-year-veteran at just 42. His father, Al, worked out of the same station as drag racing's most famous fireman, "Big Jim" Dunn, and young Johnny literally wore hand-me-downs from Mike Dunn. (Ahten also has another connection to drag racing history: He lives five doors down from "Lil John" Lombardo.)
Dunn won the 1981 World Finals at Orange County International Raceway, and Lombardo won there in 1983.
"I still can't believe I won the same race," Ahten says. "I grew up going to Orange County and dreaming of winning the World Finals someday, and it was just like I always thought it would be – better. All those old tracks are gone now – Orange County, Irwindale, Lions, Fontana – and that day took me right back to Orange County. Where else could I have won and had everybody there with me? The alcohol cars don't run at Sonoma or Bakersfield anymore, so Pomona is the only place in the whole state of California to race your car."
Ahten has been getting faster every year and nearly won his first NHRA title last year at the Seattle regional, where he set low e.t. in the semifinals and was runner-up to Chris Demke.
"We've been working on our consistency, and it's the reason we won Pomona," says Ahten, who raced A/Fuel for 10 years before his Pomona breakthrough. "That's what we're trying to focus on this year with this old car."
Ahten's dragster is one of Shelly Anderson's Top Fuel cars, a Dave Uyehara-built piece from 1996 and the only A/Fueler he's ever driven.
"I think Bill Reichert's car is the only one out there that's older than ours," he says. "My dad and I have been drawn to A/Fuel since we used to watch Chess Bushey, 'Junkyard Ed,' David Baca, Rick Henkelman, all those guys. The procedure inside the car is the same as it is in a Top Fuel car, and this is the closest you're ever going to get to Top Fuel without running one."
Like everyone who ever raced a Top Alcohol Dragster, Ahten dreams of one day competing in Top Fuel, but for now he's content to be a legitimate contender to win anywhere in A/Fuel.
"Working on the car this off-season was no different than it ever was," he says. "The stress of waiting for something to be delivered at the last minute so you can run your car, all the time and all the work – that's all been the same.
"But I feel a little different than I used to. We've achieved something. We really can play this game. We're not just on the roster anymore – we're in the game. Confidence – I wouldn't call it that. But it's a different feeling. We know we can win Pomona this weekend because we've already done it."