Bolt-on horsepower is a term normally not associated when talking about a race engine but that is the probably the easiest way to describe the Aerospace Components vacuum pump kit. The easy-to-install vacuum pump replaces the generic open element breathers or popular valve cover-to-exhaust hoses that are designed to help pull out crankcase gases. The Aerospace Components pump is driven by the crankshaft to create vacuum to relieve those pressures more effectively and help the engine create 20 to 40 more horsepower in the process.
"The pump does is exactly what it is suppose to do and that is to reduce windage and the affects of it," said Keith Jones of Total Seal, a leading piston ring manufacturer who supplies piston rings to racers that span from the upper echelon of professional drag racing to daily drivers. Jones gave us a simple example that if one were to build a 565ci big-block Chevy that means there is 565ci of pumping effort above and below the piston rings. "All of that volume has to have a place to go and open breathers just aren't going to get the job done," he said. By adding a vacuum pump, it will help relieve the crankcase of that pressure.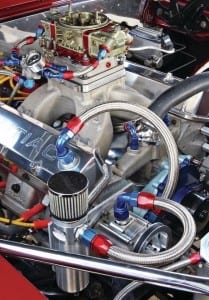 Ignoring the excessive windage in many engine combinations can lead to piston ring seal issues such as loss of the seal, blow-by, and—according to Jones—excessive oil consumption as the oil is held in suspension with what he called a "roping affect" that doesn't drain back to the pan. "I've seen severe cases where the windage was so bad that it would blow oil out of the breathers," he said. The excessive oil expelled out of the breathers is due to the valvetrain oil drainage being pushed back up the same hole that the crankcase is using to relieve pressure. Often times that is diagnosed as a ring seal issue but when in reality it is due to excessive windage, which the Aerospace Components vacuum pump is designed to reduce.
Matt Scranton, former NHRA Sport Compact champion and NHRA Pro Stock driver weighed in our on conversation. He currently operates Scranton Racing Development and utilizes the in-house dyno for various engine projects and manufacturer testing. He recently performed a back-to-back to test with an Aerospace Components vacuum pump on a class-restricted Bonneville Salt Flats land speed engine. "We gained right at 21hp with 12 inches of vacuum on a 461hp engine," said Scranton. He continued to tell us that several 632ci engines that have come through the shop typically gain around 40hp with the addition of a vacuum pump. He continued, "the vacuum pump helps seal the rings better and allows you to add a lighter tension oil ring to help with power. It is also great for a nitrous engine to help control oil through the rings to prevent detonation."
The Aerospace Components vacuum pump is made from high-quality 6061-T6 billet aluminum, including the carrier for low rotational mass. The one-piece shaft is also 6061-T6 billet aluminum and offers zero run-out while rolling on double-sealed ball bearings. The vanes are made from carbon fiber for durability and light rotating weight. All pumps come with a properly sized pulley and Aerospace Components offers mandrels to fit any engine application. The vacuum is regulated through an adjustable relief valve. Aerospace Components does offer various kits to fit popular engines, which includes the vacuum pump, engine-specific brackets, mounting hardware, hose and fittings to attach the pump to the valve covers and billet breather tank (included), relief valve, and other supporting components. All of the components are made in the U.S.A.
"We go back to 1996 with Aerospace Components—the parts are high-quality, they fit, they work, and they are reliable," said Scranton. And with 20-40hp gains normally seen with the Aerospace Components vacuum pump, bolt-on horsepower isn't just a term regulated to the street car market.
Sources
Aerospace Components
www.AerospaceComponents.com
727/347-9915
Total Seal Piston Rings
www.TotalSeal.com
1/800-874-2753