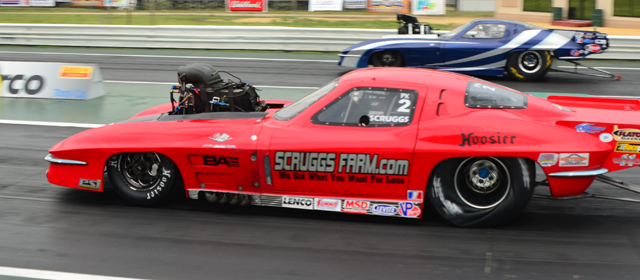 Despite a conflicting race and an impending thunderstorm, the American Drag Racing League's debut at Illinois' Cordova Dragway Park will likely go down as a historic weekend for the highly popular outlaw doorslammer series.While fast doorslammer racing is a staple in the Southeast United States, it's a brand of drag racing that hasn't been promoted as heavily in middle America, leaving both the ADRL and Cordova Dragway Park curious as to what the reaction from local fans would be.
Not surprisingly, the influx of hardcore racers and enthusiasts on Cordova Dragway Park for the ADRL Spring Drags IV was impressive. Sportsman racers from all throughout the area – regulars at Iowa's Eddyville Raceway Park, Cedar Falls Raceway, Tri-State Raceway and others – came out to take in two days of non-stop eighth-mile insanity that they had only previously read or heard about. "I can't get over it, honestly," said David Keeling, longtime Midwest Top Sportsman racer, who made a trip to Cordova especially to see the ADRL firsthand. "It's the best drag racing show I've ever seen. Doorslammers running 3.60s in the eighth-mile at nearly 210mph? Are you kidding me?"
A big part of the show and eventual winner of the series' headlining Pro Extreme category was Mississippi's Jason Scruggs, who has been a fixture on the ADRL tour since its inception. After qualifying fourth with a solid 3.707-second, 204.91mph pass down Cordova's historic eighth-mile, Scruggs dispatched Eric Dillard, teammate Bubba Stanton and Alex Hossler before facing Brandon Snider in the final round. With a mind-numbing .006-second reaction time, Scruggs was off the starting line first in the money round and never looked back, posting a 3.680-second, 205.63mph effort to take the win.
Adding to the significance of Scruggs' victory was the fact that his interests were conflicted in Cordova. Not only did he have a race before him in Illinois, but his young daughter was also graduating high school back home in Saltillo, Mississippi. So, as soon as Scruggs laid down his number-four qualifying effort on Saturday during the second round of qualifying, he jumped on a plane at the nearest airport and headed home for the graduation ceremony. Scruggs then jumped back on a plane and headed toward Cordova for eliminations on Sunday morning where he went on to win the race, adding to the storybook quality of the story.
"It was a good day," said Scruggs, summarizing a wild weekend for the longtime family-based racer. "We just kind of set the car up to go down the track, focused on consistency, and we just kind of lucked up a little. We had a few lucky breaks along the way, and that's what it takes in this level of competition now-a-days. You have to have a lucky run or two."
Also scoring victories were John Camp in Pro Nitrous, Trevor Eman in Extreme Pro Stock, Jamie Hancock in Pro Mod, Eric McKinney in Pro Extreme Motorcycle, Dan Oldham in Top Dragster, Curt Frederich in Top Sportsman and Scott Lindle, who won a special TS/TD combo race on Sunday.
"We really feel like we've planted a seed here," said Scott Gardner, owner and operator of Cordova Dragway Park. "We're looking forward to growing this event into a major stop on the ADRL tour and a substantial event on our schedule here at Cordova Dragway Park."