Aaron Stanfield and his Stanfield Racing Engines Chevrolet COPO Camaro picked up their second win of the season Sunday at the Pep Boys NHRA Nationals at Maple Grove Raceway.

Marking his 23rd overall Wally and 11th Flexjet Factory Stock Showdown event win, Stanfield raced to victory over event No. 1 qualifier Del Holbrook and his Big Pulley No Power Ford Mustang Cobra Jet in the finals. Stanfield would lay down a 7.676-second pass at 165.46 mph to Holbrook's 9.845 at 128.11 after he bogged down mid-track.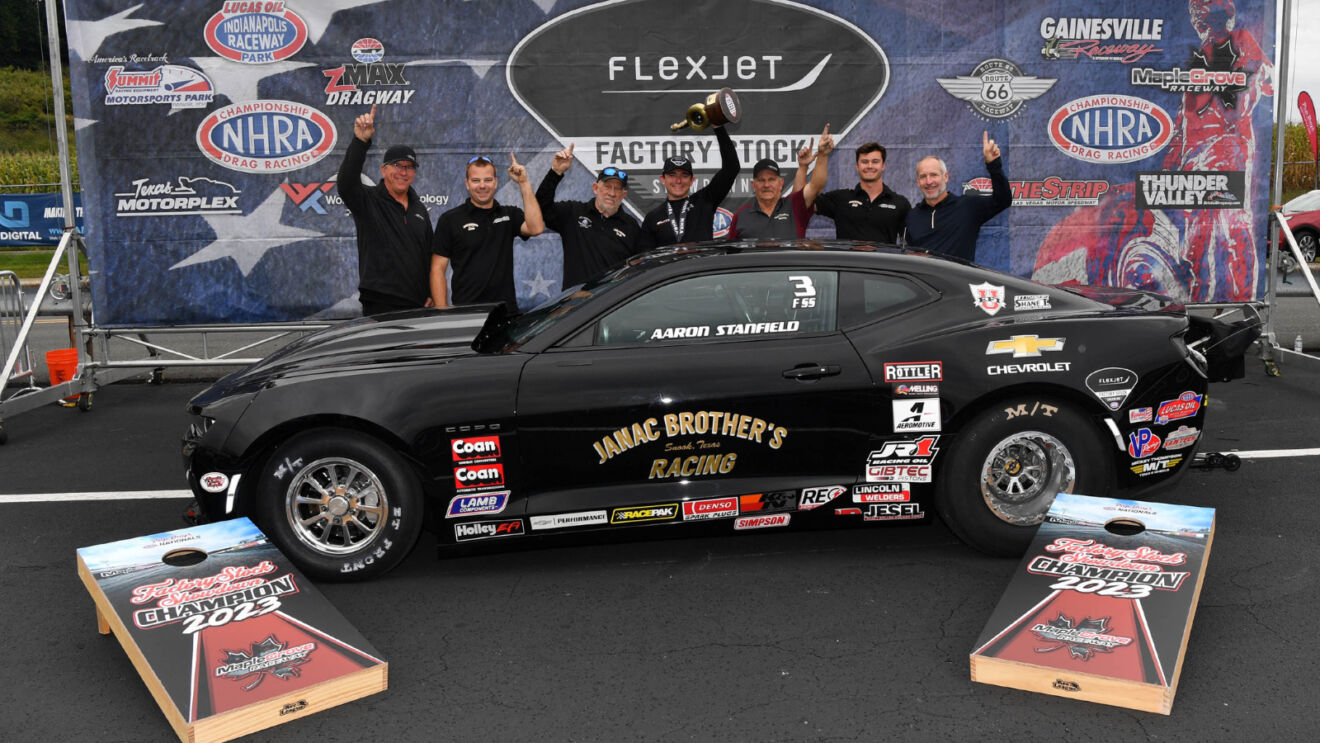 "Flexjet Factory Stock Showdown is just right up mine and my family's alley. It's Factory Cars in head up racing, doesn't get much better than that," Stanfield said. "I really have to take my hat off to Maple Grove Raceway. I haven't always done very well here but it's a heck of a facility. The Koretsky family, we're lucky to have a family around to keep giving us a place like this to race at. I have to thank my guys. We have been working hard at the shop. We've been down and out a little bit, but we've been working hard, keeping our heads down, and it paid off this weekend. I've got to thank my wife and little girl at home, they're rooting us on, the Janac Brother's and everybody else who has helped us out. Thank you."

Before taking the win, Stanfield started eliminations with a 7.684-second pass at 178.52 mph to defeat Scott Libersher and his Chevrolet COPO Camaro's 7.805 at 175.59. In the second round, Stanfield got the win over Kevin Skinner. Stanfield would have a 7.649 at 178.66 over Skinner's 11.040 at 93.40 in his Columbus Joint and Clutch Ford Cobra Jet. The semifinals lined Stanfield up with Norwalk event winner Stephen Bell. Bell would leave the starting line first in his Stanfield Racing Engines COPO, but it would be Stanfield's 7.676 at 178.78 that would get the victory over Bell's 7.714 second run at 178.96.
En route to the finals, Holbrook defeated Carl Tasca and his TascaParts.com Ford Cobra Jet in the first round with a 7.727-second pass at 180. 36 to Tasca's 7.905 at 169.64. The win set Holbrook up with a second-round matchup against David Davies and his DH Davies Racing Dodge Challenger Drag Pak. Holbrook would get the win off the efforts of his 7.652 at 178.12 to Davies' 7.956 at 175.75.

In the semifinals Holbrook had the win before leaving the starting line. Scheduled to run David Janac. The Janac Brothers Racing Ford Cobra would have an issue with the parachute giving Holbrook the single. For the record, Holbrook would go 8.729 at 111.56 after shutting off early.

Despite a second round exit, Davies opened up his eliminations with a first-round victory over Jesse Alexandra. Alexandra, who was the most recent event winner at the U.S. Nationals, made a 7.885-second pass at 163.69 mph falling to Davies' 7.739 at 174.50. The win earned Davies $1,000 through the Flexjet Factory Stock Showdown Bounty Program. Stanfield now has the bounty target on his back as the event winner.

"The bounty program is something that sets the Flexjet Factory Stock Showdown class apart," said Davies. "Everyone is chasing that previous race winner when eliminations roll around. When I saw the ladder and knew that I had Jesse in the first round I really wanted to get that round win. You want to win every round but when the Flexjet bounty is out there too that makes it extra special."

Stanfield will leave Reading with 610 points and a 152-point lead over Stephen Bell, his closest competitor. With three national events left it will be tough one of his competitors to race around the two-time Flexjet Factory Stock Showdown World Champion for the championship. Flexjet Factory Stock Showdown competition will continue at the NHRA Midwest Nationals at World Wide Technology Raceway just outside of St. Louis, September 20 – October 1.