Aaron Stanfield and his Stanfield Racing Engines Chevrolet COPO Camaro secured their first Flexjet Factory Stock Showdown victory of the season Sunday at the NHRA Thunder Valley Nationals at Bristol Dragway.

Coming in as the No. 5 qualifier, Stanfield faced rookie Del Holbrook and his Varsity Ford / Holbrook Racing Ford Mustang in the final round of eliminations. Stanfield would make his slowest pass of the weekend at 8.361-seconds and 128.54 mph, but it would get the job done with Holbrook who overpowered the track at the starting line in his Ford for only a 11.766 at 123.00 mph.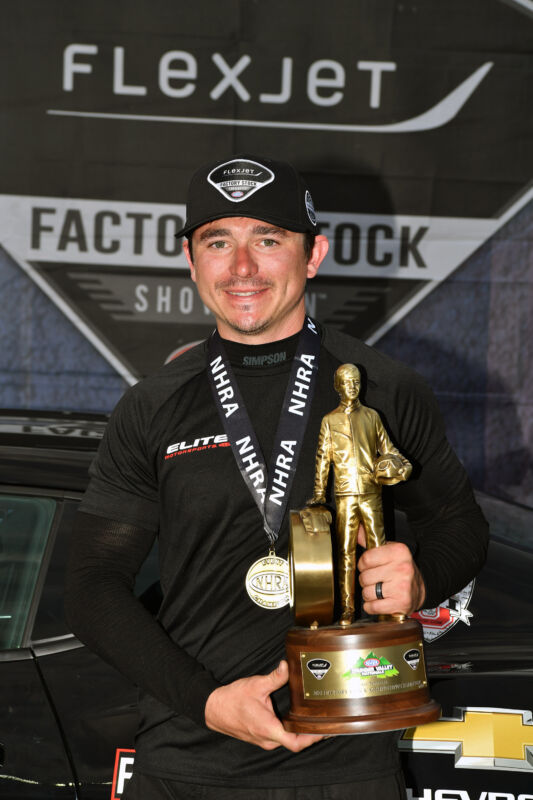 "My dad and I always say you go through struggles and you're only one run away from fixing everything," Stanfield said. "We struggled a little bit during qualifying this weekend. I've got a great group of guys that are working on my hot rod. I couldn't do it without them. I'm happy to get this done for them and I have to give a shoutout to Del Holbrook. He's a new, young guy, and that's what we need in this sport. I'm glad he had some success today but, we did it. It's Bristol Baby."
Stanfield started his day with a quarterfinal victory over Doug Hamp and his Hamp Racing Chevy. Stanfield had the startling line advantage, but Hamp led at the 60-foot. Stanfield would drive around Hamp for a 7.925-second pass at 165.68 mph bettering Hamp's 7.974 at 179.54.

In the semifinals, Stanfield would face reigning Flexjet Factory Stock Showdown champion David Barton. Stanfield would have another solid pass at 7.861-seconds and 172.14 mph bettering Barton's 7.947 at 172.12.

Del Holbrook who qualified No. 7 began Sunday with a perfect quarterfinal win over Joe Welch and his Joe Welch Racing Dodge Drag Pak. Holbrook would have a perfect .000-second reaction time to go along with his 7.871-second pass at 175.87 mph to take down Welch's 7.909 at 176.77.

Holbrook would have a semifinal match up with Stephen Bell and his Stanfield Racing Engines COPO. Holbrook would leave first and never trail crossing the finish line with a 7.819-second pass at 175.68 mph to Bell's 7.854 at 171.90.

With the victory, Stanfield picks up a target on his back. Through the Flexjet Factory Stock Showdown Bounty Program, Stanfield as the most recent winner has a $1,000 bounty on his head that will grow each weekend that he goes undefeated.

The Flexjet Factory Stock Showdown season continues with the Summit Racing Equipment NHRA Nationals at Summit Motorsports Park in Norwalk, Ohio June 23rd to the 25th.