Awareness Motorsports proudly announces that team driver and marketing director Aaron Puff claimed his first event victory and the team's first national event win in the Stock Eliminator class at the NMCA/NMRA Power Festival held in Martin, MI, July 20-23, 2023.
Puff, who hails from Battle Creek, Michigan, grew up in a drag racing family and has been in and around the sport his entire life. Aaron's dad Larry Puff began racing in 1965, competing in the Stock Eliminator, Modified Eliminator, Super Modified Eliminator, and Super Stock classes in NHRA and IHRA competition over his 58-year career in the sport. In addition to still competing in Super Stock in his stick-shift 1985 Ford Mustang GT, Larry also handles the tuning duties as crew chief for Aaron and his Stock Eliminator Mustang.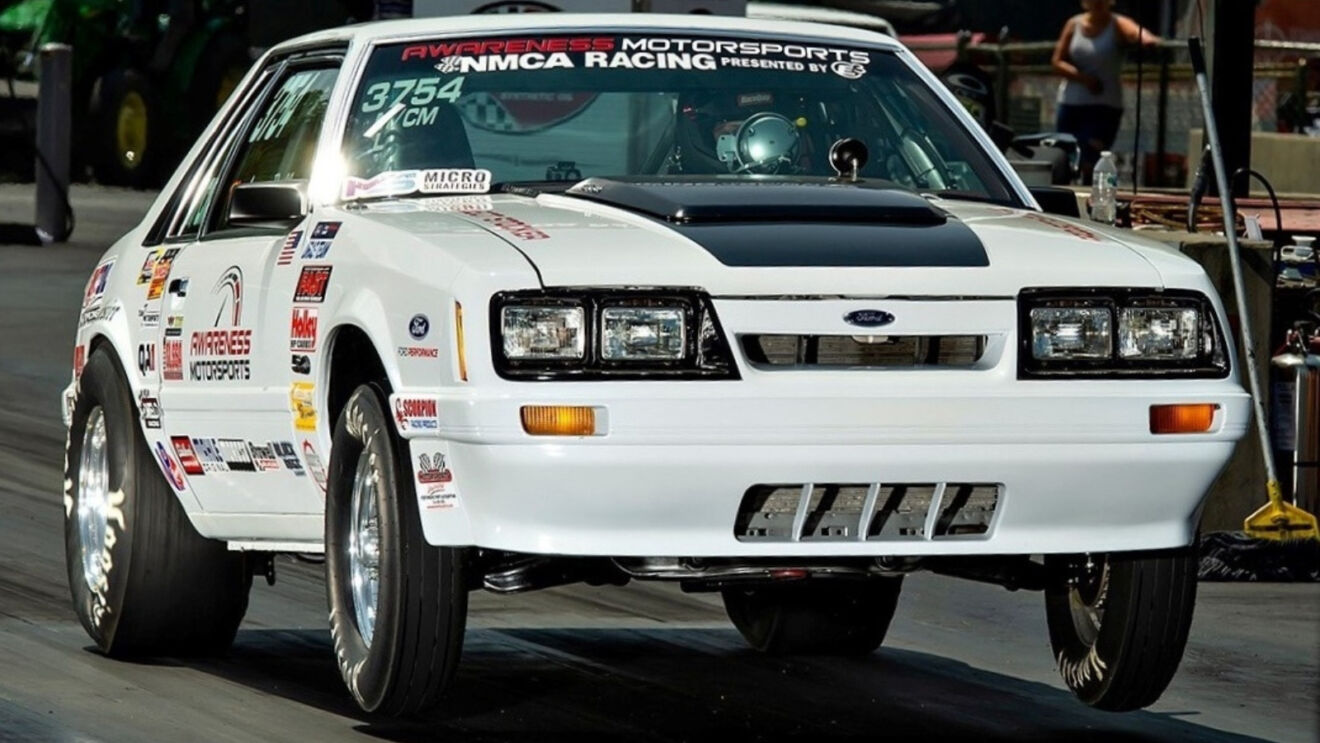 Aaron and Larry got the car re-assembled and running only five days before the event in their Battle Creek-based race shop. With no time in their schedule to test before the event, they showed up in Martin on Thursday with a fresh engine that had not been broken in, a freshly rebuilt transmission, and a plan to get the car shaken down and dialed in before eliminations started on Saturday evening.
Through three rounds of qualifying on Friday and Saturday and with Larry's masterful tuning, Aaron qualified the team's stick-shift L/CM (Crate Motor) 1985 Ford Mustang in the 9th position in the field of 28 formidable stock eliminator contenders, running 11.65 on a 12.55 national index. Once qualifying was completed and they had the car shaken down and dialed-in, the team turned their focus to eliminations.
Through five rounds of eliminations on Saturday and Sunday, Aaron faced some of the best racers in the NMCA national series, including three of the top 12-point earners. In round 1, Puff defeated Dan Coville of Coldwater, Michigan, in his stick-shift Dodge Dakota pickup on a hole shot running 11.82 on his 11.75 dial to Coville's 12.01 on his 11.97 dial.
In round 2, Aaron faced Pete Ricart of Pickerington, Ohio, and his Cobra jet Mustang. Ricart, #12 in series points, dialed a stout 8.01 to Puff's 11.70 dial, but the wait proved to be too much, and Ricart red-lit, sending Puff on to round 3. In Round 3, he would face the formidable Doug Duell, #5 in series points and a consistent championship contender in both the Stock Eliminator and Nostalgia Super Stock categories.
Puff defeated Duell on another hole shot, cutting an impressive .004 light and running 11.76 on his 11.69 dial, while Duell broke out trying to run him down with a 10.36 on his 10.40 dial. In the semi-final, Puff faced veteran racer and #4 in series points Randy Eakins in his FS/G Drag-Pack Challenger. Puff won in a close race, running 11.75 on his 11.68 dial, while Eakins pushed it a little too hard and broke out with a 10.20 on his 10.22 dial. This sent Puff to the all stick-shift final to face fellow Michigan racer Craig Saurbaugh and his 1966 Chevy II. Puff took home the victory on another hole-shot, cutting a .020 light and running 11.83 on his 11.75 dial to claim the victory over Saurbaugh who ran 11.02 on his 10.95 dial.
Throughout the weekend, Aaron and Larry fought through their share of adversity on the way to the winner's circle. In addition to trying to shake down the car before eliminations, they discovered an electrical issue in qualifying, a carburetor issue that surfaced after first round of eliminations, and a shifter issue that surfaced in round 3 and nearly cost them the round.
When asked about the milestone win, Aaron said, "I'm a little in shock, to be honest. This is something I have dreamt about and been striving for my entire life, so to be able to get my first win and the team's first national event win here at our home track with my dad, my wife, and my kids all here is just awesome! And a special shout-out to my oldest daughter Sadie who was a huge help on Sunday working with my dad to handle all of the crew duties and make this win possible!"
Larry added, "I have been doing this for almost 60 years and have had some success over the years, but to finally get a national event win, and to do it here at Martin, where I started racing all those years ago, is fantastic! We had several of our friends here throughout the weekend as well, so to be able to share this with all of them and to have your family here on Sunday to share in the win just made it that much sweeter!"
Larry, Aaron, and the entire Awareness Motorsports team would like to thank Jeremy Kanaga of Battle Creek-based Aganak, LTD, and Dr. Jeromy Myers of Myers Chiropractic, also based in Battle Creek, for their generous sponsorship for this event. In addition, they would also like to thank U.S. 131 Motorsports Park and Steve Wolcott, Rollie Miller, and the entire ProMedia NMCA/NMRA team for putting on a fantastic event. "As sportsman racers who run a limited schedule due to time and budget constraints, we like to race where we feel appreciated and not just tolerated," he continued. "The entire NMCA team does a great job putting on great events and making their racers feel valued and appreciated."
Aaron and the team are now eagerly gearing up for the next stop on the NMCA tour, the NMCA/NMRA All-American Nationals in Norwalk, Ohio, taking place from August 25 to 27, 2023. Fans are encouraged to come cheer them on in-person or to tune in to the livestream on FloRacing. Tickets for the event can be purchased through www.nmcadigital.com.