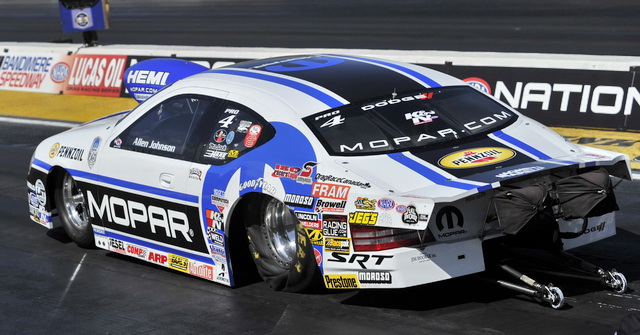 Allen Johnson (above) raced to a Pro Stock track record run in the final qualifying session July 21, to take his seventh No. 1 qualifying position of the season Saturday at the Mopar Mile-High NHRA Nationals at scenic Bandimere Speedway.
All four qualifying leaders from Friday held on to the top spots in their respective categories through Saturday, as Spencer Massey (Top Fuel), Jack Beckman (Funny Car)  and Hector Arana Jr. (Pro Stock Motorcycle) also will lead into Sunday's 11 a.m. eliminations at the NHRA Full Throttle Drag Racing Series event.
Johnson powered his Team Mopar Dodge Avenger to a performance of 6.951 seconds at 198.29 mph to take the 25th No. 1 qualifying effort of his career and fourth at the Denver track.
"It was really something to come here this weekend and make our best run [in the last qualifying session] while we were just trying to get ready for tomorrow," said Johnson, who by qualifying for the race secured his spot in the Full Throttle Countdown to the Championship, NHRA's playoffs.
"Hats off the crew, the engine guys, my dad [Roy Johnson], Mark [Ingersoll] and Jim [Yates], and everybody else on the car," Johnson continued. "We've just got a bad hot rod right now."
Johnson, who has won twice this season, will meet Paul Pittman in the first round of eliminations. Johnson will try to continue his impressive streak at Thunder Mountain, where he has advanced to the last five final rounds at this event, winning three times.
"Tomorrow's conditions should be just about what we had today," Johnson said. "And actually, that last run wasn't perfect. Maybe we can pick up another hundredth. That's what we thought we could do coming here after our testing, separate ourselves from the rest of the field by two or three hundredths or so, and I think we did that on that run. I want to give that Wally to the Mopar folks for the Mopar 75th anniversary."
Defending world champ Jason Line, who qualified fifth, also secured his spot in the Countdown playoffs. Defending event winner Mike Edwards qualified second and was followed by local favorite V. Gaines, who will start third in his Kendall Oil Dodge Avenger.
Top Fuel points leader Massey earned his second No. 1 qualifying position of the season and fifth of his career with his Friday performance of 3.914 at 318.02 in his FRAM/Prestone dragster.
"The track was hot today, and obviously everyone was struggling," Massey said. "I was surprised when we ran a 3.91 in the first session, and I was surprised again when it held on for number one. We're going to stick with our philosophy that we had since last year by trying to run down the racetrack and not beat ourselves tomorrow."
Massey will face journeyman racer Steve Chrisman in the first round as he tries to win his second consecutive title at this event and fifth race of the season. Massey could also become the first Top Fuel driver to clinch a spot in the Countdown if he can advance past Bob Vandergriff and Clay Millican in eliminations.
"Getting clinched in the Countdown would be a huge plus, but our main deal is trying to go rounds and get win lights," Massey said. "We did very well in the heat during qualifying. We tried to see how far we could actually push it in the last run and smoked the tires. That's good. I'm glad to know how far we can go before we get over the hump."
Antron Brown qualified second in his Matco Tools dragster and was followed by Doug Kalitta, Terry McMillen and Brandon Bernstein in the top five.
In Funny Car, Beckman secured his first No. 1 qualifying position of the season in his Valvoline NextGen Dodge Charger with a run of 4.131 at 304.05. It was the fifth No. 1 of his career and first at this track.
"The fact that we ran well on Friday night is great for qualifying, and the fact that we ran well three times in the heat is great for eliminations," Beckman said. "You can win from any position in nitro Funny Car, but qualifying at the top and getting to pick the pairing you want to run in puts you in a favorable position.
Beckman, who has one win in two career finals in Denver, will meet Todd Simpson in the first round as he continues to try and improve on his points position for the Countdown.
"We got 14 points during qualifying – six bonus points and eight for qualifying number one," Beckman said. "Anyone who tells you they don't count points is either lying or they aren't good at math. All of that is awesome, but nothing replaces how it makes those nine guys that work on the car feel."
Robert Hight qualified second and in the process became the first Funny Car driver to clinch a Countdown playoff berth. Ron Capps was third and was followed by veteran racers Cruz Pedregon and John Force, the defending event winner.
Arana Jr. rode his Lucas Oil Buell to the No. 1 qualifying position in Pro Stock Motorcycle with a run of 7.238 at 184.57 mph. It was his first top qualifying effort of the season and eighth of his career. Now, Arana Jr. hopes to break into the win column for the first time this season and end the Vance & Hines Harley-Davidson team's stronghold on the two-wheel category.
"Getting all 12 of the bonus qualifying points was real big for us this weekend," Arana Jr. said. "We need to do everything we can do to try and sneak up on those Harleys. They're a real strong team and they're doing an excellent job.
"It's all turning around and coming together at the right time before the Countdown and we're really excited. With the experience that I gained from last year, hopefully we can get the championship this time. Tomorrow I hope that I can be just as consistent as I was in qualifying. All of our runs were between a 7.23 and a 7.25 in both the heat and cool [Friday evening] weather, so we're really excited."
Current Pro Stock Motorcycle points leader Eddie Krawiec secured his berth into the Countdown by qualifying fourth. His teammate, Andrew Hines, qualified third and Hector Arana Sr. qualified second on his Lucas Oil Buell.
(Photos courtesy NHRA/National Dragster; Click to enlarge)
MORRISON, Colo. — Sunday's first-round pairings for eliminations for the 33rd annual Mopar Mile-High NHRA Nationals at Bandimere Speedway, the 13th of 23 events in the NHRA Full Throttle Drag Racing Series.  Pairings based on results in qualifying, which ended Saturday. DNQs listed after pairings.
Top Fuel — 1. Spencer Massey, 3.914 seconds, 318.02 mph  vs. 16. Steven Chrisman, 6.006, 137.62; 2. Antron Brown, 3.923, 305.98  vs. 15. Rob Passey, 5.804, 127.94; 3. Doug Kalitta, 3.925, 308.14  vs. 14. Clay Millican, 5.447, 179.76; 4. Terry McMillen, 3.930, 314.75  vs. 13. Scott Palmer, 4.184, 276.52; 5. Brandon Bernstein, 3.947, 285.83  vs. 12. David Grubnic, 4.101, 275.34; 6. Shawn Langdon, 3.957, 303.03  vs. 11. Steve Torrence, 4.091, 294.24; 7. Morgan Lucas, 4.002, 279.27  vs. 10. Bob Vandergriff, 4.035, 296.96; 8. Tony Schumacher, 4.013, 297.42  vs. 9. Khalid alBalooshi, 4.021, 303.57.
Funny Car — 1. Jack Beckman, Dodge Charger, 4.131, 304.05  vs. 16. Todd Simpson, Chevy Camaro, 4.951, 229.27; 2. Robert Hight, Ford Mustang, 4.135, 304.53  vs. 15. Jeff Diehl, Chevy Monte Carlo, 4.905, 276.69; 3. Ron Capps, Charger, 4.137, 301.54  vs. 14. Alexis DeJoria, Toyota Camry, 4.631, 220.76; 4. Cruz Pedregon, Camry, 4.165, 297.02  vs. 13. Bob Tasca III, Mustang, 4.386, 275.28; 5. John Force, Mustang, 4.188, 302.82  vs. 12. Tony Pedregon, Camry, 4.381, 264.34; 6. Mike Neff, Mustang, 4.208, 301.20  vs. 11. Johnny Gray, Charger, 4.313, 283.97; 7. Courtney Force, Mustang, 4.212, 297.94  vs. 10. Tim Wilkerson, Mustang, 4.237, 280.54; 8. Jeff Arend, Camry, 4.218, 298.40  vs. 9. Matt Hagan, Charger, 4.224, 288.15. Did Not Qualify: 17. Todd Lesenko, 5.088, 176.53.
Pro Stock — 1. Allen Johnson, Dodge Avenger, 6.951, 198.29  vs. 16. Paul Pittman, Chevy Cobalt, 13.844, 81.21; 2. Mike Edwards, Pontiac GXP, 6.966, 197.80  vs. 15. Steve Kalkowski, Pontiac GTO, 7.130, 192.93; 3. V. Gaines, Avenger, 6.968, 197.88  vs. 14. Kurt Johnson, GXP, 7.067, 195.19; 4. Ron Krisher, GXP, 6.973, 197.77  vs. 13. Shane Gray, Chevy Camaro, 7.065, 194.69; 5. Jason Line, Camaro, 6.988, 197.10  vs. 12. Deric Kramer, Avenger, 7.060, 194.80; 6. Erica Enders, Cobalt, 6.989, 196.39  vs. 11. Larry Morgan, Ford Mustang, 7.046, 196.07; 7. Vincent Nobile, Avenger, 6.998, 197.42  vs. 10. Warren Johnson, GXP, 7.037, 195.22; 8. Jeg Coughlin, Avenger, 7.010, 196.90  vs. 9. Greg Anderson, Camaro, 7.011, 196.44.
Pro Stock Motorcycle — 1. Hector Arana Jr, Buell, 7.238, 184.57  vs. 16. Angie Smith, Buell, 7.434, 178.38; 2. Hector Arana, Buell, 7.243, 184.04  vs. 15. Matt Guidera, Buell, 7.429, 178.50; 3. Andrew Hines, Harley-Davidson, 7.283, 183.52  vs. 14. Michael Phillips, Suzuki, 7.388, 182.30; 4. Eddie Krawiec, Harley-Davidson, 7.298, 183.42  vs. 13. Shawn Gann, Buell, 7.375, 181.15; 5. Jerry Savoie, Buell, 7.300, 180.69  vs. 12. LE Tonglet, Suzuki, 7.361, 182.18; 6. Steve Johnson, Suzuki, 7.313, 181.76  vs. 11. Scotty Pollacheck, Buell, 7.359, 180.00; 7. Matt Smith, Buell, 7.321, 182.21  vs. 10. Karen Stoffer, Suzuki, 7.351, 180.96; 8. Mike Berry, Buell, 7.321, 181.40 vs. 9. Michael Ray, Buell, 7.347, 180.74. Did Not Qualify: 17. John Hall, 7.450, 177.84; 18. James Surber, 7.451, 176.24; 19. Katie Sullivan, 7.478, 177.09; 20. Charles Sullivan, 7.701, 170.92.