Corey Michalek is rolling his nitromethane-injected A/Fuel dragster out of its long white gooseneck trailer when a young fan approaches the pit area seeking a used part or an autograph. At 30, Michalek doesn't have to think back too far to a time when he was in the same position as the young boy walking the pits at Ohio's Summit Motorsports Park, dreaming of one day strapping into a Top Fuel dragster and racing down the storied Norwalk quarter-mile. This is a big weekend for Michalek, who will attempt his NHRA Top Fuel license runs on Monday, but for now, all he can focus on is the task immediately ahead of him: qualifying in a stacked Top Alcohol Dragster field at the Summit Racing Equipment NHRA Nationals.
"When we show up at these races, we're very much aware that we're at a point where we might not qualify," Michalek says. "We're not a guaranteed car yet. We're not fighting for a top 5 position at this point – we just don't have the performance. A lot of it comes down to making sure we make the right run at the right time. So many times in my career, and even last year when we got this car, we wouldn't get qualified until the last session. At a place like this, maybe you only get one qualifying session. So we really needed to come out and put a good number on the board from the beginning."
This is the first of just two confirmed events on the Michalek Brothers Racing 2018 schedule, so the weekend forecast – isolated thunderstorms all day Friday and Saturday – is especially puzzling for Corey and his brother and car chief, Kyle.
"So much rides on every single time we start this car," Michalek says. "I know the whole 'treat every run the same' thing is a cliché, but that's something we've really tried to drive home. I try to cut a light every single round. We don't really do any testing. We treat every single run like it could be our only run of the year. If the crank goes out of it or something like that, it really is our only run of the year."
Adding to the pressure of the weekend is the situation surrounding the branding that appears on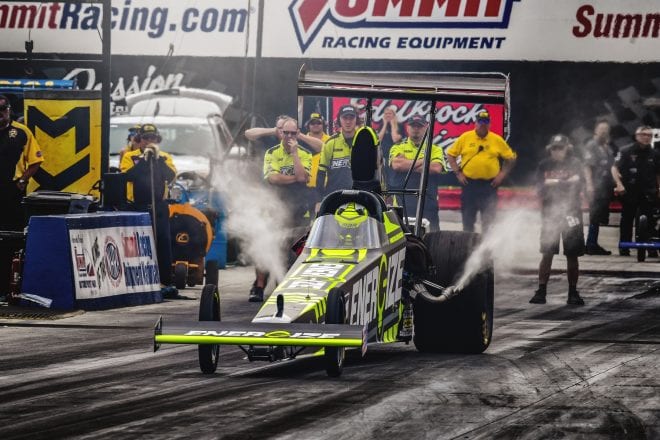 the dragster and matching crew uniforms. Energize – not to be confused with the battery people – is a motorsports marketing company owned by Bill Bader Jr., who happens to be the second-generation president of Summit Motorsports Park. This is the first time Bader has put one of his projects on the side of a race car, and he's clearly excited about the set-up when he stops by the pit area to see the car for the first time and give his best to the team. It's "added motivation", not pressure, as Michalek asserts. "When the guy you're representing owns the literal surface that you're going up and down – what I consider to be the greatest facility on tour – it's an honor and a really great opportunity for us," he says.
As the announcer makes the call for the first round of qualifying, Corey and Kyle push their Spitzer-built dragster out of the pit area and roll up to the staging lanes, joined by co-crew chiefs Clay and Chase Copeland, crew member Cory Cox and myself, as I've been asked to assist Corey with packing parachutes and clutch duties this weekend. The highlighter yellow Energize dragster snakes through a sea of fans in the nitro pits, slowly creeps through the staging lanes and pulls onto the track for its first hit on a track since Michalek drove it to a runner-up finish in its national-event debut at the NHRA Carolina Nationals last September. Expectations are modest for that reason, so the resulting 5.402-second pass at 249.72 is a welcomed surprise. The shower of nitro that Michalek received in the cockpit around 600 feet? Not so appreciated.
"Anything within the low 5.4s would've been great," Michalek says after getting the car back to the pits. "It didn't end up hurting itself, but it was a little hairy for a moment when the fuel line came off. We caught a break and didn't hurt anything there. That run was a good thing, but we were definitely surprised. Now that we've got that first run out of the way, I think expectations have risen quite a bit. Now it's like, 'OK, if we can get this thing to go to the finish line, we might have something for them.'"
Michalek will have to wait nearly 24 hours to see what the car will do under power through the quarter-mile mark, as the Friday schedule has been adjusted to put priority on the Mello Yello Series classes.
When it comes time to spin the starter and pull the wires for the second qualifying attempt Saturday morning, the 433 ci Alan Johnson engine sitting between the frame rails just won't turn over. Unfazed, the father-son Copeland duo run a couple checks and try again. Nothing. A third time – nothing. On the fourth try, the beast fires up, coming up to temperature on methanol before the primer bottle is removed and nitromethane starts flowing through its veins. Michalek rolls through the water box, lays down a short burnout and backs up. The Copelands make their final adjustments and send Michalek toward the pre-stage beam, where Kyle is waiting to bring him into position. The blue LED pre-stage half-moon lights up, then the bottom half illuminates. The ambers drop and Michalek stands on the throttle pedal, but the usually snappy A/Fueler lurches off the starting line. Once we return to the pits, a corrupt file in the car's command module is singled out as the culprit.
"That was the first time we ever had any trouble trying to start it," Michalek points out. "It just kept fighting us. But I think that's a testament to who we've been able to team up with. Both Chase and Clay knew exactly what they were doing out there when they were troubleshooting. Nobody really started to panic, nobody rushed and we still took our time. When we did get the car started, everything from there was business as usual until I stepped on the gas."
A similar fate is awaiting Michalek in Sunday's first round of eliminations, which was pushed back from Saturday night, giving the team time to sort through an issue in the fuel system. The issue rears its ugly head again Sunday morning, though, when Michalek drives into nearly immediate tire smoke alongside 2011 world champion Duane Shields.
"I did everything I could to get a little jump on the line, but Duane cut a great light, then obviously, we smoked the tires right at the hit," Michalek says. "We had a little too much power and we were able to look at the computer and see that all of the fuel system changes we made still had not really accurately addressed the problem."
The team returns to the pits and goes to work removing parts and preparing them to be sent out to manufacturers for repairs and recertification. The Copelands finish up their work and head to Cleveland so they can fly back to their native Texas. The crew starts to pack up the pit area while the group of family and friends who came out to support the brothers begins to filter out of the pit area. As this portion of the weekend comes to a close, Michalek has time to reflect on the results.
"It's been such a feast or famine thing in general since I started driving these cars," Michalek says. Driving the Dreher Motorsports car, he won his debut at Charlotte in 2014, then broke a crankshaft before eliminations at the next race at Norwalk. He returned to Charlotte to defend his win in 2015, only to break a rocker arm when the car started for first round. A runner-up finish followed at Norwalk.
The Michaleks, originally from nearby Louisville, Ohio, then purchased their own car and assembled the operation they debuted at a regional event in Indianapolis last summer, understandably failing to qualify. The car then went straight to the final round at the Carolina Nationals. "Up until this race," Michalek begins, "if the car started first round and we staged it, we went to the final round every single time. So this is the first time, essentially, that we lost in the first round. It was just a different experience. It's given us a lot more motivation and a reality check that things aren't going to be as smooth sailing as they were in the past."
As the back door of the trailer is closed and locked up, its contents neatly in place and locked down for the short drive back to the MBR headquarters in Utica, Corey's focus returns to the idea of strapping into Pat Dakin's Commercial Metal Fabricators Top Fuel dragster in just over 12 hours.
"There was so much going on with our program this weekend that it distracted from the opportunity waiting at the other end of the weekend," Michalek admits. "Now that we're finished, the reality of the situation is starting to set in."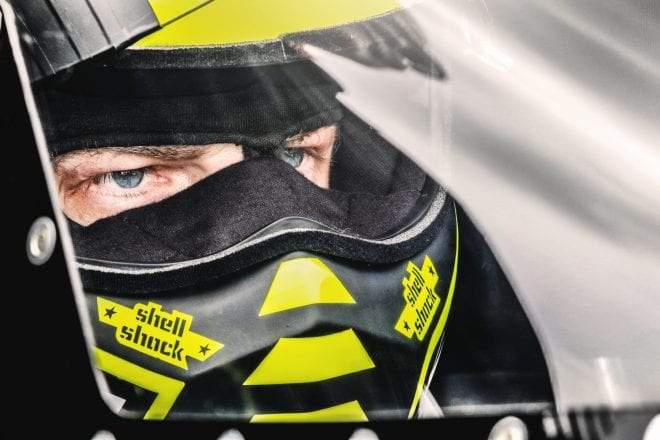 It's Monday morning at Summit Motorsports Park, where just a handful of the several hundred race rigs from the race remain in place for the "Monday Nationals". Some teams are servicing their cars after a long Sunday, while others are testing and working out issues before the New England Nationals in Epping, New Hampshire. Meanwhile, just after 8 a.m., Michalek has just experienced his first warm-up in an 11,000-horsepower Top Fuel car. It's not exactly what he expected, but in a good way.
"I played up a lot of this stuff in my head, between just visualizing runs in my head and thinking about different scenarios," Michalek says. "Anytime you do that, it's always way more drawn out than what it really is. So when you show up at the track and you think about all these things that are going to happen, it's kind of sobering when they're just like, 'Get in the car. We're about to start it,' where there's not all this hype and buildup that you always think about. They just put me right in the heart of the action from the get-go."
Team owner and driver Pat Dakin and crew chief Scott Graham are not here for hype and buildup. After all, Michalek was sworn to secrecy regarding the Top Fuel licensing plan until Sunday night. They're here to get Michalek his Top Fuel license and they're trying to do it as quickly – yet safely – as possible. The plan is to make both runs – two full 1,000-foot passes required to upgrade a TAD license to TF – before lunchtime.
"Some drivers take two or three years to gradually get comfortable with these cars, but that's not really an option for us," says Michalek, who worked alongside Kyle as a clutch assistant on Dakin's car for the 2011 and 2012 seasons. "That puts a little extra pressure on everyone involved, whether it's the crew to make sure the car is set up right or myself to basically say, 'Hey, the first time you step on the gas in this thing, you have to take it down to the finish line.' You don't really know what's out there. It's the fear of the unknown, not knowing what it's going to do."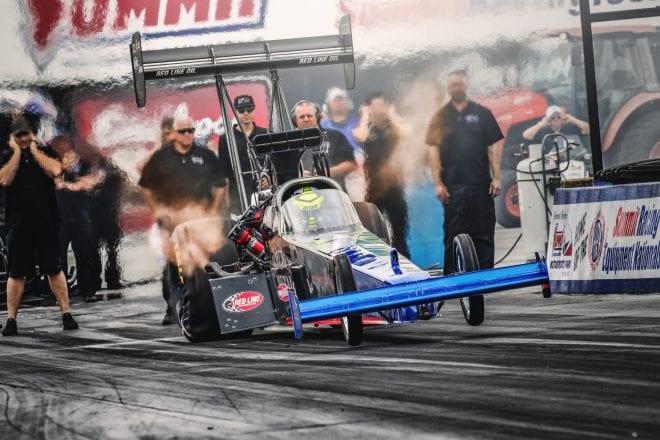 Sure enough, the first run challenged Michalek's expectations. The first 300 feet were not nearly as violent as he expected. "It left extremely hard and it got my attention, but you can almost get it through your mind that it isn't uncontrollable at that point," he says. "Right when I was starting to gain confidence, that's when it really decided to be like, 'You have no idea what's about to happen.' It just absolutely took off when the clutch locked up."
Armed with the experience from the first run, which was aborted shortly after dropping a cylinder around the half-track mark, Michalek and the Dakin crew went back up to the starting line for the second and final licensing pass. This time, all eight cylinders stayed lit, allowing Michalek to blitz the 1,000-foot course in 3.849 seconds at 310.70 mph.
"When I took it all the way through the stripe, it just did not let up," Michalek says, going on to explain how the run compared to a lap in his injected nitro dragster. "The A/Fuel car is a monster, don't get me wrong. It goes out there and really charges the first half of the run. I don't want to say it lays over, but it lets up a little bit in the back half. With the Top Fuel car, it's pulling hard from the time you step on the gas until you let off and pull the parachutes. That was just completely mind-blowing and I have the ultimate respect for the people who do this stuff for a living and make run after run in these things."
While Michalek insists he has no immediate plans to go Top Fuel racing, it's obvious this licensing process wasn't something done on a whim on either end of the deal. In fact, it had been in the works for around two years. On Michalek's end, a combination of factors inspired him to do it: crossing off a bucket list item, seeing if he had what it takes to finesse a Top Fuel car down the track, and making a major leap toward the next step in his drag racing career. For Dakin, who's been racing in Top Fuel since the early 1970s and nearly won the NHRA season championship in 1977, it was an opportunity to help a deserving young driver achieve a lofty goal.
"This was an opportunity, graciously provided by Pat and his team, to get my license," Michalek realizes. "Do we have plans in the immediate future to go Top Fuel racing? No. If somebody knocked on the door and says, 'Hey Corey, we need a driver,' I'm there at the drop of a hat. These opportunities just don't come around often, so if it would present itself, we're ready to go."
Michalek's biggest takeaway from the whole experience, and something he wishes more people could understand, is that driving a Top Fuel car is no Sunday cruise. They might not move around on the track like a Pro Mod or require shifting like a Pro Stocker, but by no means does that make them easy to drive, as some people have claimed in recent years as a sizable group of A/Fuel drivers have upgraded their licenses.
"There's nothing easy about standing on the gas and going to the finish line," Michalek asserts. "There may be drivers who make it look that way, but from my experience, it is the ultimate test in concentration to be able to pilot one of these things down the track. I'm sure a Pro Mod, Pro Stock car or alcohol Funny Car all have their individual challenges. There's nothing different about a nitro dragster or Funny Car in that respect. Handling the intensity was the ultimate challenge and I feel validated for having been able to do so."
Photographs by Roger Richards and Bob Szelag
This story originally appeared in DI #135, the State of Drag Issue, in August of 2018.