It could be said that Vincent Nobile was destined to become a Pro Stock driver. After all, he's been around naturally aspirated doorslammer racing ever since he can remember, tagging along with his father, longtime NHRA and IHRA Pro Stock racer John Nobile, from the shop to the race track. Instead of spending his weekends playing stick-and-ball sports and going to the mall, Nobile usually could be found hanging out at the races with his friends, whose fathers also raced on the IHRA circuit.
"Those were the good old days, growing up with all of the kids out there," Nobile reminisces. "We definitely caused some havoc. It was really fun. Not many kids get to say, 'My dad is a race car driver!' Where I'm from, no one really knows what drag racing is; nobody really understood what we did, but I had a family and friends at the drag strip. It was a whole new family and friends. I had family and friends at home and family and friends at the drag strip."
Eventually, Nobile started driving himself in Jr. Dragsters, but spent most of his time at the races absorbing as much information as he could from his dad. From rebuilding a transmission to switching gears down track, young Vincent wanted to know it all. If anyone was surprised when the likable Long Islander began the licensing process at just 17 years old, it was Vincent himself.
"In the very beginning, my dad decided I was going to race a Pro Stock car. It wasn't even my decision. He had the car and whatnot and I said maybe we should start out slow with a bracket car or whatever, something to get my feet wet. He said, 'You've been around this for so long and you've seen me do it. I have full faith in you. You've driven a regular car since you were eight years old, so I know you can do it. We'll take it real slow.' Being that he's my father, I trusted him, and here we are today. He was right, I guess," Nobile admits with a laugh.
True to his word, John started his son's behind-the-wheel experience slowly. Nobile says he did over 30 burnouts before actually dumping the clutch on the starting line. Once he reached that step, Nobile felt reasonably comfortable with the process of finessing a 500-cubic-inch NHRA Pro Stocker down the quarter-mile.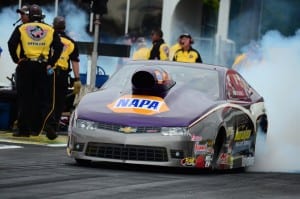 "Before I even got in a race car to make a pass myself, I literally made a million passes outside the car watching my dad. Because of the person I am, I like to know a lot of things. I like to know how things work. I'm very hands-on, so when I was little I would ask my dad, 'How do you do this? What are you actually doing when you go down the track?' When he would be making a run, I would be making the run with him, simulating it on the starting line. I wasn't necessarily allowed out on the starting line, but I'd sneak my way up there," he remembers.
Nobile also took advantage of any opportunity to hop in the seat to make practice runs. The father-son duo tested at their local Atco Raceway in New Jersey in addition to test days at IHRA national events across the country. The paperwork was turned in when the two were comfortable with Vincent's driving abilities. He was granted a competition license, which then became an official NHRA Pro Stock license when Nobile turned 18, the minimum age to compete in an NHRA professional class.
Nobile found himself with a Pro Stock license, but no set plans to compete. That changed in a matter of minutes, though, one night early in 2011 when the phone rang at the Nobile residence.
"My dad got a phone call from Nick Mitsos. I was upstairs doing homework. My dad called me downstairs and I thought I was in trouble for something. I really wasn't a troublemaker so I didn't know what the hell was going on. He said to me, 'Would you want to race Nick Mitsos' Pro Stock car?' I was like, 'Of course I want to race that car!'"
In short order, Vincent was named the new driver of Nick and Irene Mitsos' Mountain View Tire & Auto Dodge Stratus Pro Stocker, formerly driven by Vinnie Deceglie. With power coming from Allen and Roy Johnson's J&J Racing engine shop; he was all set for a rookie campaign one of NHRA's toughest classes.
There was a catch, however.
"I was just starting college at the same time I was offered the opportunity to drive. I could go racing and go to school or just go to school. My mom didn't give me the option of just racing. I had to balance that. It was tough at times, but for the most part I was able to handle it.
"I just really had to focus on scheduling my classes around the race weekends. I couldn't have Friday classes unless I had to because of the schedule. There was only so much you could work around. I tried to make my classes as late as I could on Mondays for traveling purposes. Sometimes it didn't work out. Sometimes I would have to fly out on the red-eye. I would be doing homework on the flights home. I was lucky. I was able to get most of my classes late on Mondays and finished on Thursdays. As far as the workload, I worked my butt off at home to not have to focus on it at the drag strip because naturally when you're out here you have other things to focus on."
As easy as it must have been for a 19-year-old college student to brag about racing a 214-mph Pro Stock car on the weekends, Nobile worked away at school under the radar.
"None of the professors knew what I did. They thought I just took my daily driver to the track and kinda' messed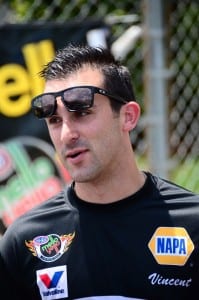 around. They didn't realize that it was on a professional scale. It was my first year in Pro Stock and my accounting professor was really the only one giving me a hard time. My grades were well in every class I took. I honestly didn't get below a B, ever. For whatever reason this guy would give me a hard time about missing classes even though my grades were up to par. Finally I said, 'Listen, I'm going to give you homework this weekend,' and I told him what I did and said I'm going to be on ESPN2 at this time. It was actually Houston, where I won my first race. My accounting professor turned on his TV that Sunday and he got to witness my first-ever race win. I never had a problem with him ever since."
The Mountain View team went on to win Norwalk and Phoenix later that year and Nobile, quickly recognized for posting stellar reaction times, backed up his Norwalk and Houston wins the next year, too. In 2012, the Pro Stock phenom also became the youngest driver to win the K&N Horsepower Challenge, held at the time at Norwalk. Another three victories followed in 2013.
"The early success kind of spoiled us as a team. We were doing really well—qualifying well, winning rounds, winning races—never in a million years did I think I'd win a race in my first year out. We ended up winning three and finishing fifth in the world, then our second year we won another three and finished third in the world," Nobile recalls. "Things were going really good and now here we are this year, our fifth year, and it's been a struggle. That's tough, only because of the early success that we had. Everybody has their ups and downs in sports. It's just the way it goes."
Nobile and the Mountain View team appear to be back on an upswing after making an abrupt switch this year from KB Racing horsepower to Elite Performance engines after the Charlotte fall race. Nobile rolled into St. Louis behind the wheel of Erica Enders-Stevens' 2014 world championship-winning Camaro with intentions on carrying the new partnership into 2016. Though Vincent and his father are very involved with the direction of the team, Nobile credits Nick Mitsos for making the decision to switch to Elite.
"That decision falls on the team owner and his three boys, Chris, Michael and Paul. Irene is also a big part of the team ownership as well. They make the main decisions, but naturally we are a team and they run everything by us and make sure we all agree. We're really happy with where we're at and we're looking forward to next year."
The transition was made as easily as possible, but such a change at the beginning of the 2015 Countdown portion of the season did come with its share of inconveniences, ranging from negative reactions from fans to Nobile having to adjust from his own familiar 2014 Camaro to one formerly driven by Enders-Stevens.
"It was definitely not something that we wanted to do," Nobile reveals of the sudden switch. "It was kind of a mutual decision between the two teams and I think it worked out for the both of us. We really didn't want to have that sort of distraction mid-season, but it's done now and I think we're both in a better place. As far as my team and the Mountain View gang, we're super stoked to be a part of Elite Motorsports. They're a great organization, as you can see. Erica clinched the championship and Drew Skillman is having a great rookie season, one that you can only wish to have as a rookie. We've had pretty good success with them so far, we just need a little bit of luck."
The move to Elite seems to be proving successful. Though he struggled with first-round losses at Reading and Dallas, Nobile reached the semifinals at Las Vegas and powered his way to a final-round finish at the Auto Club NHRA Finals at Pomona, falling to former engine provider Allen Johnson in a very close decision.
With the 2015 season complete, Nobile will focus his attention back on work at the family business, Nobile Trucking. Vincent and John are in charge of keeping their seven trucks going up and down the road, hauling gravel and sand around New York. While that keeps them busy most of the time, the Nobiles also enjoy flipping houses.
"I wish I could say that I don't do much at home, that I just race, but we go from working on race cars at the drag strip to working on big trucks at home. That's taking up a lot of our time lately, but we're catching up. The truck business has been great and we're trying to expand in the near future. My goal outside of racing is to expand the trucking company and do more with the real estate, to kinda' diversify ourselves as entrepreneurs, me and my father.
"My dad and I have a great relationship. We get along really well and work well together. It's cool that I get to work with him pretty much every day on and off the track."
Looking ahead to 2016, it's clear Nobile is excited about racing, perhaps even more so than in recent years. He feels he has good reason to be excited.
"We have a really strong team. As of right now it should be a four-car team of Erica, Jeg Coughlin Jr., Drew and me. Between the four of us I think we'll be a force to be reckoned with. I wouldn't doubt it if we win all of the races. It's a bold statement but I have a lot of confidence in the team and I know between the four of us drivers we're going to be winning a lot of races."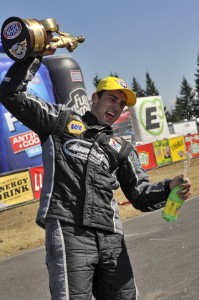 It's a bold statement indeed, but not entirely unthinkable considering the lineup of talent Elite Motorsports has put together. Enders won nine races en route to her second consecutive NHRA Pro Stock world championship, reaching the final round at four of the six Countdown races. Skillman, an accomplished racer in multiple sportsman classes, reached the final round in his Pro Stock debut at the Winternationals and won his first race at St. Louis. Add the prowess of five-time world champion Jeg Coughlin Jr. and the potential exists for domination.
At age 24, Nobile is the youngest driver on the Elite team, but not by much. In fact, several major players at Elite are in their twenties or thirties. Skillman is 27, Enders is 31 and Coughlin is the veteran of the bunch at 45. Courtney Enders, Erica's sister and marketing manager, is 29. It's a group Nobile is proud to join as he continues to seek his first world championship.
"Obviously they've proven themselves and it shows that young, fresh talent is a good thing," he says. "To be a part of that is exciting. To have the opportunity to be a part of that group of people is going to be great for our team, the Mountain View team. We mesh really well now, and I can only see better things in the future."
Photographs by Ian Tocher and NHRA/National Dragster
This story originally appeared as the cover story in Drag Illustrated Issue No. 104, the 30 Under 30 Issue, in October of 2015.