The 27th annual 2023 Haltech World Cup Finals Import vs Domestic (WCF) concluded on Sunday, November 5, 2023, at the Maryland International Raceway, leaving drag racers and fans on the edge of their seats throughout the five-day event. This event, which draws competitors and fans from around the globe, once again solidified its reputation as one of the premier drag racing events worldwide.
One of the standout stories from the event was Garrett Mitchell, also known as Cleetus McFarland, took home the win in Grannas Racing Stick Shift, earning him back-to-back championships at the WCF in two different classes with two wins. McFarland emerged victorious against Ryan Pederson, finishing with a time of 7.325 seconds at a speed of 203.95 mph in his 2001 Corvette.
The 2023 WCF featured intense competition among some of the world's best drag racers, resulting in new champions being crowned in 11 different categories. Over $200,000 in cash prizes were awarded to the deserving champions.
Additionally, several records were broken, with one notable achievement by Carl Brunet in the Four-Cylinder race, who set a new four-cylinder world record with an incredible run of 5.828 seconds at 242.71 mph during Renegade vs. Modified Q2 at the 2023 World Cup Finals.
In the highly competitive Mickey Thompson Outlaw vs Extreme class, Drag Illustrated 30 Under 30 alumnus Mark Benston Jr. of Delaware reset the Outlaw Drag Radial elapsed time world record four separate times throughout the weekend. Qualified third with his turbocharged 2002 Chevrolet Camaro thanks to a record-setting 5.752 at 254.14 mph run, Benston was on a tear as he continued to improve throughout eliminations. After securing a first-round win, Benston clicked off a 5.733 at 254.76 mph hit in round two.
In the semi-finals, his 5.713 at 252.00 mph blast put him through to the finals, where Benston bested John Odom with a monumental 5.697 at 254.66 mph pass, finalizing not only his overall win but also obliterating the world record once more.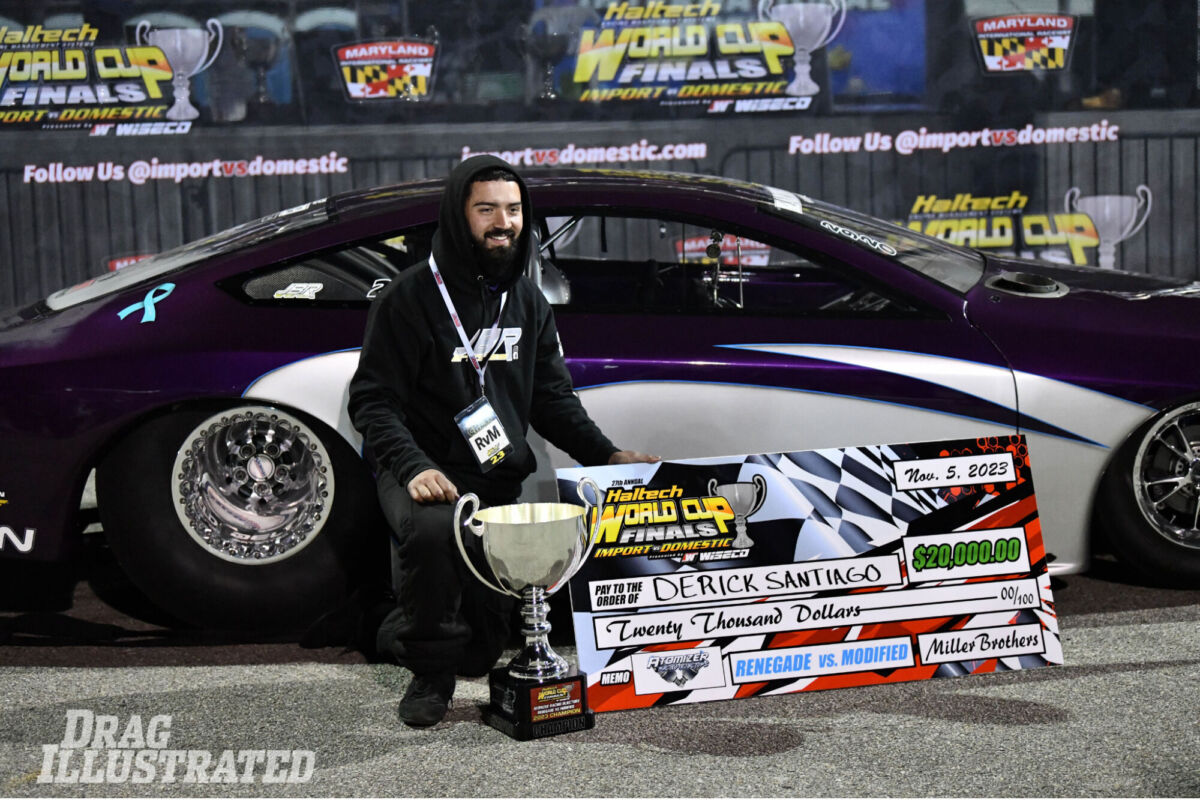 In Atomizer Fuel Systems Renegade vs Modified, Derick Santiago outpaced Drag Illustrated 30 Under 30 alumnus Ty Kasper, finishing with a time of 5.953 seconds at a speed of 236.51 mph in his 2023 TLX.
Eric LaFerriere emerged victorious against Jomar Gomez, with an ET of 6.381 seconds and a speed of 230.61 mph in his 1997 240 in the highly competitive Precision Turbo & Engine X275 vs Hot Rod class.
Brett LaSala, who has had a standout season with plenty of wins and records already collected, added yet another accolade with his performance in McLeod Racing Warriors vs Tres Cuarto. The Florida-based racer and his twin turbo "Snot Rocket" 2012 Ford Mustang qualified fifth in the 32-car field with a 6.510 at 224.88 mph trip. Next, LaSala earned five straight round wins in eliminations, capping things off with the final against Jamil Negron when the win light came on in LaSala's lane next to an impressive posted run of 6.486 at 225.33 mph.
Additionally, Keith Rhea had a tremendous showing in Warriors vs Tres Cuarto as the Pennsylvania-based racer reset the Mod Motor non-Pro Mod elapsed time world record with his ProTorque EV1 converter-equipped and turbocharged Wonder Racing 2004 Ford Mustang twice in one run in the eighth mile, Rhea ran 4.05 seconds and completed the quarter mile in 6.19 seconds at 225 mph all with a stock block and stock head-equipped 5.4-liter engine.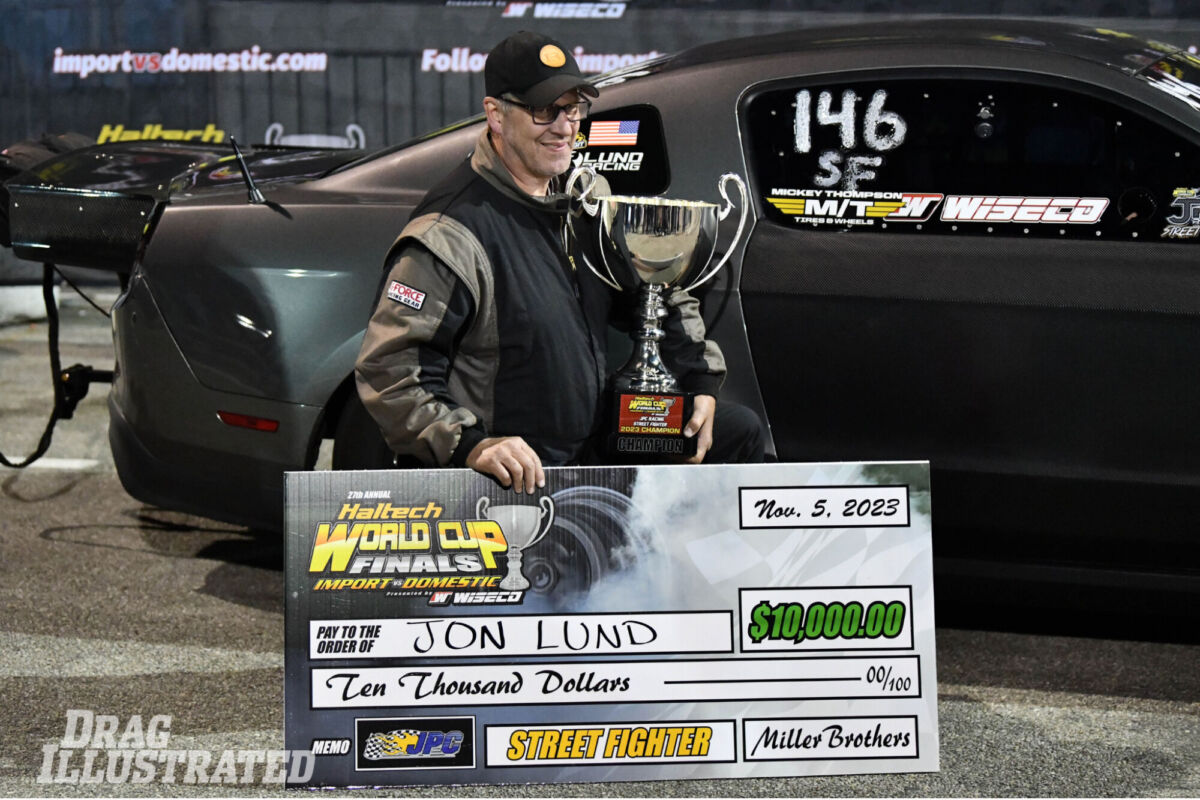 Jon Lund narrowly defeated Martin Connelley in JPC Racing Street Fighter, posting a time of 6.792 seconds at a speed of 209.14 mph in his 2011 Mustang GT.
With nearly forty entries, the Faster Motorsports Wild Street class Ronny Rhodes proved his dominance. The Delaware native's nitrous-infused 1968 Chevrolet Camaro went 7.388 at 163.53 mph during qualifying to land in the number four position. Rhodes went significantly quicker and faster in round one of eliminations as his 7.263 at 188.73 pass propelled him to round two. There, Rhodes advanced again and repeated his performance in the semi-finals. Finally, in the last pairing, Rhodes staged with Fran Schatz in the opposing lane. The lights came down, and Rhodes delivered a huge 7.233 at 181.69 mph effort – his best of the weekend – and captured the win as well.
Maryland's Patrick Estevez Jr. scored a win in Real Street Super Street. Despite qualifying fourteenth of forty with a pass of 7.886 at 169.72 mph, Estevez's Coyote-powered 2013 Ford Mustang ran flawlessly when it mattered most in eliminations. Five times in a row, Estevez not only turned the win light on in his lane but also improved his numbers until laid down his best performance of the event, 7.689 at 167.84 mph, and took a well-deserved trip to the winner's circle.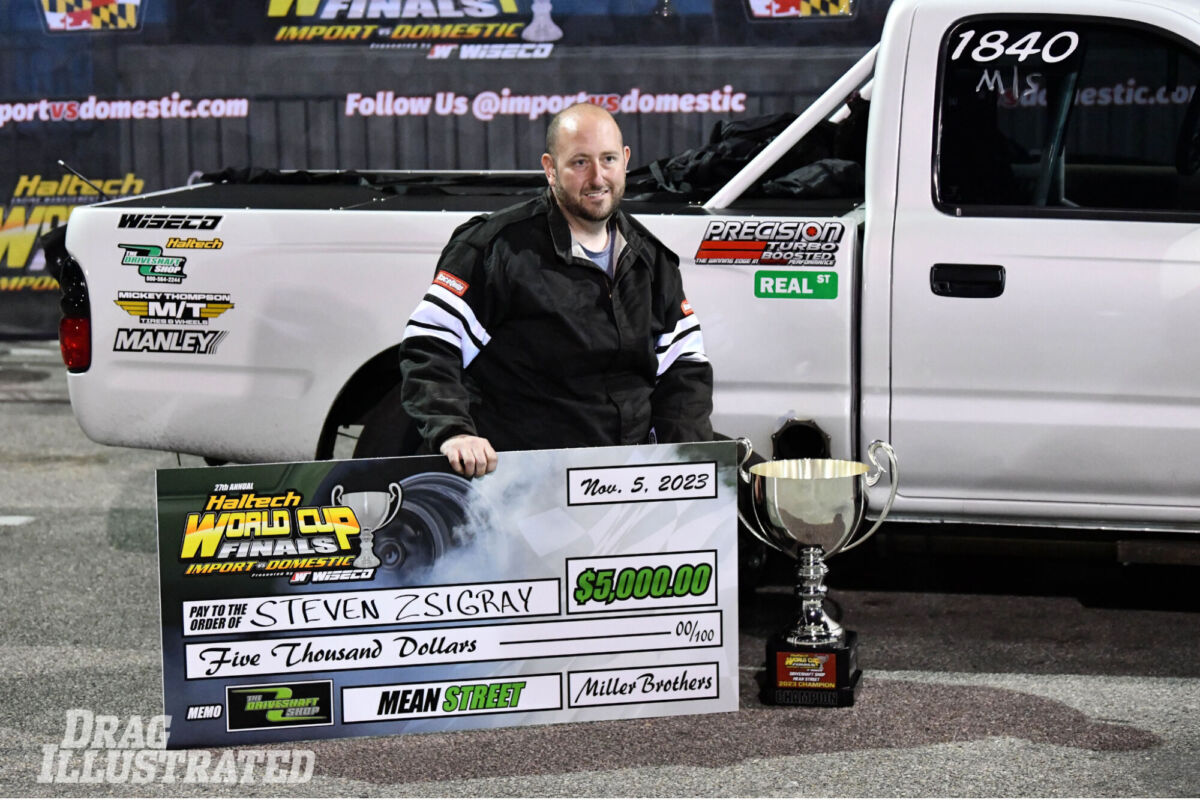 Steven Zsigray triumphed over Richard Crawford, recording a time of 7.963 seconds at a speed of 169.38 mph in his 2002 Tacoma in The Driveshaft Shop Mean Street.
The Brave Lubricants All Motor championship went to Teddy Weaver, who clinched the victory against Ronnie Hackelton, finishing with an ET of 9.234 seconds at a speed of 146.18 mph in his 2001 Mustang.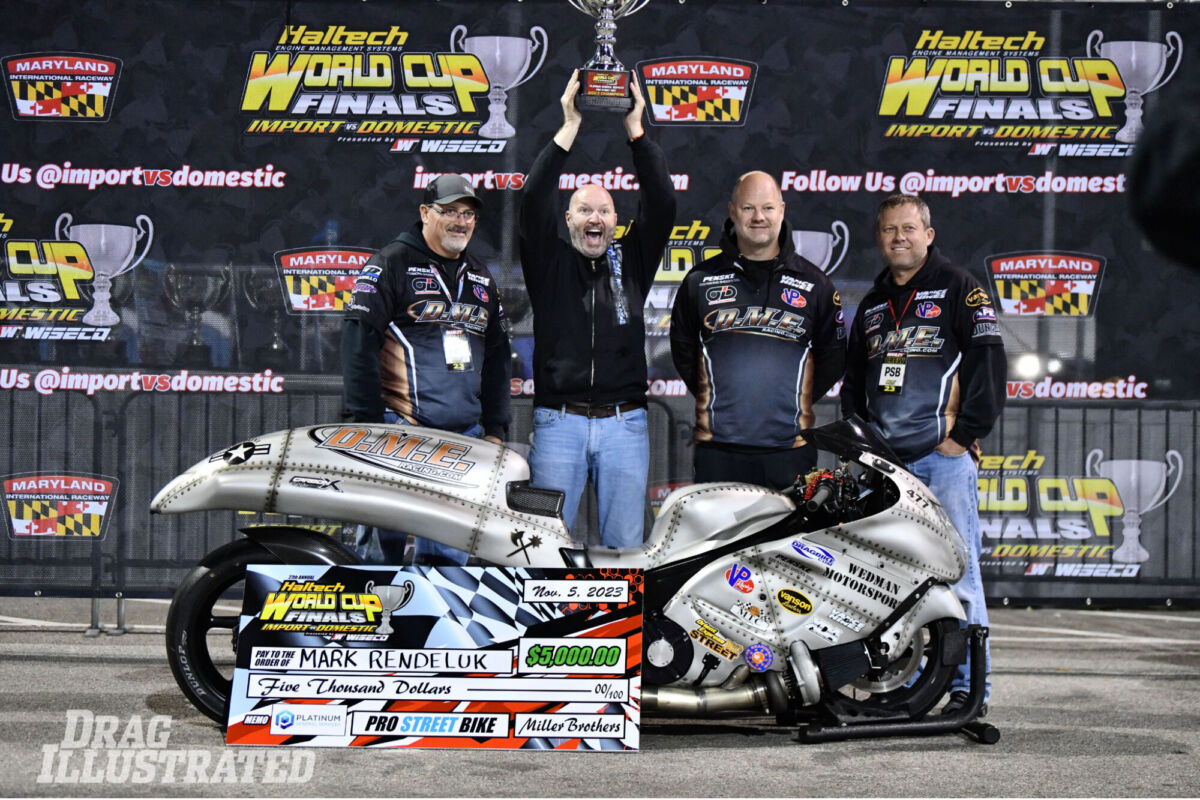 Mark Rendeluk emerged victorious against Jason Dunigan in Platinum General Services Pro Street Bike, securing a time of 6.482 seconds at a speed of 229.43 mph in his 2022 Hayabusa.
For additional results, visit the World Cup Finals: Import vs. Domestic website. Fans can also relive all of the excitement on FloRacing.com.