It's been nearly a year and Steve Matusek still gets an uneasy feeling when he thinks back to the inaugural DRAG ILLUSTRATED World Series of Pro Mod.
It's certainly not about his overall feelings on the event. That, in Matusek's eyes, was one of the more enjoyable experiences in the standout's lengthy career.
But what eats at Matusek is the matter of leaving $100,000 on the table. It's a predominant thought and one Matusek is none too happy to recall.
"I missed an opportunity," Matusek said. "I should have won that race. It's all on me."
The saving grace is Matusek will get his chance for redemption at this year's WSOPM, which takes place Aug. 10-11 at Bandimere Speedway. Improving on last year's semifinal appearance is a clear motivation for Matusek, who hopes to finish the job in 2018.
A year ago, Matusek felt he had the car to beat, running well in testing and early on during the weekend. But he lost on a holeshot to eventual runner-up Steven Whiteley in the semifinals, putting an immediate damper on what otherwise was a thrilling and memorable weekend.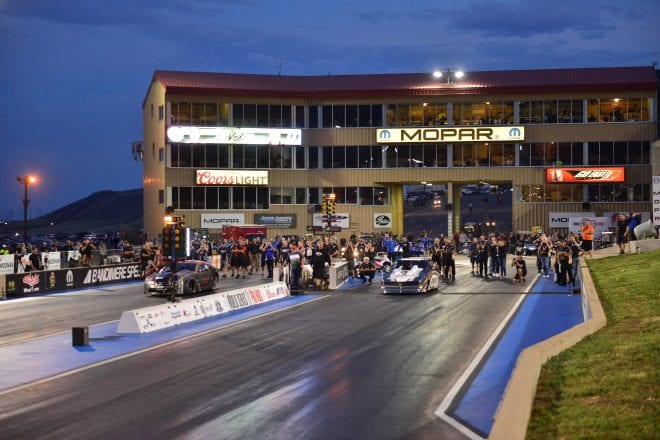 "I'm going back with a purpose," Matusek said. "We felt like it was our race to lose and we lost it. We had a good, competitive car and I got beat by a holeshot. I'm 99.9% percent confident we would have beat (Mike) Bowman in the final round if I would have done my job. We want to get back there and pick up where we left off."
That Matusek was even a contender at the biggest and richest Pro Mod event in the history of the known universe last year was a major victory.
He was involved in a nasty crash during the NHRA Pro Mod race in Norwalk less than two months prior, but the car got fixed quickly and Matusek performed impressively – at least up until the semifinals. He credited crew chief Jimmy Rector and his team for tackling the challenges of racing in the high altitude atop "Thunder Mountain," which, ultimately, should give Matusek confidence heading into the 2018 WSOPM race.
"Jimmy and the crew did an unbelievable job," Matusek said. "Even between rounds, they didn't miss a beat. Jimmy is one of the best and, anticipating what we would see there, he made changes to the car and our cars performed well. We weren't the fastest, but we were consistent and got down every time."
Truth be told, Matusek has fond memories of Bandimere Speedway, dating back to 2006 when his daughters raced in the NHRA Jr. Drag Racing Western Conference Finals event. All three performed well that day – going a combined 23 rounds between them – and his youngest daughter, Kristen, won the Wally in the 12-year-old division, just two weeks after she started her racing career. More than a decade later, Matusek enjoyed the inaugural WSOPM with family and even celebrated his wife's birthday at the event.
"That racetrack is magical for us, personally, just because of the experiences we've had there," Matusek said. "There's a special place in my heart when we go back there. It's a great venue and the Bandimere family is unbelievable in how they treat you. I thought (the WSOPM) was an unbelievable event.
"I did smell the roses, if you will. I think it was a great event and I have not encountered one person, whether it's a fan, racer or worker, or whatever, that didn't' think it was a great event. It's going to continue to grow and be that marquee event you have to plan your year around."
Matusek enjoyed every unique aspect of the race, from Pro Mods being the main event, to knowing his first-round opponent a month ahead of time to the prize money being winner-take-all. He preferred that high-stakes set-up, joking "if you want a split, go to Dairy Queen," but Matusek was serious in his thoughts about the race.
"I don't care who you are, you roll in the gate and try to compete at this level, it feels good to be at the top of the food chain," Matusek said. "That's a good feeling. We want it to be winner-take-all. That's what I love about it."
Of course, Matusek will love it a lot more if he's the last one standing in 2018, a year after he felt he should have won.
"I'm just excited to be a part of it," Matusek said. "I'm looking forward to coming this year and bringing it home."