With veteran drag racer Rich Krohn as his father, it's no surprise that 19-year-old Cody Krohn is hungry to accelerate his own career. Now, Cody is going flat-out to make the most of every opportunity he's able to get his hands on in hopes of making it stick.
[Editor's Note: This story originally appeared in DI #184, the State of Drag Issue, in September/August of 2023.]
Although he's not yet old enough to legally drink alcohol, Cody definitely knows how to handle an alcohol-fueled machine. From his start in the Jr. Dragster ranks to his most recent successes behind the wheel in NHRA Top Alcohol Dragster, Cody has developed a keen sense of purpose and professionalism well beyond his years.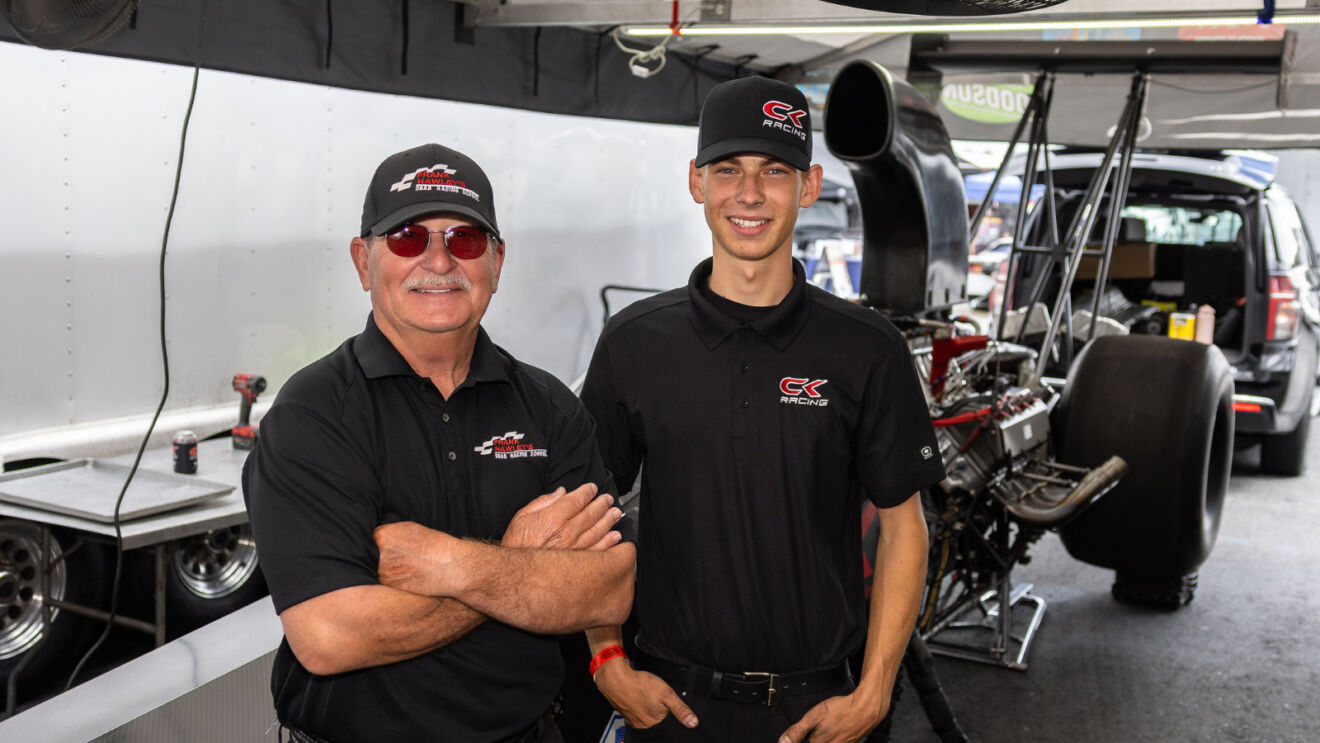 "Racing is all I've wanted to do since I was a kid," shares Cody, who remembers traveling from his south Florida home to Bradenton Motorsports Park with his father when he was little. "It's great because it gives my dad a second chance to chase his passion again, too."
Cody raced in the Jr. Dragster ranks until he was 14 years old and earned a season championship in 2012, but he and his father always wanted to build a front-engine dragster of their own. "We finished that in 2019, and my dad raced it at the National Hot Rod Reunion in 2020, then I raced it in 2021 and 2022," Cody shares of the big jump up in performance that he was able to experience. Incredibly, he earned the runner-up honors in Nostalgia Front Engine Dragster his first year out and took the outright win in 2022.
It was during the unanticipated downtime stemming from the COVID-19 pandemic-related shutdowns in 2020, however, that Cody was able to obtain a plethora of racing licenses at Frank Hawley's Drag Racing School. His father and Hawley had raced together many times during their 40-plus-year friendship, and Hawley was happy to take Cody under his wing for some careful coaching.
In March of 2020, Cody obtained his NHRA Super Comp dragster license. "I got my Top Alcohol Dragster, Top Alcohol Funny Car, Nostalgia Top Fuel, and Nostalgia Funny Car licenses all within the next year," notes Cody, who give a "huge thanks" to his father for not only funding the classes for the then-16-year-old, but for pushing him to do them in the first place.
During the one-on-one sessions with Hawley, Cody learns a lot about what to do – and what not to do – on track. "My dad always drove me to strive to be better, to find a way to improve, and Frank has the same concept. You can always focus harder, drive straighter, or do something better," says Cody, whose ambition extended into opening his own detailing and ceramic coating business, By Design Detailing, with which he is also a licensed/certified Ceramic Pro installer.
"Reviewing every run from multiple camera angles and discussing it in detail afterward with Frank really helped me learn," Cody adds. "Frank has been so influential to me – not only from a licensing standpoint, but for everyone he has introduced me to and the connections I've made through him. I'm beyond thankful that he has helped get me into this world."
When Cody decided to get his NHRA Top Fuel license, Hawley took him to the NHRA Finals in Pomona, California, where he introduced the talented teen to tons of the top drivers in the sport. Shaking hands and meeting his idols face-to-face was huge for Cody, but it was the introduction to Larry Dixon that was perhaps the most memorable.
"I had the opportunity to use one of Larry's cars to license in," recalls Cody, who tested for – and obtained – his NHRA Top Fuel certification in February of 2023. "I had Frank there mentoring me just like at his School… but I also had Larry Dixon helping me at the same time, and it was surreal to have two of the greatest drivers of all time teaching me."
The entire experience was unlike anything Cody had ever experienced in all his years of racing. "Sitting in the water box, looking down the track, it was exciting and almost eerie – everything else washed away and I was focused on only that moment," he shares of the feeling just seconds before he was sling-shotted down the track. "The acceleration was crazy. Everything else I've driven is done pulling by half-track, but the fuel cars get there and reach lockup and pull even harder!"
Hawley was pleased with Cody's performance and expects big things from his protégé. "He is a bright young kid and he's done really well every time," confirms the famed driver and owner/namesake of Frank Hawley's Drag Racing School. "Cody has a lot of skill and he will fit nicely into the NHRA professional level of racing."
Cody fully recognizes what an incredible opportunity he has been given, thanks to his parents Rich and Luci's generous support of his dreams, and doesn't want to waste a single second of it.
"There are so many kids my age or in similar situations that never get this chance, so I almost can't believe it's happening to me. I'm beyond blessed," confesses the intelligent and articulate young man. "To have all of these people on my side wanting to see me succeed, and for my parents to have helped every way they could, I have to use this opportunity to its fullest potential and make it worthwhile for everyone. Other people worked hard to get me here and I can't waste that."
Although he's already accumulated two runner-up finishes in the 2023 Lucas Oil Series with the Samsel's Racing team's A/Fuel entry, the 19-year-old Top Fuel-licensed rookie is now eagerly anticipating his big debut at the highest level of drag racing, which will take place at the NHRA Midwest Nationals at World Wide Technology Raceway just outside of St. Louis, Missouri, on September 29-October 1.
Ideally, Cody hopes to make driving in NHRA Top Fuel his full-time profession and to one day own a team of his own. He's fully committed to doing whatever it takes to make that dream a reality, and with the temptation of the end goal already being so close to coming to fruition, Cody is more motivated than ever before.