World Products has redesigned their innovative block design which allows the use of high flowing LS style cylinder heads with readily available and affordable SBC rotating assemblies and related components.
The new World Products Motown LS small block Chevy engine features a camshaft location which has been raised in the block by +.134″. The block now comes standard with a 55mm cam tunnel and cam cores are now readily available from Erson Cams at an affordable cost for this application. The design allows use of H-Beam connecting rods with a 4.000″ stroke crankshaft, and the large cam core provides for exceptional valve train stability at high RPM operation. Standard SBC .842″ or upgraded .904″ lifter bores are available.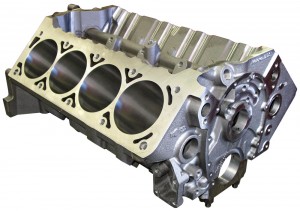 Standard type SBC timing sets and timing covers as well as standard SBC oil pan and pump fitments are used, as are standard distributor ignition systems. These features let you use off the shelf SBC parts, avoiding the need for numerous expensive specialty components typically associated LS designs.
World's priority main oiling system ensures reliable lubrication of the main bearings, and the SBC sump and oil pan eliminate the issues associated with high RPM oiling in the LS engine. The Motown LS is the best of both worlds!
A standard LS 9.240″ deck height means standard LS intake manifolds can be used. The standard 4.120″ bore finishes at 4.125″ and 350 mains are available with a choice of ductile iron or billet steel splayed 4-bolt main caps. Quality ARP fasteners are used for superior strength and integrity.
Part numbers for the Motown LS blocks are:
084081 Motown LS,   4.120″ Bore, 55mm Cam, .842″ Lifters, Nodular caps
084081-904 Motown LS,   4.120″ Bore, 55mm Cam, .904″ Lifters, Nodular caps
084181 Motown LS,   4.120″ Bore, 55mm Cam, .842″ Lifters, Billet caps
084181-904 Motown LS,   4.120″ Bore, 55mm Cam, .904″ Lifters, Billet caps
Like all World's blocks and heads, The Motown II RC is 100% American made. World blocks are cast from high-strength iron alloys and are precision machined on CNC machining centers for unmatched accuracy. World's new digital inspection equipment and quality verification procedures ensure dimensional accuracy and mean you can be assured of total quality and superior performance.
For more information contact World Products at 877-630-6651 ~ www.worldproducts.net