Tim Wilkerson won a round this past weekend in Atlanta, and he took out 16-time world champion John Force in a fierce pedaling duel to do it. He also blew a car to smithereens and had his back-up body punched in the nose by a piece of debris off Jack Beckman's car, which was blown to the same level of smithereens in the other lane during the next qualifying pass. That is now history, however, and the present is this week's quick turn-around for the NHRA Kansas Nationals at Heartland Park Topeka.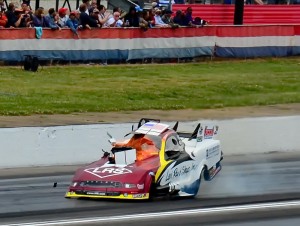 Wilk's goal, for this weekend's annual trip to the plains of Kansas? He'd like to improve his on-track performance while he dials down the "spectacle quotient" in terms of engine and race car carnage. A good old-fashioned boring win with no accompanying theatrics would be just fine.
"It's a good thing we had some luck in round one down there in Atlanta, because had we lost that one it would've been nothing but bad," Wilk said. "I haven't even counted up what it cost us, in either time or dollars, but it's all part of the game. Anyone who has owned one of these things for any length of time has had a weekend where a whole lot of dollar bills flew away with one big boom, and I guess if there's a bright side it's that I'm not Don Schumacher. He had three race cars make all the Atlanta highlight shows for bad reasons. I only had one."
So far, through seven races on the 2014 Mello Yello tour, Wilk sports a 5-7 record earned through a trio of first-round victories and one semifinal finish, so he'd surely like to ramp up the round wins as soon as possible. The five rounds he currently owns are just good enough to keep him in the 10th spot in the standings, so additional pick-ups would help in that regard as well. Plus, there's the Traxxas Funny Car Shootout, and a earning a spot in that special event via a race win would be far less stressful than sweating out an at-large bid via a fan vote and lottery, like he did last year.
"Our fans are unbelievable, and they really earned that Traxxas deal for us last year, but I don't want to have to go to that well too often, if you know what I mean," Wilk said. We've had seven races so far, but the good thing is we've only had three different people win them, so four more earned slots are open. I'd like to get in that way and take the pressure off of our amazing fans, not to mention the lottery balls.
"And even though Robert Hight is powering through the class like a hot knife through butter right now, maybe that works in our favor in the end, as well. Heck, he's winning everything right now and is lapping the field in terms of points, but once Indy is over he'll be human again just like the rest of us. As long as he lets me win one, I don't care if he wins all the rest of them. It'll get fun when we tighten it all up again for the Countdown."
And remember that concept of a "good old-fashioned boring win" mentioned earlier? Wilk sees that as not only a better fit for him, but also a much better fit for his bank account.
"I'm not exactly what you call a wild man, and frankly I like things pretty uneventful and boring," he said. "One of the reasons I love going to Topeka so much is because it's so midwestern and laid back, just like my hometown of Springfield, Illinois. I'm the most out of my element when we go to places like Las Vegas, but in Topeka I feel right at home with the way things feel there.
"Let's just qualify well, win four rounds, not hurt anything, and bolt it together right for three days. That would be just fine by me, and then we can celebrate by finding an Outback Steakhouse or an Olive Garden up the road. That'd be a great weekend, in my book. I'm looking forward to getting to Topeka, that's for sure."
Uneventful? Check. Successful? Check. Outback or Olive Garden? We'll find one.