You can read the title as many times as you'd like. It's not gonna' change. But before you toss it in your virtual wicker trash can, hear me out.
How many passes have you made in your radial tire, Pro Mod, or grudge car this year? Or even your whole life? Chances are the successful traveling bracket racer makes more laps in a month than you do in two whole years. And let's face it, we're all racers here and we all like going down the race track.
So, back to the point at hand. Why should you trade in your $250,000 "stock suspension" (yeah right) 4-teen hot rod for a 6.40 Chevy II wagon that boasts a delay box, electric dial-in board, 6,700 stall converter and an 850-cfm alcohol carburetor on top of a conventional-headed small block? And oh yeah, (very important factor here), through mufflers!
For your ease of reading I'll list things out:
This requires skill. Believe it or not your checkbook will help you with only one factor in bracket racing—entering the actual race.
It will be the hardest thing you ever do. When you were a freshman in high school and asked that senior cheerleader out she crushed your soul—but at least you were left with a speck of pride. Well, if you go bracket racing get ready for that speck to be crushed, too. Nothing on this Earth sucks as bad as having reaction-time advantage by .030 and kickin' the throttle four or five times to get .001 behind and be .045 above. (Okay, I'll use smaller words from here on out, I promise!)
You CAN learn. There's no excuse to be in the dark on bracket-racing strategy. And before you jump off the couch yelling, "I've been 3.72 at 210 miles an hour in a twin-turboed, fire-breathing piece of engineering marvel!" consider this: you probably can't wheel a 240-inch swing-arm dragster with a small block that goes 5.20s as well as 80 percent of average bracket racers. But not to worry, you can learn how to go slow. From burnouts to staging, down to the finer points of finish-line tactics—yeah, you gotta' do more than just let go of a button and point it straight—Luke Bogacki at ThisIsBracketRacing.com has the solution. Trust me, he's the master and once you come over to the dark side and understand all this mumbo jumbo you won't be able to get enough.
Companies give back! Break a converter or transmission? FTI offers trackside support at nearly all big-money bracket races. They can rebuild your trans or let you try a converter. Throw down a .004 package to your opponents .003 total? If you're at the K&N Spring Fling, CARS Protection Plus Million, JEG'S Summer Door Car Shootout, or JEG'S U.S. Open, congrats! You probably just won a free Quick Fuel Technology Carb or FTI converter, Sparco fire suit, or a free Nitro Plate Header Coating. Yeah. It's called a "Best Losing Package" award and at these events listed above prizes are given away every round of every day!
People are pretty nice. Trailer burn up in your yard? Chances are someone will let you shove your car in their trailer. Blow up your motor or car torn down at the moment? No problem, it's beyond common to borrow or double with another racer in a car. Yeah, that's legal, too. It's actually become the norm these days.
It's cheap. Well that's a lie. It's not cheap at all. But it's a whole lot cheaper than that Tim McAmis '68 Camaro with an 800-cubic-inch-plus Sonny Leonard piece with four guns on it. If you sought out literally the most expensive piece of bracket racing equipment possible it's more than likely going to come from the Chrome-Worx stables. And with an onboard air compressor, beadlocks, chrome this, carbon fiber that and a spectacular Imagine That Customs paint job by Jerron Settles it'll probably come in at maybe $130K—turnkey! But once again, you'll still need to watch yourself in that piece as there's a 7.70 Duster and bone-stock Suburban out there (Chester Lay and Van Greer, respectively) that will embarrass you and force you to load up your pipe rack with the nose cone still on (which usually doesn't work out so well).
It's fun. On the front of every K&N Spring Fling t-shirt you'll notice one common theme. The words "Experience It" ring true every year. Since the beginning of the Kyle Seipel and Peter Biondo brainchild this race has carried a certain buzz about it. And you can find this buzz everywhere. What I mean is this: you drive hundreds or thousands of miles; hand the people your money; make some laps; have a couple of beers. Then (usually Saturday evening), there's a big party. You drink some more cold ones; enter the golf cart race; try to flip it over front ways with 19 people on board at 655 feet. At that point, that very moment when your buddy in the back spills his beer and just about falls on the pavement after you parked the preacher off on his bicycle with your win light glowin' but no numbers on the scoreboard yet because you haven't crossed the finish line—that's when you know you made the right choice.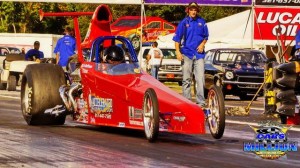 So I encourage you to go out, get yourself a back-halved S-10, a drum of alcohol, a This is Bracket Racing subscription, and throw a JEG'S visor on top of your ugly mug. And for the love of God, please do not—I repeat, DO NOT—have radios, back-up people, or someone to pull you into the beams. There's no need for some guy to man a GoPro while one checks the wheelie bar height and another hired hand gives you that ever-so-inspirational fist pump when you stage. The only appropriate help is a half-drunk cousin with a tire gauge.
If you want a crowd, go to the Super Bowl; if you want speed, buy an airplane; and if you want to be famous, be 16 and pregnant. Otherwise, just maybe you have what it takes to become a traveling bracket racer. Til' then, I'll see you in the lanes. Dialed in.