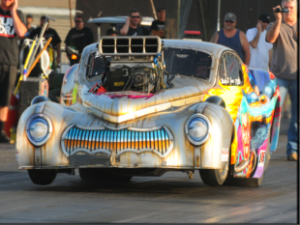 Fans of fast doorslammer racing will instantly recognize Wesley Jones' iconic '41 Willys coupe. The swoopy nostalgia-bodied machine was built nearly 15 years ago by Tommy Mauney for New York-based racer Mike Ashley. Traces of its original Batman-themed paint scheme can still be seen, leaving no doubt as to the car's pedigree.
NAS Pro Extreme competitor Jones, 42, lives in the historic city of Vicksburg, Mississippi. The electrical contractor and owner of two successful businesses admits that his work keeps him pretty busy, but he said with a laugh, "Once a month I get out of here and go racing."
The fact is that the second-generation racer has never been too busy to spend time at the track, starting when he was just a young boy going racing with his dad.
"My dad was involved in drag racing, mud racing and dirt racing and by the time I was in high school I was following in his footsteps. At first I
did what a lot of people did, and raced on the streets a bit because there just weren't any drag strips close enough to drive to. In later years I got into bracket racing, but I eventually got tired of it. In 2004 I decided to go heads-up racing, and Pro Mod was the way I wanted to go."
Having made the decision to get into Pro Mod, Wesley started shopping around for a suitable car.
"I ended up buying a tube-chassis '67 Camaro, which was a Super Gas car originally, dropped a blower motor in it and went racing. I later converted it to a double frame-rail, chrome moly car and campaigned it from 2005 through 2009, running some ADRL and outlaw events with it. After that I bought a Monte Carlo that was originally owned by Marc Dantoni. James Clark, who lives here in Mississippi, had the car by then and he was getting out of racing. It was a nitrous car when I bought it but I swapped it out for a blower motor and raced it for a couple of years. Unfortunately it never worked real well, so in 2011 I called it quits and got out of racing."
Jones' retirement didn't last very long, however, as he soon realized he was much happier sitting behind the wheel than he was sitting in the grandstands.
"All it took was a trip to an ADRL race in Memphis for me to turn things back around. I found out pretty quick that I was a very poor spectator," Jones said. "At that point I decided I would get back into driving, and to do it would mean spending money on the Monte Carlo. Before I started racing again I worked on Jason Scrugg's team for most of the 2013 season. Jason knew I wanted to go fast and he told me I should forget about the Monte Carlo and go find a Mauney car."
Taking his friend's advice to heart, Wesley began the quest to find a car from the shop of one of the top builders in the sport.
"I found the Willys I drive now about a year ago, and I can tell you that the car has a real history to it." Jones said. "It was originally built for Mike Ashley, and from him it went to R.E. Smith, Joe Baker, back to R.E. and eventually to a guy up in Winnipeg named Frank Safanov, who I bought it from."
These days the rejuvenated Willys is powered by a PSI-topped 526-cubic-inch Brad Anderson Hemi that Jones bought from Scruggs. The big powerplant is hooked to a Lencodrive transmission and uses a Neal Chance converter. His best eighth-mile performance to date has been an elapsed time of 3.613-seconds at a speed of 210 mph.
"I'm still learning the car, especially the Hemi because I ran Chevrolet stuff for a long time," Jones said. "We're making pretty good power, though, and the Traction Twins, who prep the tracks for PDRA, call me Wheels-Up Wesley now because the car hikes the front end up at the hit."
In true old-school fashion, Jones is for the most part a one-man show, doing everything from sponsoring the car to doing most of the work on it.
"I work on my car here at my shop by myself most of the time," he said. "I do everything from welding and making wheelie bars to tearing the motor down, whatever has to be done. Of course I don't do everything on my own. One of my cousins, Rick Woodruff, who lives in Atlanta, helps me at the track. I also have a lifelong friend, Paul Rusche, who helps me quite a bit, too, and that's pretty much my standard crew. We pick up another person here or there when we need some extra help."
Jones, who plans to attend all of the PDRA events this season, had plenty of praise for the new organization.
"Racing with the PDRA has been some of the most fun I've had; it's been great," he said. "I believe the people behind the organization have done as good a job as could be done. Starting something new, especially knowing the financial challenges involved, is a high-risk deal these days. I think they have done a great job securing class sponsorships and contingency payouts for the racers. There's not much doubt that some potential sponsors and backers are skeptical based on experiences with other sanctioning bodies in the past. It's just going to take a little time for the PDRA to prove it has the structure, the people and the racer support to carry it into the future.
"And as far as I'm concerned the level of competition is second to none," Jones added. "I like to say it's where the fastest door cars in the world come to play. The bottom line is that it's all about prestige, to see who really is the best in the game. The money along the way is nice, but even though it helps out some it's not going to offset your costs to be at the top level. When I worked for Jason I didn't get paid, and my guys don't get paid either. We all do it for the fun of doing it. Sure, there are good days and bad days but when it's all said and done it's a lot of fun. And right now we're all having plenty of fun."