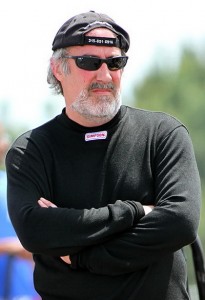 David Vantine (left) and the Pollard Nitrosports team rolled into the Manufacturers Cup Exoticycle/Roaring Toyz Spring Cup race a couple of weekends ago at South Georgia Motorsports Park with the expressed aim of collecting the last jacket remaining in the MTC 5-Second Club.
"But Ian King, the seven-time European Top Fuel Champion (and holder of five-second time slips from across the pond), was coming to do the same thing," says Vantine, beginning a blow-by-blow account of his efforts at the track near Valdosta, Georgia. "As far as I'm concerned it was my job to prevent that from happening, which is a pretty tall order for a guy with roughly 25 runs on a Fueler."
Vantine started riding the yellow Greg Pollard-owned bike last year after a long career jockeying Pro Mod bikes.
"Given the fact the bike lives in Canada and I live in upstate New York, and the fact that this was one of the coldest winters on record, the team decided to get out of the snow bank and rent Valdosta the Wednesday before the race," continues Vantine.
"Not riding a Top Fuel bike since November was going to require some half-track hits in order to get my brain and reactions back up to speed. Staying ahead of one of these monsters is key to success and survival. And the team needed to re-gel and get back in the groove.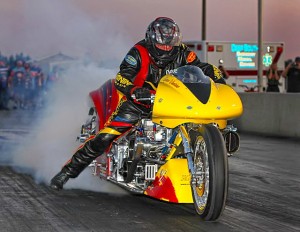 "We spent most of Wednesday morning setting up what we fondly call 'The Compound'—two toterhome and trailer combos and an RV. The bike isn't ready to make its first hit 'til about 2:30. Our clutch tuner Dan Wagner always states, 'A Top Fuel bike is twice the work and half the runs,' which it is. But finally it's time for the first lap—my favorite lap—of the year. We get all lined up in the left lane and I whack the gas and the bike went right and I shut it off by the 330 to avoid the timing blocks. One layer of winter cobwebs gone.
"We service the bike and are ready for our second attempt. We fire the bike and I start the burnout and BANG! We break a crankshaft, which breaks a keyway in the magneto, which mixes up the cylinders, which knocks the supercharger off, letting all that flame inside the motor out and burning off my lower eye lashes, some of my upper eyes lashes, and some of my eyebrows. In knocking the blower off we tore off a mount, so now we have a small hole in the frame and, of course, it was also where the nitrogen is stored so now we have nada for pressure—can't shift, no parachute, etc."
This track rental day is not going so well for the team, but the SGMP staff is chipping in to help turn things around.
"I want to thank the staff at Valdosta for tracking down a welding truck while we were in the middle of figuring out how that chain of events happened, so that we didn't have a repeat performance on our back-up motor," continues Vantine. "I would also like to thank Steve McBride (who's tuned countless 5 second passes for his brother Larry) for his words of wisdom. When I asked him what he thought may have caused this mess, his simple reply—with a knowing grin—was, 'Nitro.'"
Thursday dawned with the bike repaired and the team ready to take another stab at the Fuel monster.
"Like all smart people who haven't made a good run we decide it needs more power, which it did to help with the handling issue. We go up and make a hit and a 6.20 at 215 mph pops up on the board. It's still pulling to the right but we have a baseline and are back in the game.
"For Friday, we make some tune-up changes and take four and a half pounds of weight off the right side of the bike in hopes the bike will go straight. We need to get our numbers in a more competitive area. Since we need to save parts, we decide to make a half track hit. It works, and we go a 1.02 60 foot and 4.05 at 193 mph in the eighth. I shut it off and coast to a 6.43—nice and straight."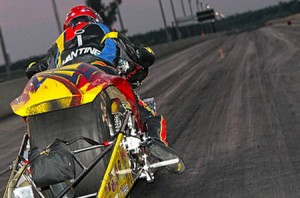 Now it's time for qualifying, and the runs that will count towards the 5 Second Club for the three riders in contention—Vantine, King and Sam Wills.
"We all meet to see how we can be fair about who goes first without camping out in the staging lanes forever. Sam felt he would just let the cards fall where they may. Originally, I was going to run Ian heads up during the first session, but after looking at the right lane I decided to let him go first and move over to the left lane. Ian goes out and lays down a 6.12 at 221 and I counter with a 6.15 at 219. Sam goes a 6.31 at 187, shutting off.
"We agreed that I would go first on Saturday morning during Q2. So the fun begins in the right lane and sure enough I go out there and slip and slide my way to a 6.25, but at 229 mph—which is a personal best and good enough to get me on the top 30 fastest runs of all time list. So I'm happy about that. Ian betters me again and goes a 6.23 at 232. Those darn European champions are tough! Sam had some issues at the line. So no 5 yet (except by McBride, who ran 5.79 on Friday night) but the best conditions in the best lane are that night."
Dusk descends on Valdosta and everyone assembles in the lanes for what they hope will be a record setting night of final qualifying.
"Our bike sounded badass during the warm-up and I'm ready," says Vantine. "Since Ian and I were one apiece on going first, we recruited race pastor Don Dowling to flip a coin. Ian called 'Heads' and heads it was. He goes straight down the avenue with the candles lit the whole way. Everyone's eyes are glued to the scoreboard and…nothing. No numbers at all."
It was a good run for sure. King called it one of his quickest passes ever and the data showed that it could've been a 5, but we'll never know for sure.
"Now I'm up to bat," continues Vantine. "I ask the track official several times, 'Are you sure the timing system is working?' He assures me it is. I start my burnout and I can feel liquid hitting my face. It's nitro, I know it is. After the burnout the team is pushing me back and I can see the trail on the ground. I look at Rick Stetson and he reluctantly tells me to shut it off."
Wills similarly is shut down with a leak on his burnout, and the anticipated session has turned into a 5 second fizzler.
"On to the first round of eliminations and none of the 5 second contenders has managed to pull it off during qualifying," says Vantine. "And guess who I have first round? Ian.
"Now it's Game Day. Ian has lane choice and wisely puts me in the right, where I proceed to blaze the tire by the 60 foot mark. Game Over for me and the Pollard team.
"Ian went on to do double duty in the final round. He won the race and clinched the last spot in the 5-Second Club with a 5.87, which is also his personal best. Congratulations to him and his team. They came from the UK for one reason and they accomplished it."
(Story and photos by Tim Hailey; Click to enlarge)