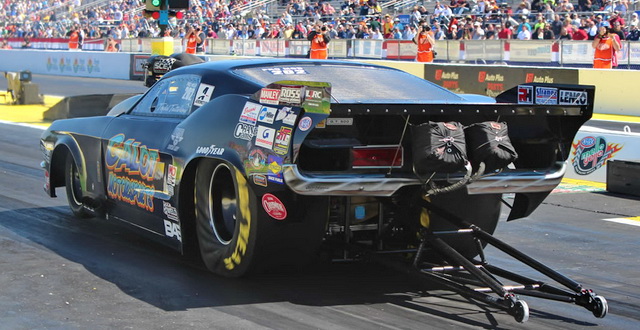 GALOT Motorsports opened its 2014 NHRA Pro Mod season Mar. 14-16, at the first race of the year at Auto-Plus Raceway in Gainesville, Florida,  and introduced a new, Precision-turbocharged car driven by Don Walsh, Jr. to the team.
Driving his supercharged 1967 Ford Mustang GT500, Todd "King Tut" Tutterow (above) had some troubles with tire shake in the first round of qualifying and had to lift, but quickly made up for it in round two with a 5.943 at 240.42-mph pass. Round three had more shake, but Tutterow's run of record was strong enough to secure 14th place.
Fellow GALOT driver Kevin Rivenbark piloted his own supercharged 1967 Ford Mustang GT500 with great consistency during all three rounds of qualifying, but despite having a solid best run of 5.975 at 237.50 mph, he landed 19th overall, just .11-seconds behind number-one qualifier Danny Rowe.
The newest addition to the GALOT team, a 1968 Camaro piloted by Don Walsh, Jr. and owned by Harry Hruska, president of Precision Turbo and Engine, will run in 2014 with Hruska as crew chief. Walsh, also battling tire shake in qualifying, placed 20th, but his 5.981 at 251.16 mph claimed the top speed number for the class.
With an unbelievably competitive field on hand for the first race of the year, Tutterow was the only GALOT driver to make it into eliminations. Unfortunately, more tire shake struck in round one and Tutterow was forced to lift.
The next NHRA Pro Mod race is scheduled for Apr. 25-27, as part of the 27th annual O'Reilly Auto Parts NHRA SpringNationals at Royal Purple Raceway in Baytown, Texas.
(Photo courtesy GALOT Motorsports)