Even before it was announced last month that Pete Berner is making his return to Mountain Motor Pro Stock racing with Elite Motorsports, the two-time IHRA Pro Stock world champion has been gearing up for his first race back. He's been training in the gym, keeping up his daily interval training regimen in preparation for a return at his home race, this weekend's Gerber Collision & Glass NHRA Route 66 Nationals presented by PEAK Performance at Route 66 Raceway near Chicago.
Now, an injury sustained while training in the gym – caused by a faulty hotel gym treadmill – has Berner's return in question.
"I'm down there exercising on a treadmill, doing intervals, and right when I'm at a 15-degree incline and running as fast as I possibly can, the damn thing stopped," Berner said. "It flipped me right over the front. I didn't think much of it. I hopped back on the other treadmill and kept working out."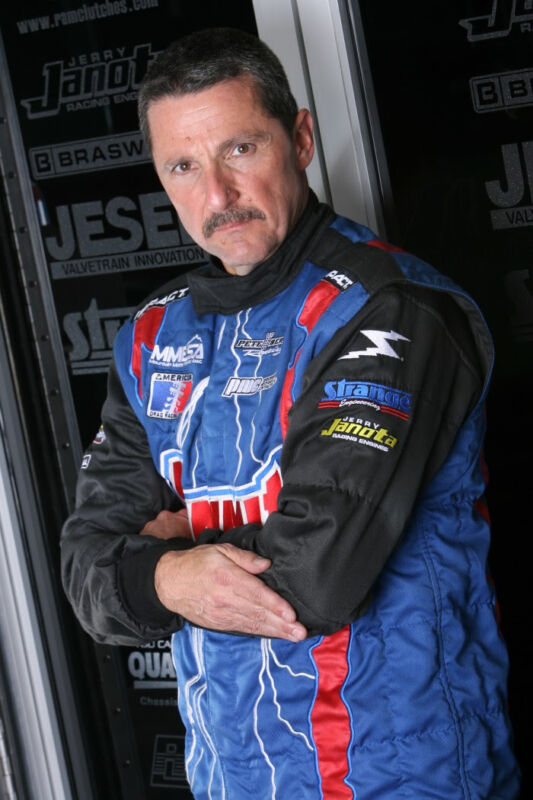 Berner finished his workout and headed out to Virginia Motorsports Park to meet up with crew chief Frank Gugliotta and the Elite Motorsports Mountain Motor Pro Stock team. Despite feeling a little stiff from the morning's treadmill incident, Berner got suited up and went to work testing and renewing his license. In fact, he fired off a 6.22-second pass on his first run with the 'chutes out early.
When Berner returned home to Crete, Illinois, after driving back from Virginia, he started to realize the extent of his injuries.
"I could hardly walk," he said. "So I made an appointment with my doctor, and I was told [Tuesday] that I have two pinched nerves – one in my back and one in my leg. So it's very hard for me to sit and I can't sleep. I get a shooting pain down my right leg. So I've been icing it and I have a massager so I've been massaging it, and I may even go get some acupuncture to see if I can get the muscles to relax. I'm just so mad, it's unbelievable."
Elite Motorsports team owner Richard Freeman, Berner's former competitor in the IHRA Pro Stock days, suggested that he rest up and make his return at the next NHRA MMPS race in Epping, New Hampshire. Still, Berner is trying to recover to the point that he can comfortably and safely race at Chicago.
This setback is frustrating for Berner because he was so looking forward to his first race with the Elite team. He was instantly impressed by both the car – formerly owned and driven by JR Carr – as well as the team, which includes tuner and engine builder Frank "The Flying Meatball" Gugliotta and car chief Rich Purdy.
"I wasn't really looking to race again," started Berner, who also thanked crew members Gary and Rick for their hard work during testing. "Richard called me, and he used to race with me and Frankie in IHRA. Frank's a good friend, and Purdy, who is our car chief, and he was Robert Patrick's crew chief when we raced for championships. So I know all these guys and they're great guys. They couldn't have given me a better car."
Going into testing, Gugliotta made some changes to the car to suit Berner, who's lighter than Carr and Freeman, the car's previous two drivers. The plan was for Berner to make some short passes, per the NHRA licensing procedures, but when that first pass was smooth, straight, and overall, just felt right, Berner legged it out, dumping the 'chutes at 5.99 seconds into the run.
He clocked a 6.221 at almost 221 MPH. While obviously unofficial, it was the third-quickest quarter-mile MMPS pass, behind Carr's 6.179 and Berner's own 6.209, which held the record for 10 years almost to the date until Carr broke it in October 2020.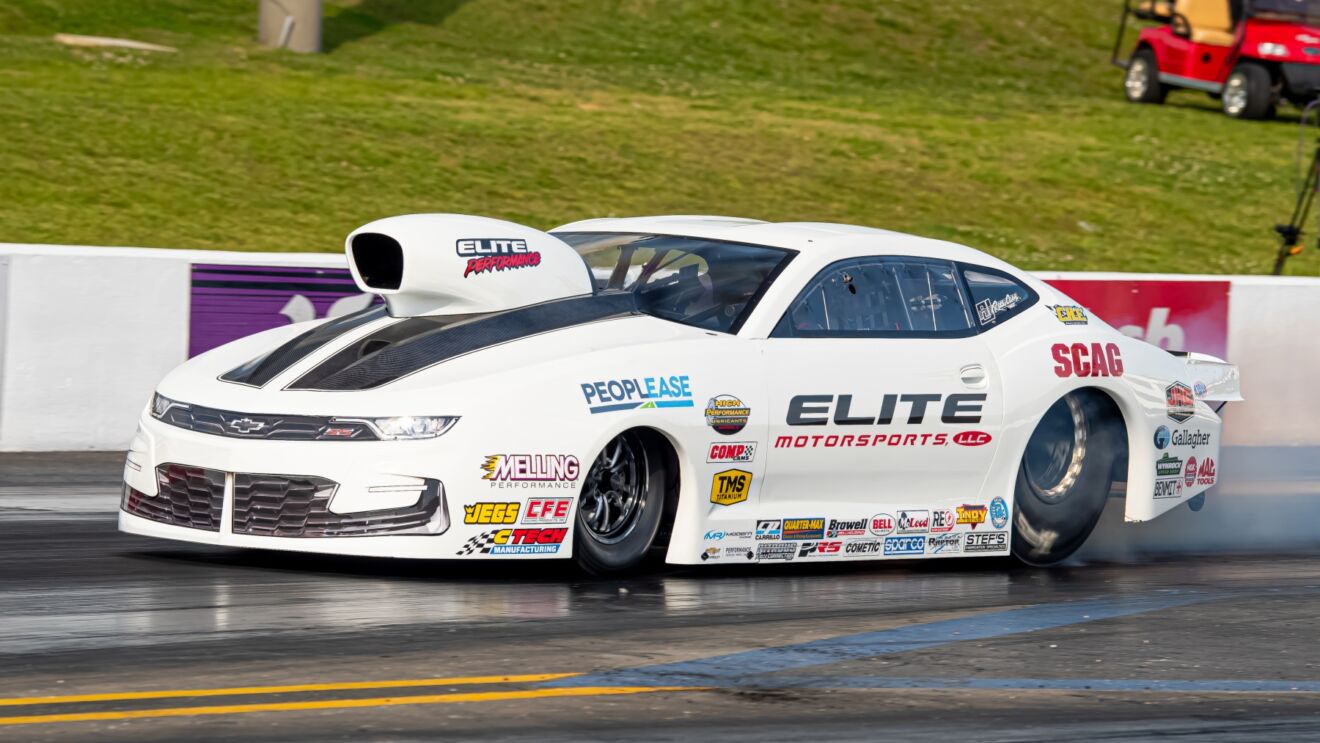 "That thing was on the G-meter," Berner said. "It was actually quicker incrementally than my 6.20 run. It was like 3.2 Gs all the way into low gear. The track prep was incredible. I really have to thank Tommy and Judy Franklin and Tyler [Crossnoe] for prepping the track for us and giving us the opportunity to run between cars at their Shakedown event."
Berner, who stepped away from racing for various reasons, is enticed by Freeman's efforts to build the NHRA Mountain Motor Pro Stock program into something bigger, but not too big.
"It makes sense for guys like me who own businesses," said Berner, who owns Performance Mechanical Contracting. "You can't always get away from your business for 15 or 20 races. My business suffered when I was gone when I raced that many races, and I tested all the time. I'd go to a local track on a Tuesday afternoon and test when I should have been working.
"So I really had not even thought about it until [Freeman] shared his vision of trying to build this class back the way it was," Berner continued. "He's a pretty competitive dude as you can see, owning now 10 teams, with myself and Erica in the big-motor cars. "So we'll see what happens. I'll do my best to help him."
Berner plans to do all of the NHRA MMPS races with Elite, and the team also plans to hit up a few PDRA Extreme Pro Stock races toward the end of the season in the cooler months to chase after the elusive first official 3-second eighth-mile pass in MMPS history.
"'You're gonna run in the threes, you're gonna run in the teens, and you're gonna do whatever it takes to win races,'" Berner said of Freeman's "marching orders." "He wants to be able to be competitive, he wants to go fast, and he wants people to race with him that can go fast. He's got the same type of mindset I did. It requires a lot of effort and a lot of cash to do that. He's on a mission now, and Frankie cuts no one, no slack. He didn't cut me any slack and I've known him 20-something years."
As of Wednesday afternoon, Berner hasn't made a final decision regarding his driving status for the Route 66 Nationals. But as a Chicagoland native with dozens of customers planning on coming out to the track, Berner will definitely be on the grounds.
"I'll be hobbling around, if anything," Berner laughed. "The car is coming either way. I tried to tell Richard, 'Don't waste your money bringing the car in case I can't race,' but he's bringing it anyway hoping that I get better. You may see him in the seat. He's not afraid to jump on in there, for sure. He went fast down in Florida with it. So if I can't drive it, that's what he's gonna do."
Whether his return to driving happens at Chicago or Epping, Berner is just looking forward to being back in the fold.
"I can't tell you how excited I am to be a part of this, to be a part of the Elite team, and to get to race with these guys," Berner said.