The first NHRA race in Chicago since 2019 was a major success for Top Fuel driver TJ Zizzo. The Chicago native picked up a new career-best elapsed time of 3.712 seconds, beating No. 1 qualifier Mike Salinas in the first round of competition at the Gerber Collision & Glass Route 66 NHRA Nationals presented by PEAK Performance.
"Running that 3.71 in the first round was out biggest positive this weekend," said Zizzo. "No doubt. That was our career-best and stood up as the quickest run in Top Fuel on race day in a clutch moment. That single run turned our entire program around."
Zizzo's success did not stop at the first round. He then went on to beat No. 9 qualifier, Leah Pruett, in the second round, with a 3.804 second, 316.08 mph run.
"There's no doubt this felt great and it's a good feeling when you're really in the show," said Zizzo. "When you have good people surrounding you, you have a chance, and I have excellent people surrounding me."
The driver of the Rust-Oleum Rocket Top Fuel dragster understands it took the time and effort of a whole team of people to get him to this point in his career. Zizzo is thankful for his crew, family, and current and past sponsors for supporting him along the way.
"I was not surprised by that win at all," said Zizzo. "I have all the faith in the world with all of our guys. They are the same people who have worked on this racecar for a decade and a half. We have the knowledge, and now we have some good parts. We put some really good stuff in the car today and the guys made a great choice of tune-up. Thanks very much to Gerber Collision & Glass for putting this event on. PEAK as well. They were sponsors of ours for 12 years, they got us to this point, with the rest of our sponsors."
Unfortunately, Zizzo fell to race runner-up and No. 12 qualifier, Josh Hart, in the semi-final round of racing. In their first-ever matchup, Zizzo was up in smoke from the start. Despite the tough loss, Zizzo is choosing to learn from his mistakes and focus on the weekend's wins.
"It's great to get a couple of round wins, but you need to turn on many more win lights throughout the day to ultimately get the Wally," said Zizzo. "But it is so much fun turning on win lights. I'm fixing the driver issue right now as we speak with some anti-skid tape on the pedals. We have some new car issues, but we're going to work through all that."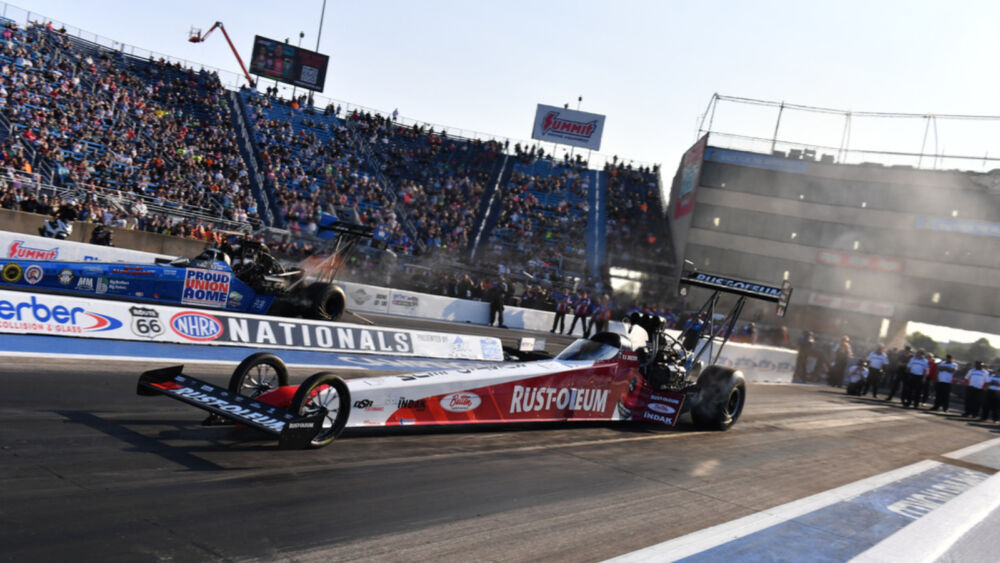 This was the second time Zizzo has beaten a No. 1 qualifier from the No. 16 spot. The last time was during the 2012 Chicago race, against Tony Schumacher. That was previously what he considered to be his most memorable race, but now this takes the cake.
"There is nothing like having success at your hometown track, surrounded by friends and family," said Zizzo. "I am so grateful that this race is back on the calendar, and I can't wait to see what we are able to do here, for many years to come. I do feel like I let some people down but we are going to keep fighting."
Zizzo is expected to race at four additional NHRA events in 2023. By making it to the semi-finals in Chicago, he qualified for the Mission #2Fast2Tasty Top Fuel Challenge in Epping on June 3. The team is evaluating their options but with a thriving body shop outside of Chicago Zizzo's racing schedule is limited.