Tim Wilkerson powered to victory at the Route 66 NHRA Nationals on Sunday afternoon in Joliet, Ill., the sight of his career-first triumph. It was Wilkerson's 23rd Funny Car win, and first since partnering with JCM Racing to form Maynard Wilkerson Racing during the 2022 – 2023 off-season. Aboard the SCAG Power Equipment/Levi, Ray & Shoup Ford Mustang, 'Wilk' as he's known to fans, clocked a winning 3.966 E.T. at 325.14 MPH during the final round to outpace Ron Capps who posted a 4.110 E.T. in the losing effort.

Wilkerson's Route 66 Raceway victory snapped a 33-race winless streak, which dated back to the 2021 NHRA Carolina Nationals, and he couldn't have been happier to hoist the Wally trophy in front of a hometown crowd.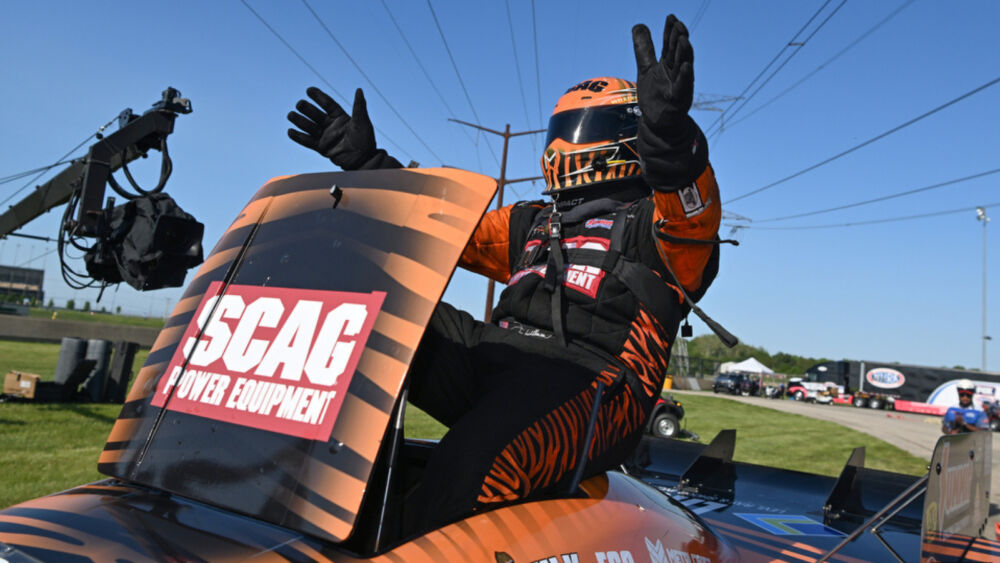 "I'm trying to keep my emotions in check, but I'm so excited, I'm about to cry. To be this close to home, we have so many people with us this weekend, we're not going to have a big enough lens for our winner's circle photo, but it's very exciting," joked Wilkerson, a lifelong resident of Springfield, Ill. "All my grandkids are here, and my wife, and my kids. We have about two dozen close friends here and it was just a great day.

"Randy Gloede, the President and CEO of SCAG, is here and they brought a huge group of several hundred employees out to support us this weekend, so it feels really good to deliver a win for them at this race in particular," added Wilkerson of his Mayville, Wisc.-based partner.

The driver/tuner's march to the Chicago winner's circle began with a No. 5 qualifying effort, his best starting position in 20 events. After going straight down the groove to post the second-quickest pass of Q2 and earn two bonus points, Wilkerson and the SCAG/LRS team stepped it up even more in Q3, recording a run of 3.939 seconds at 326.71 MPH to earn a spot in the top half of the Funny Car field.

Wilkerson's Sunday outing began with round wins over Blake Alexander and Alex Laughlin, respectively. By advancing to the semifinals, Wilkerson earned a spot in the next Mission Foods #2Fast2Tasty Funny Car Challenge, slated for the series' next event in Epping, N.H. The quarterfinal round win also set up a contest between Wilkerson and John Force, Wilk's final round opponent during the 1999 running of the Route 66 Nationals, where he scored his first career win by defeating the sport's winningest Funny Car pilot.

"In 1999, one of the Force cars had won every race up until that point, and I'll never forget that win, and 24 years later, here we are again, back in the Joliet winner's circle and it feels really good," added Wilkerson of his second Route 66 Raceway win.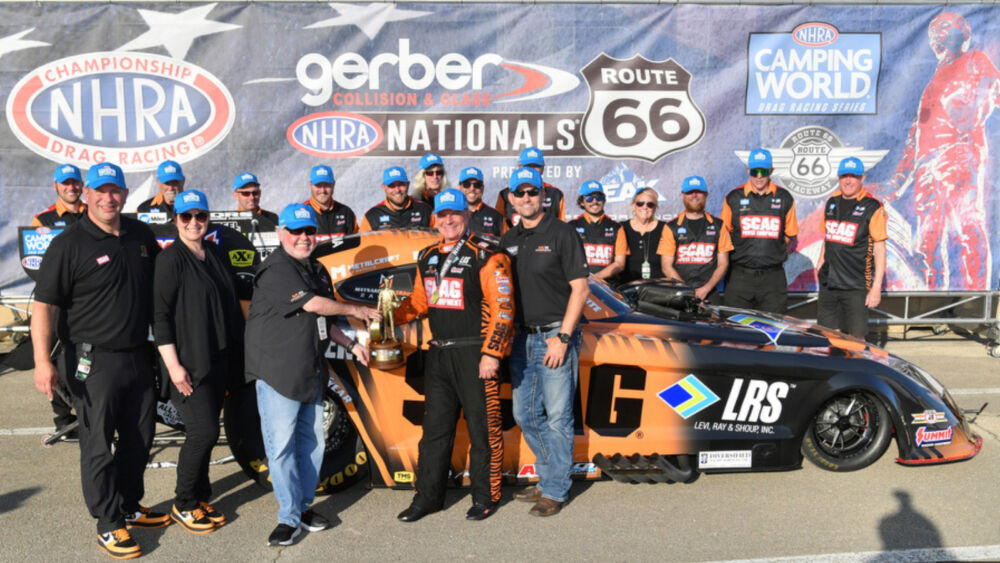 Once again, Wilkerson had Force's number on Sunday, outrunning his fellow veteran racer to advance to the final round for the second time in 2023, and 51st time in his career. In the battle for the Chicago hardware, Capps moved first but Wilkerson's SCAG/LRS Mustang charged hard down the 1,000-foot stretch to chase down the twice-defending Funny Car world champ and cross the finish line stripe first for the win.

For their efforts, the MWR team earned 116 points over the course of the weekend, moving Wilkerson from seventh up to fifth in the Funny Car point standings. Sunday's win was the second for the JCM Racing organization, which will celebrate its one-year anniversary in late July, and the first Funny Car victory for Joe and Cathi Maynard's three-car team, which announced the addition of Maynard Ashley Racing on Saturday afternoon.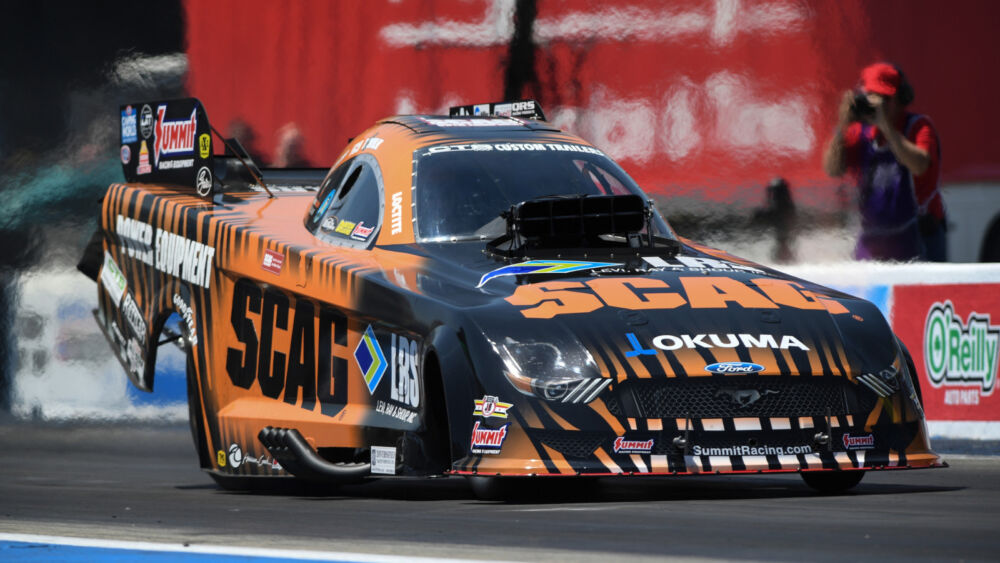 "The Maynards have been incredible. They've added more stability to the team. Dick Levi kept us out here for 20-some years and we'd never be here without him and Levi, Ray & Shoup, and Summit, they've been with me a long time. And of course, thank you to our new partners at SCAG. But, I do want to make a shoutout to Cathi – Cathi, we love you and wish you could be here celebrating with us."

Wilkerson and the SCAG Power Equipment/Levi, Ray & Shoup Ford Mustang Funny Car team will look to capitalize on their momentum when the NHRA returns to Epping, N.H., June 2 – 4, for the NHRA New England Nationals.