Josh Hart has never shied away from a challenge and in four days the third year Top Fuel driver and team owner will power his R+L Carriers Top Fuel dragster into Bristol Dragway and a major opportunity to win two events in one weekend, compete in another Mission #2Fast2Tasty Challenge and put his improving independent team at the top of the point standings. The New England Nationals, where Hart was the No. 4 qualifier, was postponed running concurrently with the Thunder Valley Nationals, June 9-11, at Bristol Dragway.
"I am glad the NHRA made the decision to move the New England Nationals to run with the Thunder Valley Nationals this weekend," said Hart, runner-up at the Gerber Collision & Glass Route 66 Nationals. "It will make for a very busy and exciting weekend. Our R+L Carriers Top Fuel dragster will be ready to make some noise and I want to see as many win lights as possible starting with the Friday night qualifying session which will also be the first round of the New England Nationals."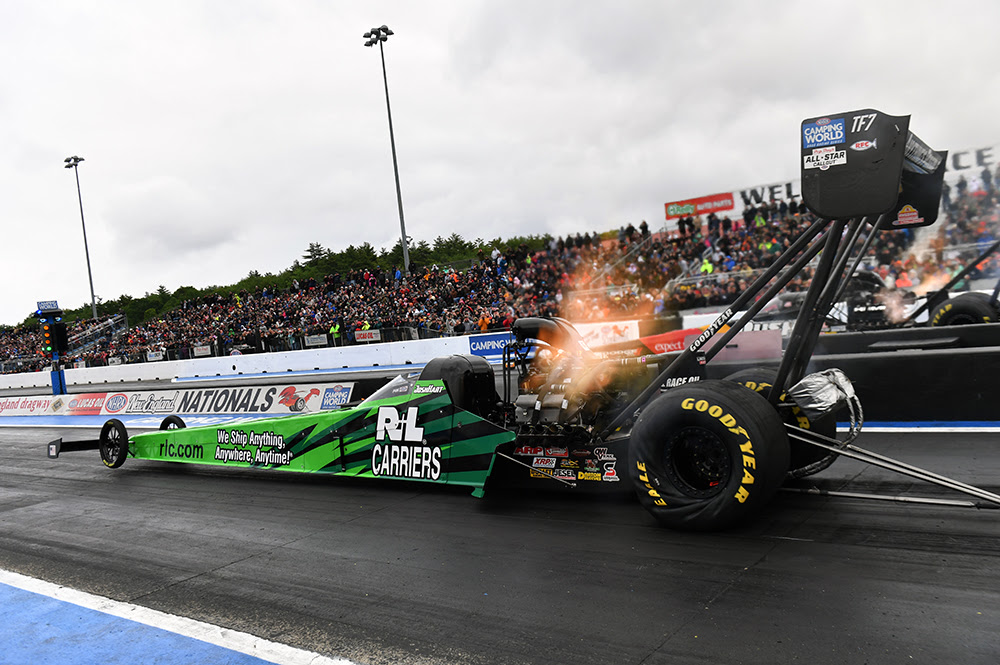 Hart will be looking to turn his luck around at one of the most historic tracks on the NHRA tour. This will be the NHRA rising star's third trip to Thunder Valley and in his previous two races he has qualified in the top half of tough fields but been unable to capitalize on race day. This season Hart has been making steady progress since winning the Pep Boys Top Fuel Allstar Callout at his home track, Gainesville Raceway, and racing to the finals in Chicago.
"Our program is really coming together thanks to hard work by crew chief Ron Douglas, assistant crew chief Dave Gaterell and the whole R+L Carriers crew," said Hart. "We were one of the only cars to make a quality run in Epping under tough conditions and we think we have a tune up that can run in any condition. The fact we will get to go right into eliminations has been ready to get to Bristol."
The schedule for the weekend will be jam-packed with runs that will impact the point standings, bank accounts and confidence heading into the summer. On Friday night during the second qualifying session Hart will line up against two-time and reigning Top Fuel champion Brittany Force for a qualifying run and the first round elimination run of the New England Nationals.
On Saturday Hart and the rest of the Top Fuel category will get two more qualifying runs with the first run on Saturday also possibly being the second round of eliminations for the New England Nationals where Hart could be facing either Justin Ashley or Dan Mercier. Another win light could propel Hart into his second Mission #2Fast2Tasty Challenge race which would be run between the third and fourth qualifying runs. A third win light would be Hart and the R+L Carriers Top Fuel team could be racing the final qualifying session with the New England Nationals title and the Mission #2Fast2Tasty Challenge title on the line plus critical qualifying bonus points.
"When you talk about big money runs you want to give yourself a chance to cash in. Saturday night could be a huge opportunity," said Hart, who pocketed the biggest payout so far this year with the $80,000 check from the Pep Boys Allstar Callout. "That last run Saturday night could be for the $10,000 Mission Challenge money, three championship points, the New England Nationals' winner's check and possibly three qualifying bonus points. Anything is Possible is what I always say."
The race on Sunday will be a perfect capper to the weekend and would be another chance for Hart to move up in the point standings. Coming into the Bristol weekend Hart is unofficially sitting in seventh place with 378 points, just 10 points behind Antron Brown in sixth. He is three rounds out of fifth and four rounds out of second place. He could pick up 100 points with an Epping win plus qualifying points for the Thunder Valley Nationals. While it is too early to lock up championship Countdown positions the chance to generate some momentum heading into the summer is not lost on Hart who is chasing his first NHRA Top Fuel championship.
"You have to manage your emotions in this sport, but there is also something to be said for getting momentum at the right time," said Hart, who finished in the Top Ten last season in his first full year on the tour. "We want to go into June and July where we are racing almost every weekend on a roll. You can get into a positive groove and really set yourself up for success. Getting a couple wins in Bristol this weekend would be a perfect start."
Hart and the R+L Carriers Top Fuel dragster will make two passes on Friday at 5:00 p.m. and 8:00 p.m. with two more qualifying runs on Saturday at 2:00 p.m. and 5:30 p.m. The final eliminations for the Thunder Valley Nationals will begin on Sunday June 11 at noon ET with the race being broadcast nationally on FS1 from 7:00-10:00 p.m. ET.