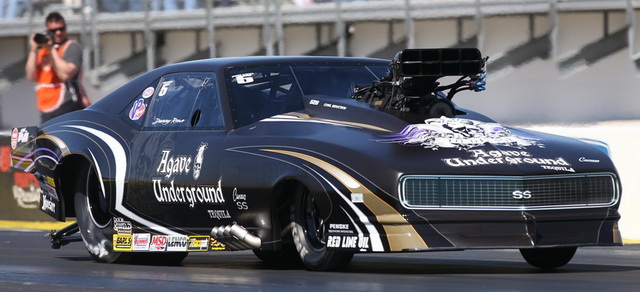 Had Danny Rowe (above) and Steve Matusek's paths crossed a little later in eliminations it could have been argued that the Agave Underground Tequila Pro Mod team had a perfect weekend, but it's difficult to view the 45th annual Amalie Motor Oils NHRA Gatornationals as anything less.
After qualifying number one and eight, respectively, amongst the quickest field in the history of the NHRA Pro Mod Drag Racing Series with Rowe's 5.858-second, 250.33mph effort and Matusek's 5.904-second, 246.26mph blast, the Pro Mod tag team headed into Sunday morning's elimination rounds paired up with two nitrous oxide frontrunners in Jim Laurita and Dan Stevenson.
"With a 5.95 bump spot there's nobody you can take lightly," says Rowe, looking back at the strongest field of Pro Mods the class had ever seen. "All the cars are so close, we knew we'd have to fight for every round – there wouldn't be any 'gimmes' in Gainesville."
When the smoke cleared after the opening stanza both Rowe and Matusek were heading to the second round; Rowe dispatching Stevenson with a stout 5.949/246.93mph combination while Matusek trailered Jim Laurita with a 5.986-second, 242.76mph lap – setting up a quarterfinal round showdown between the Agave Underground Tequila Pro Mod Camaros.
"If you're going to have to race your teammate, you'd like for it to be in the final," says Matusek, checking in from his office at Kansas-based Aeromotive, Inc. – the high performance fuel systems company he founded and serves as President. "The way we looked at it, though, was that one of us was going on to the semis, and that's the most important thing – going rounds on race day."
When the yellow lights flashed Rowe and Matusek left together and were side-by-side until the eighth-mile mark when Rowe pulled away for the win with a 5.919/246.48mph effort to Matusek's 5.996/241.41mph shot.
"That was going to be a hell of a drag race," says Rowe. "The side window came out of Steve's car down toward the finish line and he had to let out of it, but it was a still a great race and, honestly, I have to say it was cool to be out there doing a burnout alongside my teammate in another supercharged Agave Underground Camaro. Like Steve says, you don't want to meet your teammate until the final, but it was pretty killer for all the Pro Mod fans in Gainesville."
In the semifinal round, however, Danny Rowe Racing's incredible early season momentum was slowed slightly when reigning NHRA Pro Mod Drag Racing Series champion Rickie Smith jumped off the starting line just before Danny Rowe, and held on for a holeshot victory with a 5.919/246.48mph pass over Rowe's quicker and faster 5.889-second, 248.25mph effort.
"You hate to lose like that," says Rowe. "You hate it for the team, mainly, because these guys – Jimmy, Karen, Junior, Darryl, Chop, Chris and Gary – all work so hard and really gave Steve and I both a pair of bad ass race cars this weekend. But like I always say, that's why they call it racing and not winning. You're going to win some on a holeshot and you're going to lose some; today we were just on the wrong side of it.
"We've got two great cars and we're already turning our attention to Houston," continues Rowe. "We're looking to go down there and pick up right where we left off in Gainesville – with two of most competitive cars on the property."
The NHRA Pro Mod Drag Racing Series returns to action at the 27th annual O'Reilly Auto Parts NHRA SpringNationals on April 25-27 at Royal Purple Raceway outside Houston, Texas.
To learn more about Agave Underground Tequila products, sweepstakes and hosted events, visit www.agaveunderground.com, Facebook.com/AgaveUnderground or Follow @AgaveUground on Twitter.
To keep up with the latest news and results from Danny Rowe Racing, log onto www.dannyroweracing.com