Look out drag radial racers, the baddest hombré in the land is considering a comeback. Or at least that's how Steve "Stevie Fast" Jackson would like his rivals to think of him.
After dominating the so-called "small-tire" scene for several seasons, Jackson turned most of his attention the last 18 months or so to Pro Mod-style competition. Driving an Al-Anabi Racing '68 Camaro, he earned three wins last year along the way to securing the 2013 ADRL Pro Nitrous world championship and Rookie of the Year honors. But the heightened attention that drag radial racing currently commands has not escaped the Martinez, Georgia-based driver.
"It's pretty exciting the fact that it's as mainstream as it is," he says. "When we first started running Drag Radial we were parked down there in the weeds and it took a lot of racing and a lot of hard work to get it mainstream. And now it's the premier event at a lot of tracks. So I'm extremely happy to see it where it's at right now. I don't want to say it's just the beginning, but I feel like it's just getting going. It seems like it's snowballing and getting bigger and bigger and bigger."
So, is a return to action imminent for Jackson?
"Yeah, me and my guys have been kind of talking about that, whether we want to put our hat back in the small-tire arena and we've discussed some stuff, talked about buildings and stuff. And I don't want to say yes or no right now. All I can tell you is that if we do come back, everybody better watch out; I've never had anything that was slow. So if we do decide to come back in, we're going to come and make a big splash," Jackson declares.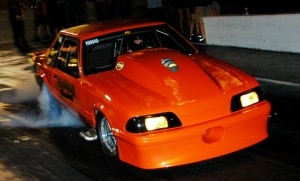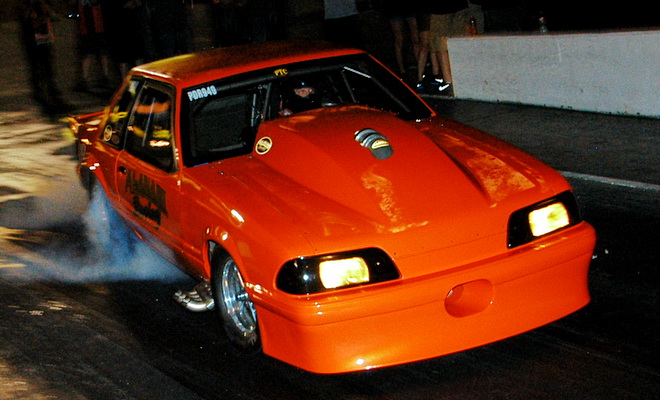 Jackson says he's impressed by how competitive Drag Radial has become, but is a little dismayed by the domination of turbocharged entries. An avowed nitrous devotee, he says it provides extra motivation to put a new Killin' Time Racing program together.
"Everybody that knows me knows that I think turbos are gay, so it kind of makes me want to build something just to come crush the turbo guys," he says. "But for someone to jump in right now and race against those guys, it's got to take a well thought-out operation and decent funding and decent brains behind it."
For now, Jackson says he'll be concentrating on racing a Pro Mod this year "in a national sanctioning body," with hopefully a few select appearances with a non-Al Anabi entry in the new Professional Drag Racers Association (PDRA). If he does return to drag radial action, though, it could be in his famous orange Procharger-equipped Mustang, last seen wrecking early this year in Qatar's Arabian Drag Racing League.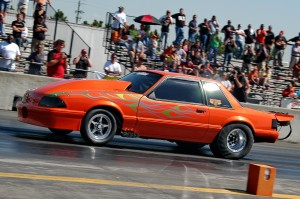 "We ended up scraping the wall and kind of tearing the front end up on it, but it's mostly cosmetic. Just basically put a front end on it, put four new tires on and it'll be good. It's not nearly as bad as the video made it out to be," Jackson insists. "It's still overseas right now, pending us trying to figure out what we want to do with it, whether we want to leave it over there or whether we want to bring it over here and crush all the turbo cars with it.
"Or maybe we build a new one, or maybe buy one that's already constructed. I don't know. Like I said, I haven't decided yet that I'm going to come back to drag radial, but I can tell you that I sure do miss it. If we do decide to come back, though, they better run for the hills because I won't be coming with a pistol; I'll be coming with a bazooka."
(Photos by Ian Tocher; Click to enlarge)