On a rare double-up weekend, NHRA point leader Steve Torrence will have multiple opportunities to end an eight month-long victory drought when he sends his 11,000 horsepower CAPCO Contractors Top Fuel Toyota to the starting line at Bristol Dragway.
Racing on a track on which he is the elapsed time record holder at 3.667 seconds, the four-time World Champion could hoist Camping World winner's trophies on both Saturday and Sunday, the former in the rain-plagued and relocated 10th NHRA New England Nationals, the latter in the regularly scheduled 22nd NHRA Thunder Valley Nationals.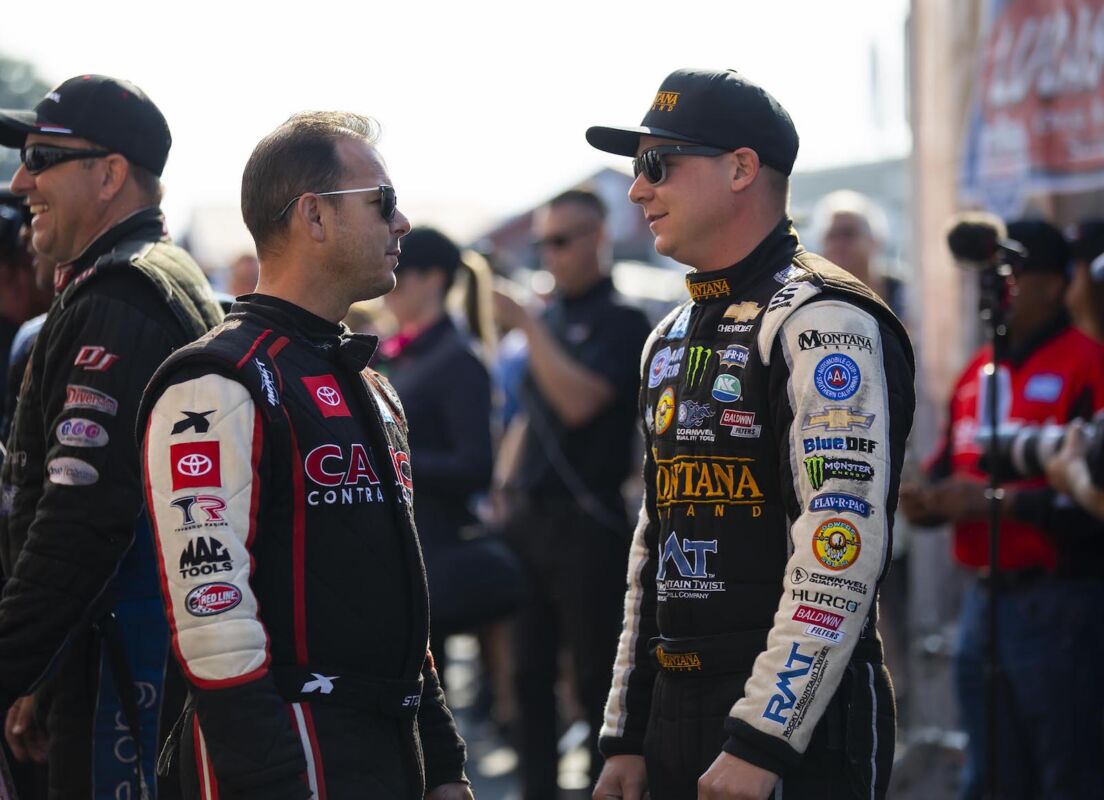 The bonus race, which began last Friday in Epping, N.H., was suspended after two qualifying sessions and ultimately moved almost 900 miles away when persistent rain continued to fall on Monday at New England Dragway. First round of that event will be contested during second round qualifying for the Thunder Valley Nationals on Friday. The race will be completed during qualifying rounds on Saturday.
Although he hasn't won a race since he prevailed in the NHRA Midwest Nationals at St. Louis last October, Torrence has led the point standings after all but one race this year.
In fact, when qualifying for the Thunder Valley event begins Friday at 4 p.m., Texas time, he will lead reigning series champion Brittany Force by 18 points and Austin Prock by 27. Three hours later, he will face off with Prock to start the New England Nationals portion of the weekend although he will do so without benefit of lane choice for just the fourth time in his last 162 first round appearances.
He doesn't expect lane choice to be a factor, however.
"After this last week, I just want to go racing," he said, referencing the New Hampshire rainout. "The more times we go up there (to the starting line) this weekend, the better. I know these bad-to-the-bone CAPCO boys will figure something out. We've led the points almost all year so it's obvious we've got a good car. We just haven't put it all together on one weekend. This would be a real good time to do that."
Of his current "slump," the 53-time tour winner said: "You just keep showing up, keep going rounds, keep putting yourself in position. We haven't forgotten how to win. It's just really competitive out there right now. But that's fine. That's how we like it."
Although he has won races at every venue in the series, it's been 10 years since he and his "CAPCO Boys" celebrated a win at Bristol. That's his second longest victory drought at any track on the Camping World tour. Nevertheless, he was runner-up at Thunder Valley in two of his last three starts, dropping final round decisions to Mike Salinas in both 2019 and 2021.
The second round of the New England race will be contested during the 1 p.m., Texas time, qualifying session on Saturday. After a pair of semifinal races from which times won't count toward Thunder Valley Nationals qualifying, a New England champion will be crowned at the end of Saturday's final qualifying session at 4:30 p.m., Texas time.
Final eliminations in the Thunder Valley Nationals portion of double-up weekend begin at 11 a.m., Texas time, Sunday.