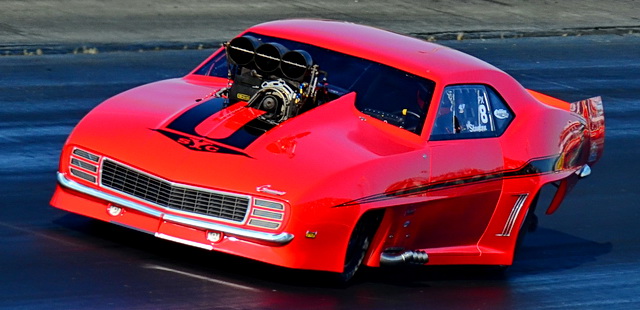 It had been nearly five years since Bubba Stanton (above) last visited victory lane, but the Potts Camp, Mississippi-based driver finally made the trip back Apr. 6, after winning the premier NAS Racing Pro Extreme class in the PDRA Spring Open, the first-ever event for the all-eighth-mile Professional Drag Racers Association (PDRA).
Also scoring PDRA pro class wins at Rockingham Dragway were Jason Harris (Switzer Dynamics Pro Nitrous), Cary Goforth (Aruba.com Extreme Pro Stock), Todd Tutterow (Precision Turbo/Proline Race Engines Pro Boost) and Eric McKinney (Pro Extreme Motorcycle). Sportsman class wins went to Travis Harvey (Top Dragster), Stacy Hall (Top Sportsman), Connor Caulder (Huddleston Performance Pro Jr. Dragster) and Alexis Tanner (Huddleston Top Jr. Dragster).
PRO EXTREME
Driving for team owner and PDRA co-founder Roger Henson, Bubba Stanton arrived with a brand-new, untested Jerry Bickel-built '69 Camaro. After making the first few shakedown passes in the car during Thursday's and Friday's test sessions at "The Rock," Stanton qualified second for the 16-car Pro Extreme (PX) field with an outstanding 3.514-second run at 218.94 mph, behind only an other-worldly 3.485 at 216.97 by Frankie Taylor.
"We figured when we got here that we might be able to run a .50; I had never even been in the .50s before and I would've been happy just to see a 3.59, so to go run 3.54 and then that .51, I am totally thrilled," Stanton said. "This car has been immaculate from the first time we started it up. I'm loving it."
Stanton ran an impressive trio of 3.53-second passes to set low elapsed time (ET) for each round of eliminations while getting by John Stanley, Joey Martin and Todd Martin (no relation) to reach the final. Meanwhile, number-four qualifier Mick Snyder beat (Joey) Martin's teammate Neal Wantye, PDRA co-founder Jason Scruggs and Kuwait's Anthony DiSomma to reach Stanton.
Unfortunately, the transbrake solenoid failed on Snyder's Powersource '63 Corvette just as he was trying to start the car for the final and Stanton was sent on a solo pass to his first win since July 2009 at Richmond, Virginia. It turned out to be the lucky break that Stanton and the Henson Motorsports team needed as the car lost traction off the launch and Stanton coasted through the finish line more than five seconds later at just 96.78 mph.
"We tried to step on it a little this time; I just wanted to see if it would take the power, but it shook on me," Stanton said. "I've needed this win for a long time. I just can't thank my crew enough, Roger and Shirley Henson, Mitchell and Jason Scruggs, just all of my guys; they're awesome."
PRO NITROUS
From the opening round of qualifying, Jason Harris had the car to beat in Pro Nitrous. With a brand-new 903 c.i. Pat Musi motor beating beneath the hood of his '68 Firebird, Harris secured the number-one start with a 3.801-seconds charge that more significantly also delivered a career-best 200.05 mph top speed.
Harris, the son of PDRA director Bob Harris, went even quicker and faster in a first-round win over fellow Musi customer John Camp, earning his first .70 in the process with a 3.783 run at 200.50 mph. Though he dropped off a little in performance in defeating David Janes and Chris Rini, Harris was tuned up to race PDRA co-founder Tommy Franklin and his new Bickel-built, Musi-powered '69 Camaro in the final.
Franklin got there after qualifying second, then downing Randy Weatherford, John DeCerbo and Musi's daughter Lizzy in the semis during her Pro Nitrous debut. It produced a great race, with Franklin getting away first to earn a holeshot victory over a career-best 3.802 for Musi as she also broke the 200-mph barrier (200.02) for automatic transmission-equipped doorslammers.
In the final, however, it was Harris who left first with a .022 advantage and he never looked back, earning the win in another career-best 3.770 at 200.89 mph, while Franklin ran a very solid 3.793 at 197.83 race. It marked Harris' second-straight win at Rockingham after winning there when the now-mothballed ADRL visited last fall.
"We were a little hurt in the final round, but we didn't have anything to lose so we just went for it. Tommy had been running good, he was right there with us, so we just threw the kitchen sink at it and hoped it stuck," Harris explained. "When it left, it felt good. Then, when it hit high gear and took off it threw me back in the seat and I knew it was on. I knew it was bye-bye time."
EXTREME PRO STOCK
The more things change, the more they stay the same, or at least that seems to apply to mountain-motor Extreme Pro Stock, where regardless of sanctioning body–ADRL, IHRA, and now the new PDRA–Holdenville, OK's Cary Goforth emerges as a winner. Since debuting his new Sonny's-powered 2013 Camaro at the ADRL event in Rockingham last fall, Goforth has yet to miss making it to the final round in five events.
That trend certainly held true at the PDRA Spring Open, where Goforth drove to his third final-round victory with the car, beating the 2010 Shelby Mustang GT of Belmont, NC's Richard Penland, who made an off-the-pace 4.189 at 168.43 lap.
"We ran a 4.02 in the final there (4.024 at 179.76), which is really what we needed to be running the whole time here," Goforth said. Instead, he qualified third with a 4.068 pass at 177.72 mph, behind the 4.027 of polesitter John Montecalvo and the 4.049 of John Pluchino, with Penland starting fourth after posting 4.088 at 177.93.
"This thing has a mind of its own sometimes, but I told my guys, 'If I wanted to ride something with a mind of its own I'd have taken up bronc riding,'" Goforth said. "We have a new crew chief in Jeff Dobbins this year and the last two times before the final he got it settled down and we made good passes."
Goforth admitted, however, he began feeling anxious about the final as he watched the PDRA's "Traction Twins," Cale and Cody Crispe, prep the lane in front of him after Todd Tutterow oiled it down during his Pro Boost final-round win.
"I always get a little scared when they have to do that and I know the Traction Twins are great and that probably actually helps, but I've always had a phobia that I don't like that," Goforth said. "Of course I couldn't have been proved more wrong; the car went straight, it didn't carry the wheels too far, just set them down and let me drive it straight. My guys delivered for me again."
PRO BOOST
The PDRA's brand-new and unique Pro Boost class enjoyed good participation at the PDRA's inaugural event as 20 entries made qualifying attempts before North Carolina racing legend Todd Tutterow emerged on top of the 16-car raceday field with a last-lap, 3.813-seconds pass at 194.69 mph in his roots-blown '67 Mustang. Swedish racer Adam Flamholc placed second, with Delaware's Gerry Capano third and Charles Terrell replacing Troy Coughlin in fourth after Coughlin went home early to Ohio.
Tutterow made it through three rounds of preliminary eliminations with wins over JR Linton, Larry Higgenbotham and Craig Pio in order to reach Todd Moyer and his twin-turbocharged '63 Corvette in the final. Moyer, from San Leon, TX, started from the sixth position and previously defeated Jimmy Blackmon, Capano and Flamholc in what probably was his best competition outing with the car.
"We're trying some new stuff this year and it's already looking promising," Moyer said. "It's at least getting a little more predictable and manageable."
Tutterow absolutely drilled Moyer on the tree with a .017 reaction time and despite making his weakest pass in eliminations with a 4.071 at 188.73, it handily defeated Moyer's 4.244 at 172.94 effort. Unfortunately it also dropped enough oil on the track to cause a 40-minute delay for clean up.
"It shook right off the bat, so I kind of pedaled it and got it settled down. Everything went real well through qualifying, but we struggled a bit with the cloud cover we had today," Tutterow explained. "We had never run this combination this way before, so it was kind of uncharted waters."
PRO EXTREME MOTORCYCLE
As the two-time defending Pro Extreme Motorcycle champion, Eric McKinney is used to winning, but putting his name on the first PXM trophy handed out by the fledgling Professional Drag Racers Association means something special to the new 29-year old.
"It's my birthday today, so this is a great present. It's a new year, a new race organization, and our first win, so I couldn't be happier right now."," McKinney declared after making a 4.127-seconds solo pass in the final after Jay Fisher's bike was shut off on the start line.
"I don't know what happened to Jay's bike there, but I feel bad for him. That was his first final and I was looking forward to racing him," the Ohio-based rider added.
McKinney started second on the eight-bike qualifying list with a 4.067 pass at 177.86 mph that fell short of bumping veteran rider Paul Gast's 4.036 at 176.79 from the top spot. Third went to former class champ and McKinney teammate Ashley Owens, with Fisher rounding out the top half of the eight-bike field.
"Paul (Gast) came out swinging and my hat's off to him," McKinney said. "He's been snowed in all winter up there in New York and spending a lot of time on the dyno and it looks like it paid off. He's going to be tough this year."
TOP DRAGSTER
After qualifying 14th in the 16-car Top Dragster field for the PDRA Spring Open, Elon, NC's Travis Harvey made it to the final round against 13th-place starter Ken Batchelor.
Harvey left first in the final with a .011 holeshot in his 2012 Racetech dragster, then ran 4.331 against a 4.29 dial in, while Batchelor and his 2012 American dragster ran a little too quick at 4.236 against a 4.24 dial.
Harvey, who also reached the quarter-finals in Pro Nitrous before falling to class newcomer Lizzy Musi, said that overall his weekend went very smoothly, but summed up his Top Dragster win with three words.
"I got lucky," he said. "I ran off my dial by four numbers, but he broke out. So, very lucky."
TOP SPORTSMAN
For Stacy Hall of Chesnee, SC, his win over Ronnie "The King" Davis in round two was every bit as satisfying as prevailing over William Brown III in the Top Sportsman final at the inaugural PDRA event in Rockingham, NC.
"It feels great; I've never won a race like this before. The best round, though, was against Ronnie Davis, but winning the race is good, too," said Hall, a longtime employee of master engine builder Gene Fulton.
Hall qualified his '63 Corvette 13th for the PDRA Spring Open and dialed in at 4.25 for what turned out to be a heads-up final round. He left first on Brown with a .023 light, then ran 4.300 at exactly 154 mph to take the win over Brown, who slowed to 4.874 at just 107.81 mph in his 2005 Grand Am.
"We both dialed in the same numbers, so when I moved first I knew he was in trouble, so I let off a little at the finish line down there," Hall said.
In a 31-car Pro Jr. Dragster field, Connor Caulder of St. Pauls, NC, prevailed in the final over Rebekah Evans from Athens, AL, while Ressalaer, IN's Alexis Tanner beat Thomas Oates of Clearbrook, VA, in the Top Jr. Dragster final.
The next race on the 2014 PDRA schedule will be May 9-10, at South Georgia Motorsports Park, near Valdosta.
(Photos by Roger Richards/CompetitionPlus.com; Ian Tocher; Click to enlarge)