Racing out of the No. 32 spot, Canadian Pro Mod standout Spencer Hyde made history Sunday night when he became the fourth winner of the Drag Illustrated World Series of Pro Mod presented by J&A Service. With $100,000 on the line at Bradenton Motorsports Park, Hyde defeated PDRA Pro Boost star Kurt Steding in a winner-take-all final round decided by just thousandths of a second.
Hyde wasn't the only driver leaving with a stack of cash. Event victories also went to John Montecalvo in the $25,000-to-win $hameless Racing Mountain Motor Pro Stock Invitational presented by Seminole Paving, David Ngo in the $20,000-to-win Xtreme Front-Wheel Drive Challenge, and Lenny Lottig in the $15,000-to-win D H Davies Racing Factory Stock Classic. Sportsman event wins went to McKenna Kitterman in $10,000-to-win Top Dragster and Brooks McMath in $5,000-to-win Super Pro.
All heads-up classes qualified on Friday and Saturday, then random chip drawings determined the pairings for all rounds of Sunday eliminations.
PRO MOD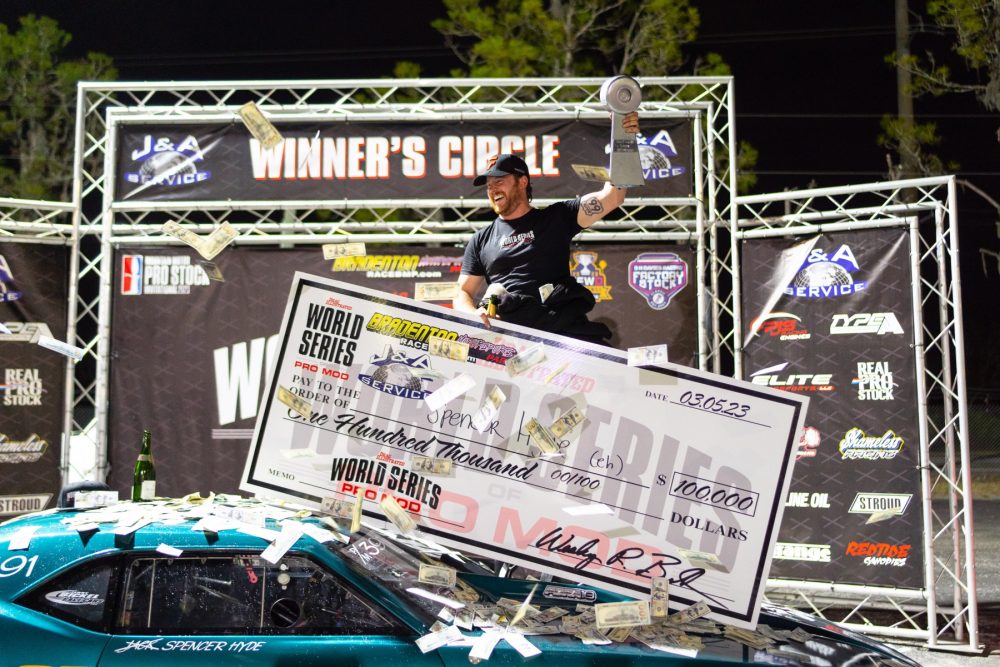 Canadian Pro Mod young gun Spencer Hyde rolled into Sunday eliminations in the No. 32 spot out of 32 cars that ran well into the 3.60-second range to qualify for the $100,000 main event. As eliminations progressed, Hyde and his screw-blown "Jack and the Green Stock" '69 Camaro proved that anyone in the ultra-tight field could've won.
Through a combination of driving prowess and sheer performance, Hyde charged through four rounds of competition to reach the final round. He left the starting line four thousandths of a second behind Kurt Steding, but Hyde pulled ahead with a 3.643 at 205.51 to beat Steding's 3.652 at 207.15 for a .005-seconds margin of victory.
"This is unbelievable," Hyde said. "I knew once we got in, we could run our game and we could run with everybody. We proved that with a volunteer crew of guys that are high school buddies and buddies from back home now. So many people to thank – first off, my mom and dad. Everybody on my whole crew showed up. I want to thank my fiancée. We almost didn't make the final qualifier Saturday night. We swapped an engine right before we raced and we got it back together and bumped ourselves back in."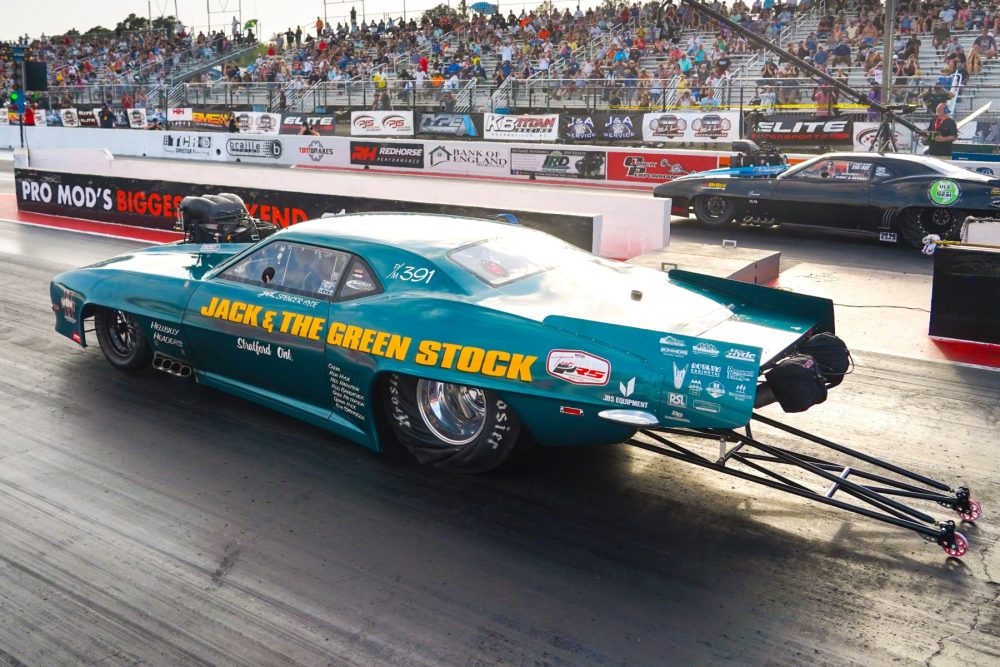 In the first round of eliminations, Hyde was paired up with Tommy Gray as the first pair of Pro Mods to burn out across the starting line after opening ceremonies. Gray went red on a 3.724-second pass, while Hyde recorded a 3.811 at 198.26. He was in the first pair out in the second round, too, cutting an .035 reaction time and running a 3.719 at 205.10 to defeat fellow Canadian Eric Latino's 3.699 on a holeshot. Another holeshot victory followed in the third round – he sent Marcus "The Axeman" Birt packing with a 3.675 at 205.07 to Birt's 3.667 at 205.79. Finally, a third consecutive holeshot advantage paired with a 3.655 at 205.07 allowed Hyde to move past No. 3 qualifier Jason Harris and his 3.646 at 205.47.
Even after bumping into the 32-car field on the last qualifying session on Saturday night and racing his way into the winner's circle on Sunday, Hyde was humble in his acceptance of the inaugural Scott Oksas Trophy, named after the late winner of the 2019 WSOPM.
"I don't know if you can say we're at the top," Hyde said. "There were 61 cars and 59 of them went quicker than 3.83. There were 55 cars within a tenth of a second. It's absolutely wild. No one can complain about the rules, I can tell you that. This is huge for us. I'm not very big. I can't play football. This is our Super Bowl for sure."
Hyde also praised his crew, including tuner Mark Savage.
"I knew if we were in the field it was anybody's race," Hyde said. "We struggled with the car all weekend and we finally got our hot rod back in Q4. And we just picked away at it. Mark Savage did an unbelievable job. That was a personal best."
Steding drove the wheels off his Todd Tutterow-tuned, screw-blown P2 Contracting '20 Camaro, leaving the starting line first in all five rounds of eliminations. The No. 20 qualifier made it out of a first-round pedal-fest with reigning Mid-West Drag Racing Series Pro Mod champion Dustin Nesloney with a 4.426 over a 4.456. He was off and running after that, though, using a 3.675 to beat J.R. Gray's 3.668 in the second round, a 3.667 to defeat Tutterow and his 3.68 in the third round, and a 3.659 to move on in the semifinals over No. 31 qualifier Kenny Lang and his 3.677.
MOUNTAIN MOTOR PRO STOCK INVITATIONAL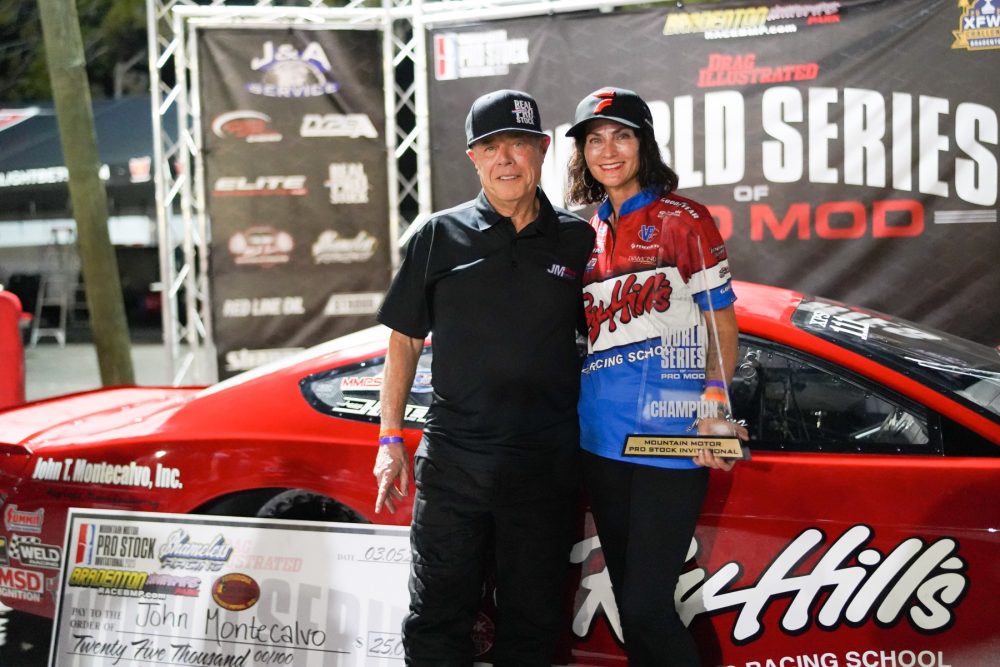 John Montecalvo's longstanding and consistent efforts as a booster of the Mountain Motor Pro Stock category were rewarded Sunday night when he crossed the finish line first in the final round of the inaugural $hameless Racing Mountain Motor Pro Stock Invitational presented by Seminole Paving. The Long Islander made his best run of eliminations, a 4.092 at 175.43, to defeat fellow class veteran Elijah Morton and his 4.85 at 164.07, earning a $25,000 prize.
"It was a phenomenal day," said Montecalvo, driver of the Kaase-powered Roy Hill's Drag Racing School '21 Mustang. "We struggled a little bit. We made a pretty good run [Saturday] afternoon. I think we were No. 2 for the session. I think Richard [Freeman] was No. 1, we were No. 2. But we felt that we had the potential today. We had a couple of dilemmas here and there, but that's drag racing. We overcame everything. We've got an excellent crew. You know what it is? We get a good car and we get some momentum going and it all falls into place."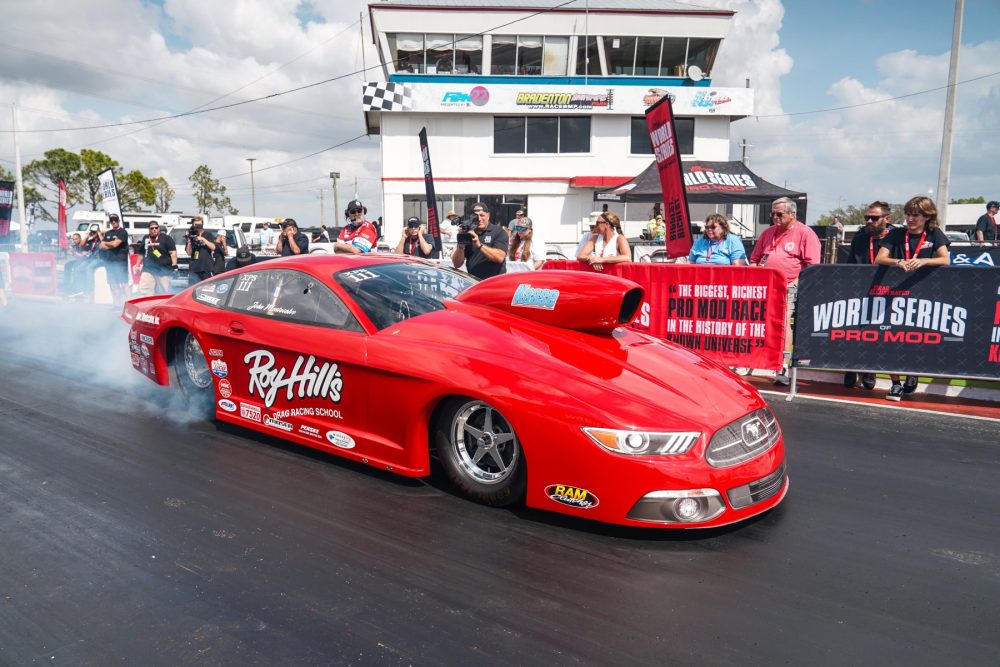 Montecalvo was one of several drivers who had to pedal their way to a win in the opening round of eliminations. He beat former crew chief Tommy Lee with a 5.091 at 145.61 before improving to a 4.124 at 173.38 in his second-round win over Richard Cowger's 4.139. In the semifinals, Montecalvo left on two-time and reigning PDRA Extreme Pro Stock world champion Johnny Pluchino and followed through with a 4.107 at 176.37 to beat Pluchino's 4.147 and earn lane choice for the final round by just two thousandths of a second.
The final round was a classic battle between two wily veterans, both of whom were hesitant to stage first throughout the day.
"Elijah and I have ran a lot of times together and I knew we probably would have a little bit of fun and games going on up there because that's what we do," Montecalvo said. "Neither one of us have ever gotten mad about stuff like that. It takes two to tango."
Montecalvo, who's won world championships in multiple different organizations, reflected on the overall significance of the weekend not just for him, but also for the Mountain Motor Pro Stock class. Eighteen drivers attempted to qualify for the 16-car field, including five-time and reigning NHRA Pro Stock world champion Erica Enders, who was making her debut, and Elite Motorsports team owner Richard Freeman, who made his MMPS return after a nearly 15-year hiatus.
"This event has been exactly what Mountain Motor Pro Stock needs. I can't thank Wes Buck and his whole team enough. They've done a great job. I know he's had a tremendous amount of media out here. Tremendous amount of exposure for our class. But thanks to Tommy and Judy Franklin [PDRA owners] and thanks to our deal with the NHRA. Richard and Erica coming over here…the class is really coming around. I'm so happy and I'm so proud of this class."
Driving his Allen-powered Morton Brothers Motorsports Mustang, Morton qualified No. 4 before making the second-quickest pass of the challenging first round, a 4.17. He then ran low E.T. of the second round, a 4.121, next to a red-lighting Derrick Reese. The North Carolinian left the line first in his semifinal pairing with Florida's own Dillon Voss, then recorded a 4.109 to finish ahead of Voss' 4.126.
XFWD CHALLENGE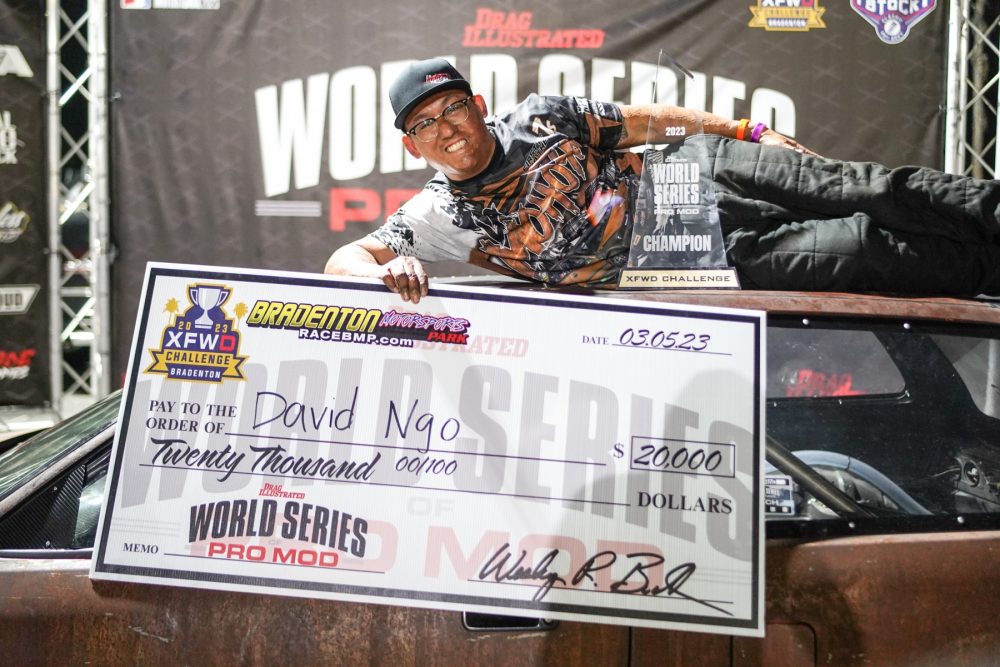 A wild weekend in the XFWD Challenge ended in an anticlimactic final round, as No. 2 qualifier Rafa Famania left before the tree activated, resulting in an automatic DQ. In the other lane, No. 7 qualifier David Ngo in his '89 Civic left the starting line and coasted to a 33.668 at 23.75. It was the Lebanon, Pennsylvania-based driver's only rough spot in eliminations, but he still turned on the win light and pocketed the $20,000 payday.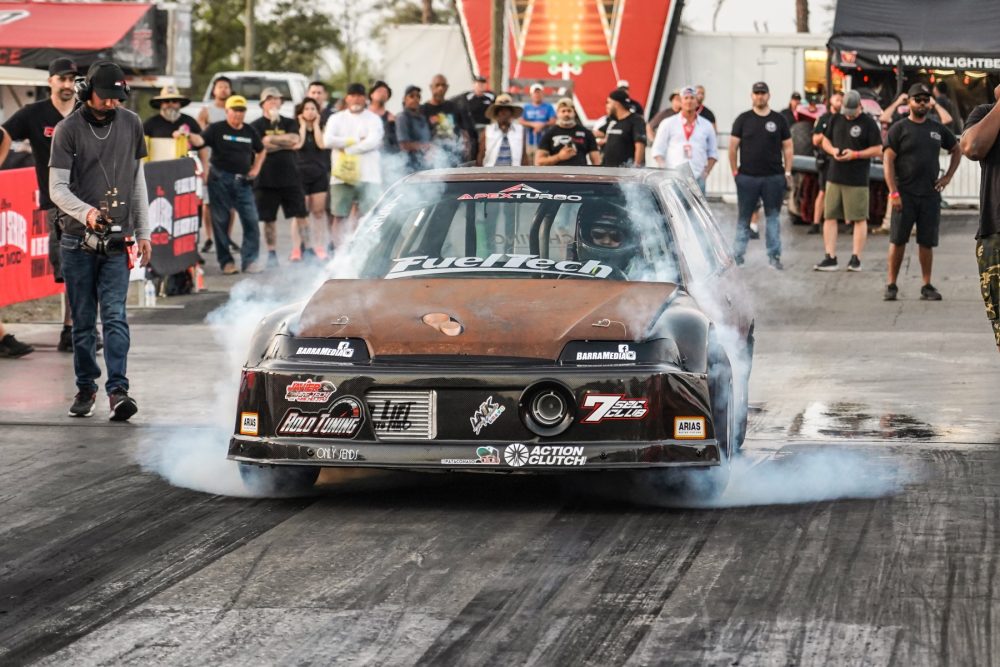 Earlier in eliminations, Ngo used an 8.089 at 182.28 to take out No. 1 qualifier Nichole Elff. He then made his best run of race day, a 7.939 at 186.30, to move on past Rey Rios. A 7.979 at 175.94 secured Ngo's ticket to the final round.
"I was honestly honored when Vic [Alvarez, track owner] and Wes [Buck, DI founder and WSOPM promoter] reached out to me and asked if I wanted to be one of the 25 [invitees]. That was already huge," said Ngo. "They're trying to put XFWD on the map, on the grand stage. To be one of the drivers was already a win in my book. To come out here and actually win the whole thing, I don't even have words to describe it. It's just crazy. I do this for fun. I don't have a shop or anything that benefits from this. I do it for fun because I love it. This just shows that if you love doing something, you can do it and you can be good at it if you put in the time."
FACTORY STOCK CLASSIC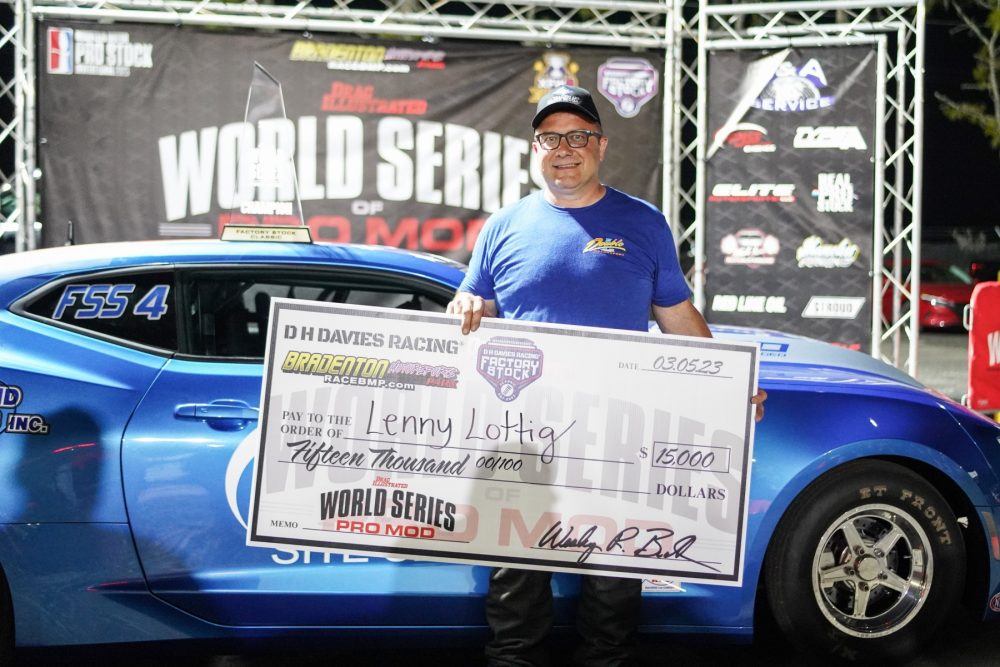 Lenny Lottig made the most of his first opportunity to compete at the World Series of Pro Mod as part of the David H Davies Racing Factory Stock Classic. The veteran driver from Meyersdale, Pennsylvania, qualified No. 2 and raced to victory, collecting the $15,000 check for his efforts.
In the first round he had to take out the No. 1 qualifier AJ Berge, and in the final round he outran fellow Chevrolet COPO Camaro racer Jesse Alexandra in front of a passionate crowd of established Pro Mod fans and new Factory Stock fans.
"At end of the day I'm telling you winning a race takes a ton of work," said Lottig. "To see the win light come on is a beautiful thing. It's been a great learning opportunity for all of us because we either win or we learn. This weekend we got to do both."
In the semis Lottig continued his march towards victory with a close win over Lindsay Wheelock and her Dodge Drag Pak. Finalist Alexandra used a .002 light off the starting line to get out in front of Scott Libersher and it was enough to give him a holeshot win. Three of the four semifinalists were Camaros and Lottig knew going into that round he would have to bring his best effort.
"You know, we go into every one of these races just hoping to compete. You want to make the field and have a good time," said Lottig from the top end. "When you throw in the winning, that really takes it over the top. I mean, that's because I say everybody works so hard to make this stuff happen. You know, we got United Site Services and my company that help make this all happen. Ray and David Barton gave us good engines to make it through the weekend because we beat on them pretty hard."
At the end of the day Lottig looked back at the three-day World Series of Pro Mod experience with fond memories and an appreciation for growing a class that he loves.
"The attendance here was great, so much interaction with the people and the crowd," said Lottig. "I can't believe how well the crowd was here. I'd say that the Pro Mod cars have a great following and it was an honor to be invited here to take part in it. I appreciate David Davies putting this race together and, you know, making a good package for everyone. It takes people like him to be able to make this sport and keep continuing to grow it."
The second round opened with a strong match-up between No. 2 qualifier Lottig against David H Davies and his Save Our Allies Dodge Drag Pak. Lottig was first off the line and had a slightly quicker elapsed time to advance. He was joined by two other Chevrolet Camaros piloted by Alexandra and Libersher.
Factory Stock Classic coverage by Elon Werner
PRO MOD SECOND-CHANCE SHOOTOUT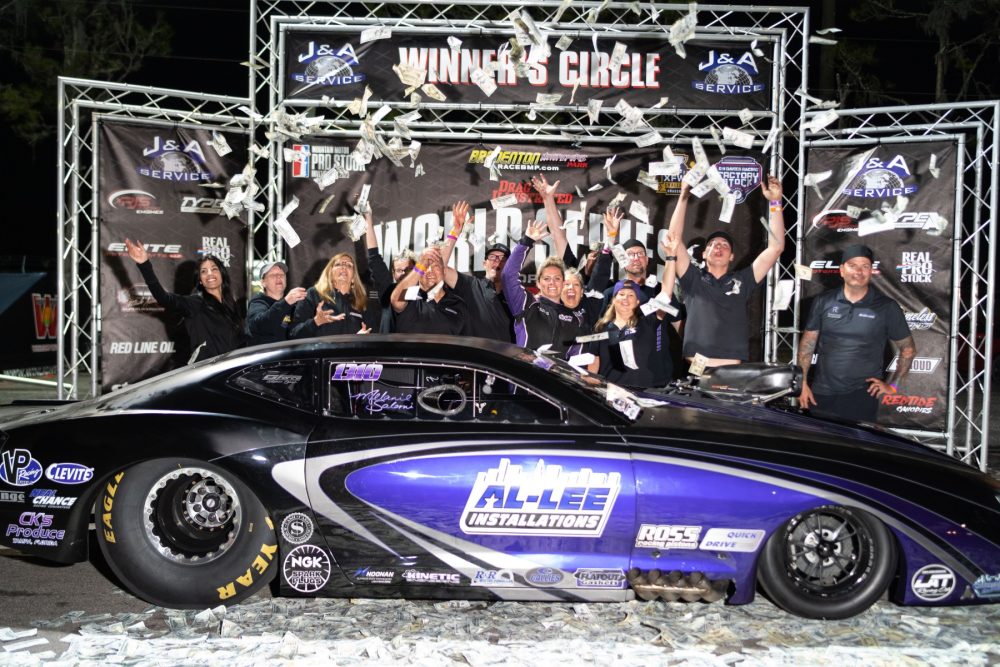 With 61 Pro Mod entries on the property and only 32 drivers making it into the $100,000 main event, WSOPM officials added a $10,000-to-win Chicago-Style Second-Chance Shootout for the 16 quickest non-qualifiers. Those 16 drivers were randomly paired for first round of the shootout, and the two quickest winners advanced to the final round.
PDRA Pro Boost record holder Melanie Salemi experienced a couple setbacks in qualifying with her team's newly screw-blown Al-Lee Installations Camaro. She ended up outside the 32-car field – and even outside the 16-car second-chance field – but when other teams left, she was able to move into the second-chance race.
Salemi and her team, led by husband Jon and brother-in-law Jim, took advantage of the opportunity, running a 3.661 at 205.10 to beat Mike Decker III and move on to the final. There, she laid down a 3.643 at 206.16 to win the $10,000 check over Steven Whiteley and his 4.817 at 103.34 in the screw-blown J&A Service '69 Camaro.
"It was nice to be able to partake in [the second-chance race] and get a couple more runs," Salemi said. "We were debating last night if we were going to stay and test for a couple more days, so it was nice to get those runs in. Jon and Evan and Jim put their heads together and we got a good plan and made some really good runs today. Every time that I made laps in the car, we were low for the entire round, not just the second-chance race. We were low out of everybody. It was kind of refreshing to come out and run a different setup and still be fast."
TOP DRAGSTER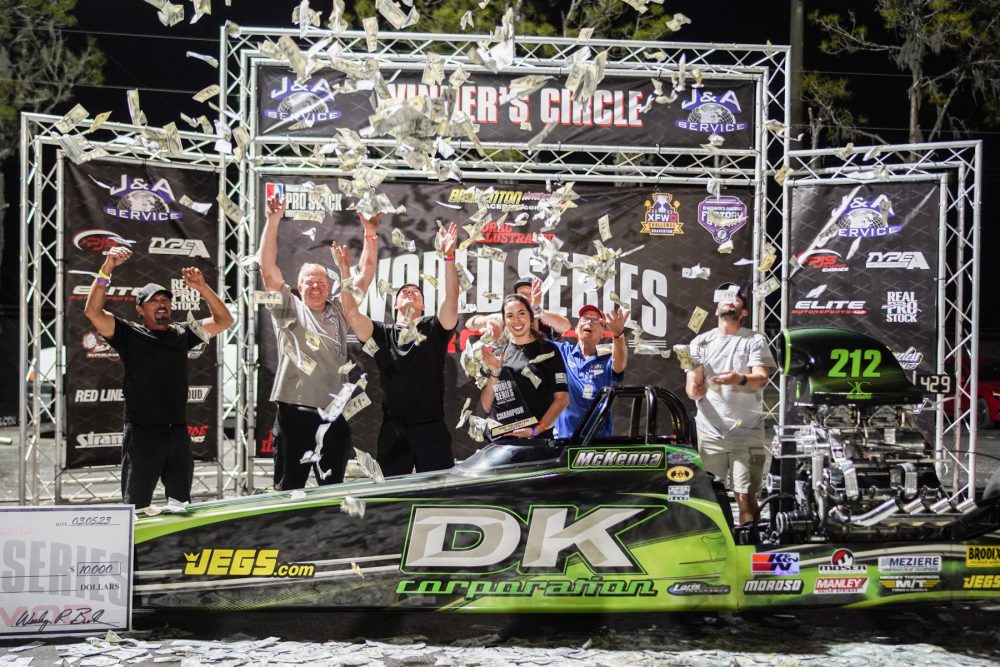 It was an all-Florida final in Top Dragster, where Holmes Beach's McKenna Kitterman drove her supercharged DK Corporation dragster to a 4.31 on her 4.29 dial-in, leaving with a .027 reaction time. Opponent John Tolisano from Palm City had a quicker .015 reaction time, but he broke out with a 4.492 on a 4.50 dial-in. Kitterman collected $10,000 for her efforts.
SUPER PRO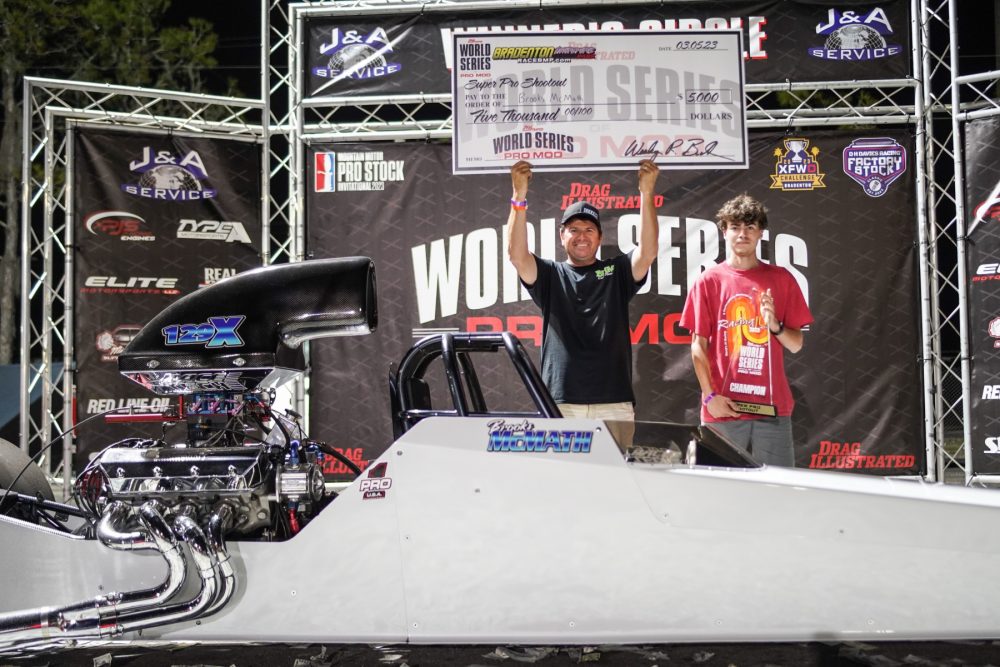 Virginia young gun Brooks McMath's trip down to Florida ended with the ultimate payoff when he won the $5,000 Super Pro Shootout. Driving his Race Tech dragster, he cut an .016 light and ran 4.685 on his 4.69 dial-in. He won despite the breakout since opponent Craig Schober was .007 red in his '67 Dodge Coronet.
For more results and coverage from the World Series of Pro Mod, visit the Drag Illustrated and World Series of Pro Mod Facebook pages, as well as www.DragIllustrated.com.